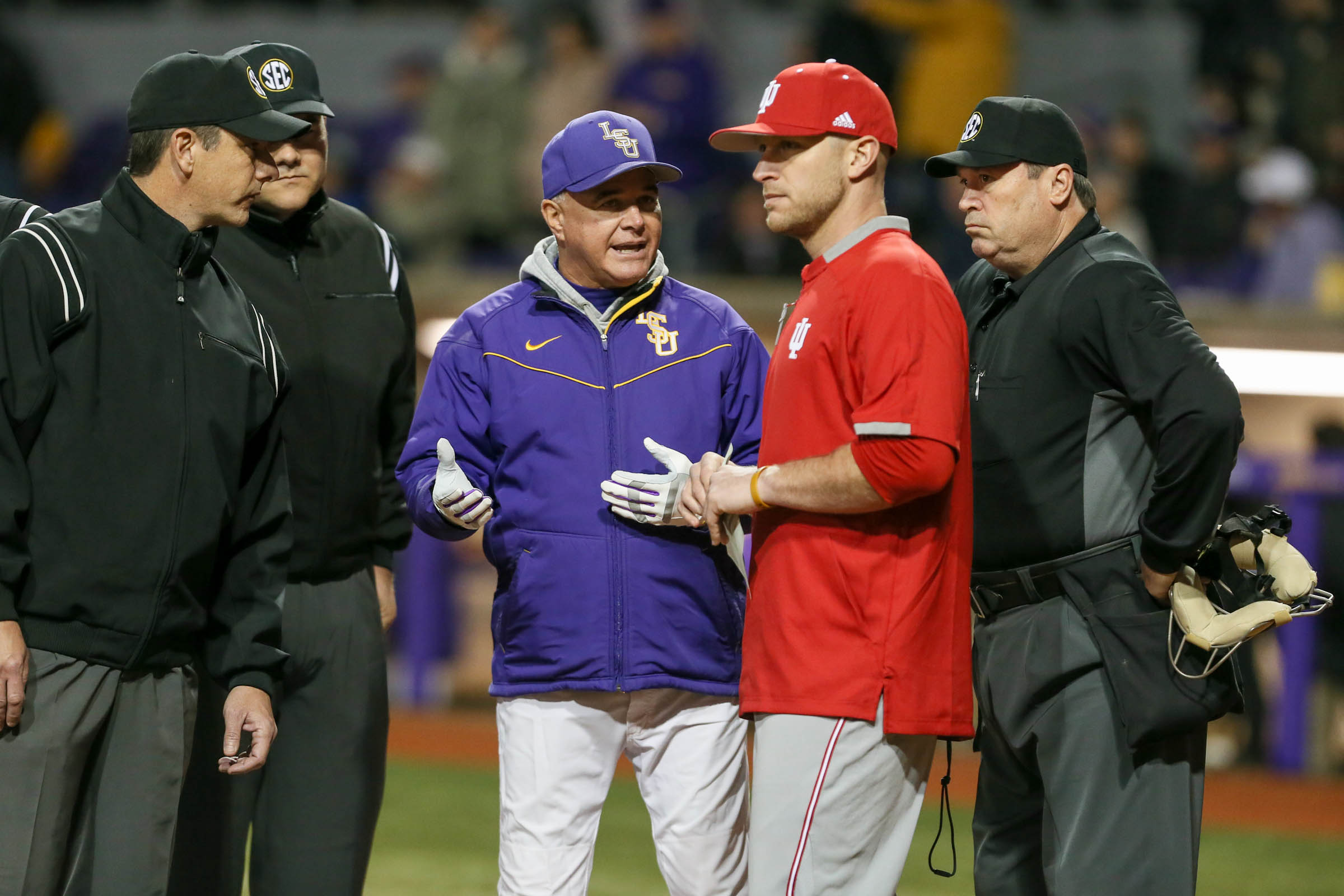 LSU came into this season with plenty of question marks, and after one weekend we can't definitively answer them all.
But nobody expected Paul Mainieri and the rest of the coaching staff to fully figure things out after three games. Before the first pitch of the season Mainieri said he would use the opening series against Indiana for experimentation, and he kept his word. LSU started 12 different players and every single pitcher on staff made an appearance, sans Ma'Khail Hilliard who was dealing with some forearm tightness.
With all that in mind, let's breakdown the opening weekend that was for the Tigers.
The Results
The results are what ultimately matter the most, and LSU won the weekend. The Tigers took a 2-0 lead after freshman Cade Doughty went yard in his first at-bat (where he became the first Tiger to homer in his first at-bat since Beau Didier in 2009) and paired that with a great outing from Cole Henry to open the series with an 8-1 win over Indiana.
The threat of weather Sunday forced the two to play a full doubleheader Saturday. LSU survived a late rally attempt to clinch the series with a 7-4 game two win, but came out flat in the finale and suffered their first loss of the season, 7-2.
At the end of the day, it's a perfectly acceptable result for a team that is tinkering with lineups and player roles. Indiana has established itself as a top tier program in the Big Ten. LSU taking two games against the Hoosiers could turn into a nice NCAA tournament resume bullet point come May.
Start Me Up
The only consistency in the LSU lineup across the three games was the top third in the order: Daniel Cabrera, Cade Doughty, and Zack Mathis. The three combined to go 9-for-32 (.281), drew nine walks, scored seven runs and batted in six of the Tigers' 17 runs. Considering two of those players made their LSU debuts (one as a freshman, one as a junior college transfer), that's a pretty solid weekend.
However, during the loss Saturday night the trio went just 2-for-11. One of those hits came off an infield single from Cabrera, and the other was Mathis' solo home run in the ninth inning when the game was out of reach. Doughty hit a sacrifice fly to score LSU's first run, but otherwise only reached base off an error.
Ice Cold Henry
The highlight of the weekend was without a doubt sophomore Cole Henry's Opening Night start. Due to his 75-pitch limit, Henry only pitched four innings, but he didn't allow a run. He struck out eight Hoosiers with no walks and three hits.
Ultimately it was the high strikeout number that ended Henry's start earlier than game two starter Landon Marceaux and game three starter AJ Labas. Henry struck out more batters than those two combined, but he found himself in deeper counts more often.
If Henry looked like he did Friday night, then Mainieri and the LSU coaching staff would have no problem letting him go as deep as he could into a game. But precaution is the name of the game early in the season.
Landon and Labas
Marceaux and Labas took the other weekend starts with the same pitch count limitations. They looked fine, but not as great as Henry. The two combined to go 8.2 innings, allowing a cumulative six runs (all earned) off nine hits with three walks and six strikeouts.
Neither starter had a bad outing, Marceaux just had run support and Labas didn't. Marceaux also pitched around trouble, stranding six runners on base across three innings compared to Labas, who ran into his pitch count limit after giving up a pair of one-out singles to start the fifth. Those runs scored after he was removed from the game for reliever Chase Costello and were charged to him.
Marceaux has a retooled pitch arsenal and Labas was making his first start 2018, so surviving an initial adjustment start is understandable. But SEC baseball is cutthroat, and LSU will need the two to find their groove in the next month to have a successful season.
The Veteran and the Velocity
Out of the bullpen, two arms impressed for different reasons.
Matthew Beck, the lone four-year senior on the team, and sophomore Jaden Hill both threw two hitless innings Friday and Saturday respectively, with one walk each. Beck struck out two while Jaden Hill hung three out to dry, touching 98 miles per hour on the radar gun.
Two innings of work is too small a sample size to work to declare if Beck and Hill are prospective closers, but both looked the part.