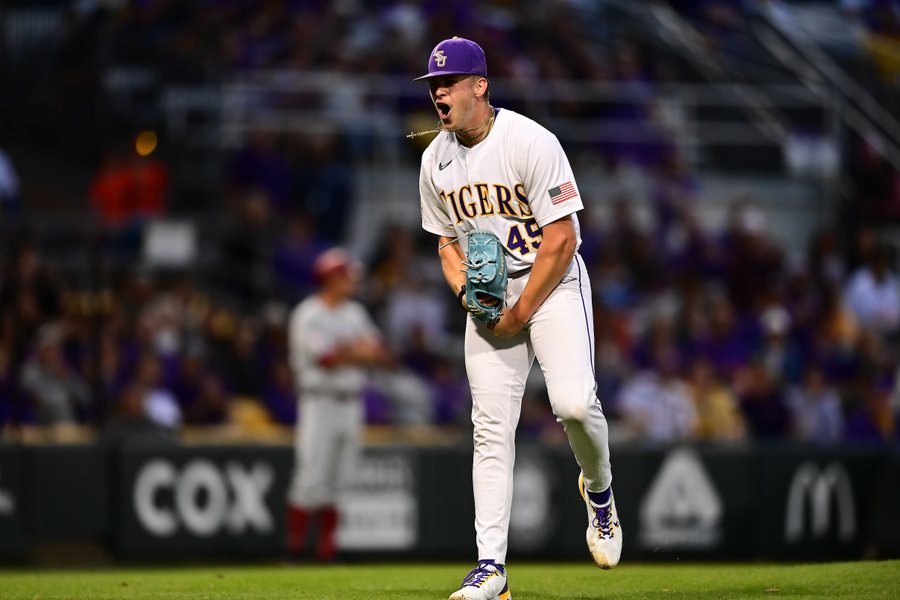 Jared Jones, Hayden Travinski and Tommy White each hit key home runs for No. 1 LSU on Saturday night, helping the Tigers rally from an early five-run deficit at Alex Box Stadium, Skip Bertman field to beat Alabama, 12-8.
The Tigers clinched their sixth Southeastern Conference series win of the season and will go their second straight three-game sweep at 1 p.m. Sunday. The matchup will be streamed on SEC Network +, and it can be heard on LSU Sports Radio Network affiliates (98.1-FM).
LSU starting pitcher Ty Floyd gave up six runs on six hits and was relieved after 2.1 innings.
POST-GAME REPORT SHOW from LSU Radio Network
LSU coach Jay Johnson Post-Game Comments
The Tigers (34-8, 14-5 in SEC) then used seven different relievers to fend off the Crimson Tide (30-14, 9-11).
Thatcher Hurd came on with one out and runners on first and second in the top of the eighth. He worked LSU out of a critical jam by putting two Crimson Tide batters in a row down and out and the Tigers clinging to a 9-8 lead.
Jones' two-run home run in the bottom of the eighth highlighted LSU's three-run inning, and Hurd shut the Tide down in order to preserve the win.
LSU, which trailed 6-1 entering the bottom of the third inning, overcame its largest deficit to win a game this season. The Tigers had overcome three four-run deficits this year to win games prior to Saturday's recovery from a five-run gap.
"That was fun tonight," LSU coach Jay Johnson said. "These guys are special; they're great players, but they're better people. You really get to see that shine in adversity. We were down 6-1, so many things going against us, and so many guys contributed tonight. I'm really proud of the entire group and the effort to win the game."
LSU trailed, 7-4, entering the bottom of the sixth inning, but the Tigers erupted for four runs in a rally highlighted by Travinski's three-run dinger, his second of the year. He also provided the go-ahead home run in the ninth inning of LSU's 7-6 win last Sunday at Ole Miss.
"(Alabama reliever) Alton Davis II is a real pitcher, so for Hayden to be able to hit the ball that hard and that far with his bat speed and short swing was really impressive. Awesome for Hayden, what a big moment," Johnson said.
Relief pitcher Javen Coleman, who made just his third appearance of the season after recovering from Tommy John surgery a year ago, was the winning pitcher. He entered the game in the fourth inning and subdued Alabama's bats, allowing LSU to execute its rally.
Coleman (1-0) finished his outing by tossing 2.1 scoreless and hitless innings with six strikeouts.
"I'm super proud of Javen," Johnson said. "I've never seen anyone recover from Tommy John surgery in the fashion that he has, and it's totally a credit to his motivation and to his work ethic."
When Hurd entered the game, Alabama had two runners on base and LSU clinging to a 9-8 lead. He ended the inning with a strikeout and flyout, and he closed it out by retiring the side in order in the ninth for his first save of the season.
Alabama shortstop Jim Jarvis began the game with a solo shot to right field, putting the Crimson Tide in front, 1-0. Left fielder Tommy Seidl doubled to right center field and right fielder Andrew Pinckney reached on a fielding error. Catcher Dominic Tamez drove in another run to make the score 2-0.
LSU responded in the bottom of the second, scratching across one run to decrease its deficit in half. The frame started with a walk to White and a single from designated hitter Cade Beloso that hit off of first baseman Drew Williamson's glove, which allowed White to advance to third.
Following a hit-by-pitch from shortstop Jordan Thompson, Travinski produced an RBI groundout that scored White from third.
Alabama added to its lead in the third, striking for four runs on the strength of a two-RBI double and an RBI single.
In the bottom of the third, White launched his 15th dinger of the season, plating three Tigers to reduce the deficit to 6-4. The runners on base, second baseman Gavin Dugas and left fielder Tre' Morgan, reached on an HBP and a base hit, respectively, before White's homer.
Pinckney hit a solo home run in the fourth inning to increase the Tide's lead to 7-4.
Travinski, who unloaded a three-run shot against Ole Miss last weekend to give the Tigers a lead in the ninth, matched that effort against Alabama. With two runners on base, Travinski deposited a two-strike fastball into the left-field bleachers to give LSU an 8-7 lead.
Davis II (0-1) was charged with the loss after firing 2.1 innings and allowing five runs on five hits, including Travinski's homer and a two-run homer in the eighth by first baseman Jared Jones.
In the bottom of the seventh, LSU plated another with a safety squeeze from Beloso and gave the Tigers a 9-7 lead heading to the eighth inning.
Alabama narrowed the gap to 9-8 with a run in the top of the eighth, but Jones' homer and center fielder Dylan Crews' RBI single up the middle made it 12-8 heading into the ninth inning.
Belly with the Safety Squeeze

UA – 7
LSU – 9
📺 SECN+ pic.twitter.com/ib7MvB5bd8

— LSU Baseball (@LSUbaseball) April 30, 2023
HAYDEN TRAVINSKI@haydenrt_ | SECN+ pic.twitter.com/Ur3HpOa9l3

— LSU Baseball (@LSUbaseball) April 30, 2023
Javen ꓘoleman@JavenColeman1 | SECN+ pic.twitter.com/wuq4bLB47T

— LSU Baseball (@LSUbaseball) April 30, 2023
Tommy do be hitting tanks 🚂@tommywhite44 | SECN+ pic.twitter.com/JSfwnsQZVb

— LSU Baseball (@LSUbaseball) April 30, 2023