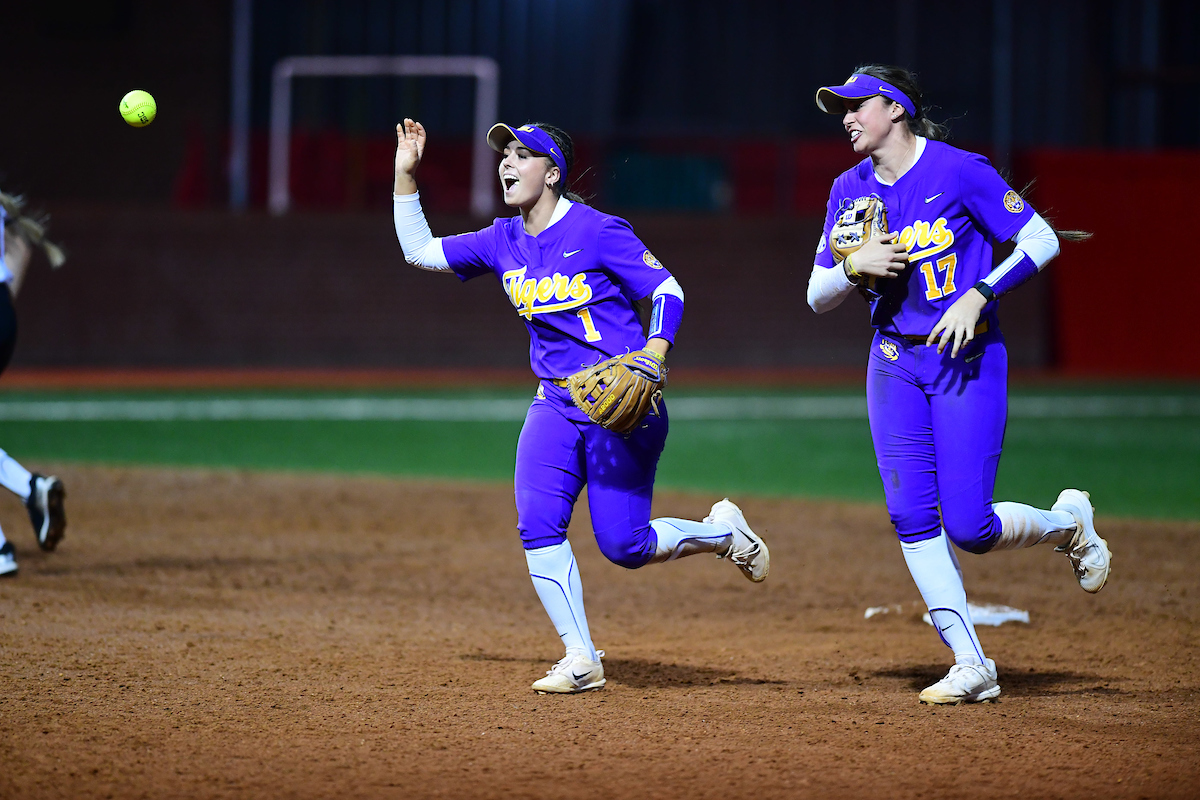 No. 21 LSU's softball team had to sweat a little before it could taste victory.
Starting pitcher Shelbi Sunseri carried a three-hit shutout into the bottom of the seventh inning, but two straight walks resulted in the relief appearance of staff face Ali Kilponen who responded with two strikeouts with the bases loaded to save the Tigers' 4-0 road victory Thursday before a crowd of 2,689 at Lamson Park/Yvette Girouard Field.
It was the first game of the LSU/UL-Lafayette Crossover which continues Friday at Tiger Park with a doubleheader with Troy beginning at 4 p.m. The Tigers extended their win streak to eight games with their consecutive shutout.
The two teams will have a rematch Saturday at 6 p.m. at Tiger Park.
LSU (13-5) scored four runs in the top of fourth inning which Kilponen made stand up in her first relief appearance of the season. Sunseri (4-1) scattered three hits but allowed a season-high six walks, including the first two batters in the seventh.
Kilponen got the first out of the inning on a pop up from Julie Mayeaux to Danieca Coffey at third base and appeared to have the second out when Coffey dropped a throw from shortstop Taylor Pleasants on a fielder's choice opportunity off the bat of Kayla Falterman.
Not to worry, though. Kilponen came back from down 2-0 in the count to strike out Stormy Kotzelnick swinging. She repeated the feat against pinch-hitter Kramer Eschete, who fouled off two pitches and ran the count full but struck out swinging to end the 2 ½ hour game.
"Steady is a great word to describe her. Steady is what she does for our team," LSU softball coach Beth Torina said. "She is calm and you always know what you are getting from her, and it will be something that will keep you in every ballgame. I am proud of the effort she had today, and that is why we have a staff. I think her and Ali together are an incredible matchup, and we like to see them both when we can because I think it makes them both better."
LSU totaled five hits against three UL-Lafayette pitchers with center fielder Ciara Briggs (2-4) the lone player with a multi-hit game. She led off the fourth, turning a single into a double to help LSU load the bases when Pleasants was hit by a pitch and Sunseri bunted her way on base.
First baseman Georgia Clark snapped the scoreless game by driving a two-run single up the middle against losing pitcher Sam Landry (5-1) for a 2-0 lead. The Tigers were able to add to the margin when freshman McKenzie Redoutey drew a bases-loaded walk to score Sydney Peterson and catcher Ali Newland, who also walked, scored on a passed ball.
"She is a great hitter," Torina said of Clark. "She has been in so many big situations that there is no situation too big for Georgia. I think a lot of what they have been through in their career and last season by playing the schedule we played, our returners and experienced kids have been in a ton of situations that has given them confidence."
LSU's defense also stood tall during Sunseri's six-inning appearance, especially during the fourth when UL-Lafayette had runners on the corners in the fourth when Pleasants turned a liner off the bat of Taylor Roman into a double play to end the inning.