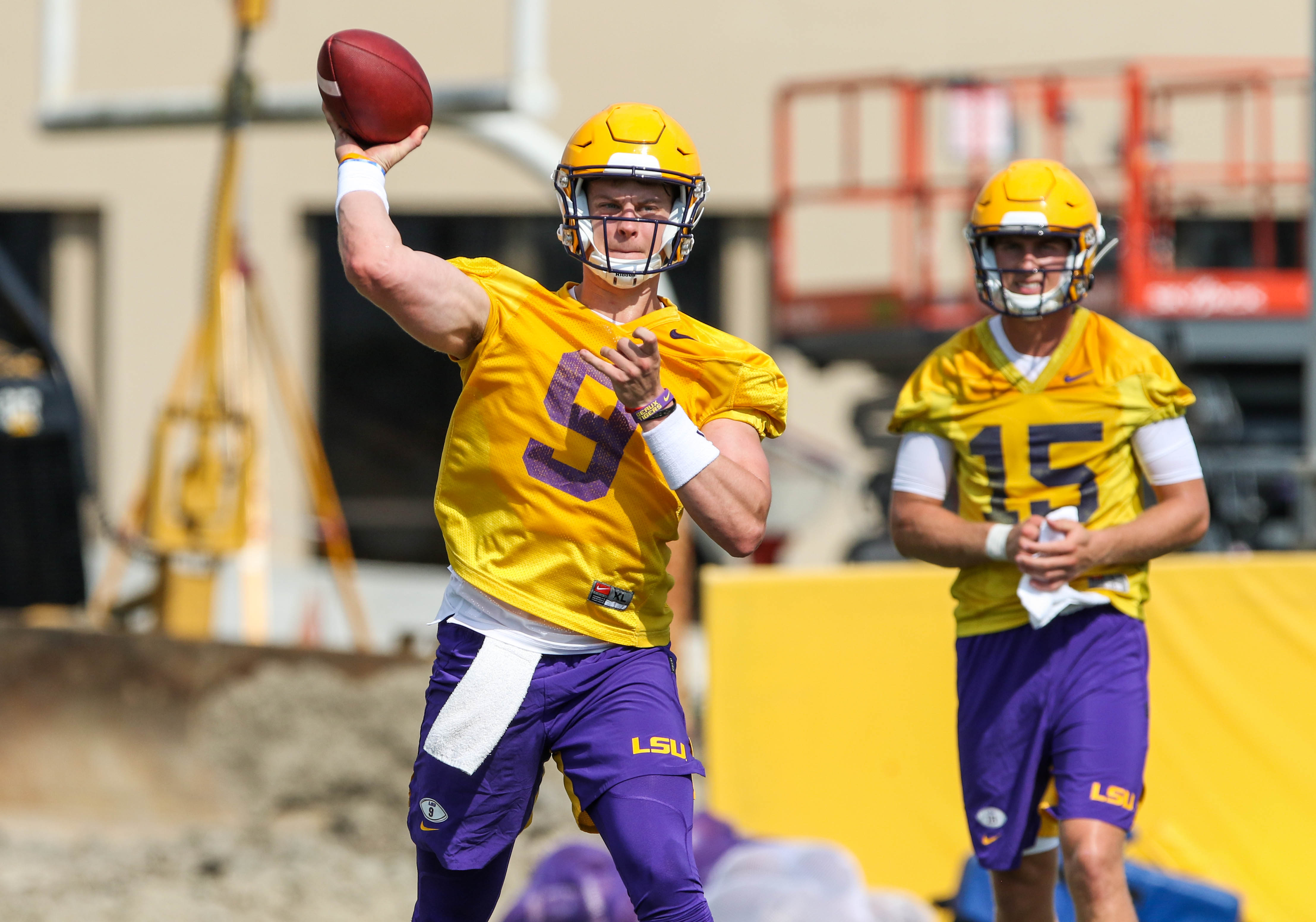 The entire LSU fan base held its collective breath when Joe Burrow was held out of the first scrimmage of Fall Camp due to a minor injury.
Returning Burrow to lead a more pass-happy offense is a major source of optimism for a team ranked No. 6 in the preseason polls. The unit struggled without its senior signal caller, according to a postgame report from Ed Orgeron.
"Nothing serious," Burrow said of his injury. "Nothing serious. I'm fine."

Order was restored to the proverbial galaxy as Burrow returned to log a full week of practice and the offense bounced back in a big way in LSU's second preseason scrimmage. Burrow himself completed 14 of 24 passes for 160 yards with two touchdowns, per Orgeron.
The offense won't go live in Tiger Stadium again until the season-opener against Georgia Southern on Aug. 31. According to Burrow, the new offense is right on schedule for its highly-anticipated debut. All that's missing now is an opponent-specific gameplan.
"I think we're not quite where we need to be yet, but we've got another week," Burrow said after practice on Tuesday. "It was an ok day, but we've had a really good camp and we're getting better every day."
At this point outsiders can only surmise an educated guess as to what the new spread attack will look like when the games count for real.
According to players and coaches alike, the passing game won't be the two-man show it was in 2018. Justin Jefferson led all receivers with 54 catches for 875 yards and six touchdowns.
Nobody else came close to posting half of Jefferson's production in terms of receptions or yards, and only then-freshman Ja'Marr Chase hauled in three touchdowns. The second-leading receiver was Stephen Sullivan with 23 catches for 363 yards, and he's since been moved to tight end.
That won't be the case this season with Chase and fellow sophomore Terrace Marshall establishing themselves in camp as reliable receivers. Factor in Sullivan and Thaddeus Moss at tight end, plus a number of underclassmen receivers, and the targets figure to be a bit more evenly distributed.
"(Jefferson) was our best receiver last year, quite honestly, and the offense was tailored around getting him the ball a lot of the time," Burrow said. "This year we're going to be spreading the ball out a little more as far as the concepts we have, the five-man and six-man protections. We're going to be getting a lot of different people the ball this year."
The quarterback continued: "As good as Terrace and Ja'Marr were last year, they were still freshmen. They took a while to grow, and you could see at the end of the year that they kind of emerged as guys who could be the No. 1 guy. And I think we have four or five No. 1 guys on our team this year."
Burrow himself is chomping at the bit for the season to get here. It's that point in any camp where players are itching to line up against an opponent wearing a different color jersey with some real stakes on the line.
LSU will practice two more times before going through a walk-through on Friday and practicing in just helmets in Tiger Stadium on Saturday. There will be football to watch after, but Burrow claims his mind will already be on game-week preparations.
"I'm ready to go," Burrow said. "I wasn't ready at the beginning of camp, but I think we've had a really good camp. How many games are this weekend? Just one? It's going to be tough to watch that one from the living room. I'm going to be ready to go."
PHOTO BY JONATHAN MAILHES