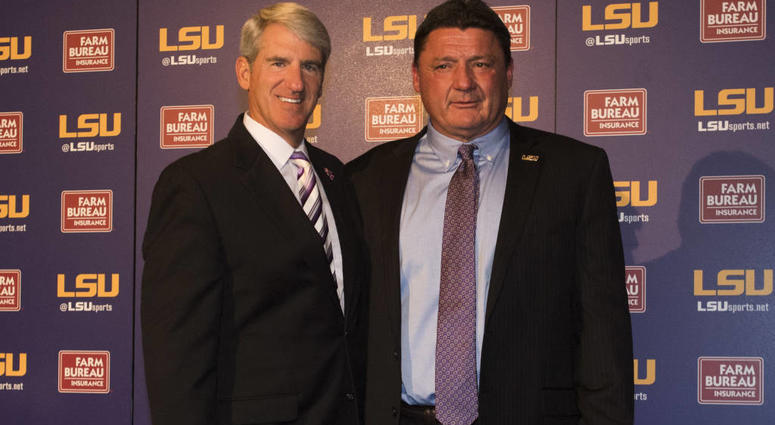 By JAMES MORAN | Tiger Rag Associate Editor
Amid its current crisis, LSU football has been holding more meetings this week than your average Fortune 500 company.
Ed Orgeron met Monday with LSU Athletic Director Joe Alleva and his two coordinators, Matt Canada and Dave Aranda, and "laid out everything on the table" following LSU's 24-21 loss to Troy on Saturday night.
"Joe and I meet all the time, we said let's bring in the coordinators," Orgeron said. "Let's talk to them and see what's going on because we feel we have two very good coordinators. He wanted to talk to them, what we could do better. We're all on the same page. Very positive meeting."
It's been a week of meetings for Orgeron and his Tigers after two losses in three weeks. LSU had a players-only meeting on Saturday night to clear the air following the game. Orgeron has also met with team leaders at some point.
Players said Tuesday that Canada met with the offense Monday and told his unit "We need to get back to us," meaning the motions and shifts that're staples of his offense.
Orgeron admitted Monday that he told Canada to scrap that part of his offense against Troy. LSU got shutout in the first half before bringing back the offense in the second half as part of a comeback bid that came up short.
"I did step in last week for the first time," Orgeron said Monday. "I wanted to simplify only the shifts in motions. I knew we were going to start two freshmen linemen, so I wanted the guys to be in place so we knew how to block them. That's all I've ever done. This is Matt's offense. He runs it. He calls it. He scripts the plays. This is his offense."
NOTES
– Orgeron confirmed freshman JaCoby Stevens has moved back to safety. The No. 1 safety in the 2017 class had moved to wide receiver two days into training camp and then to H-back a few weeks ago. "He just felt more comfortable at safety," the coach said. "I think he wanted more action."
– Nickel back Xavier Lewis is "questionable" to play against Florida, Orgeron said. He's been absent from the past two days of practice.