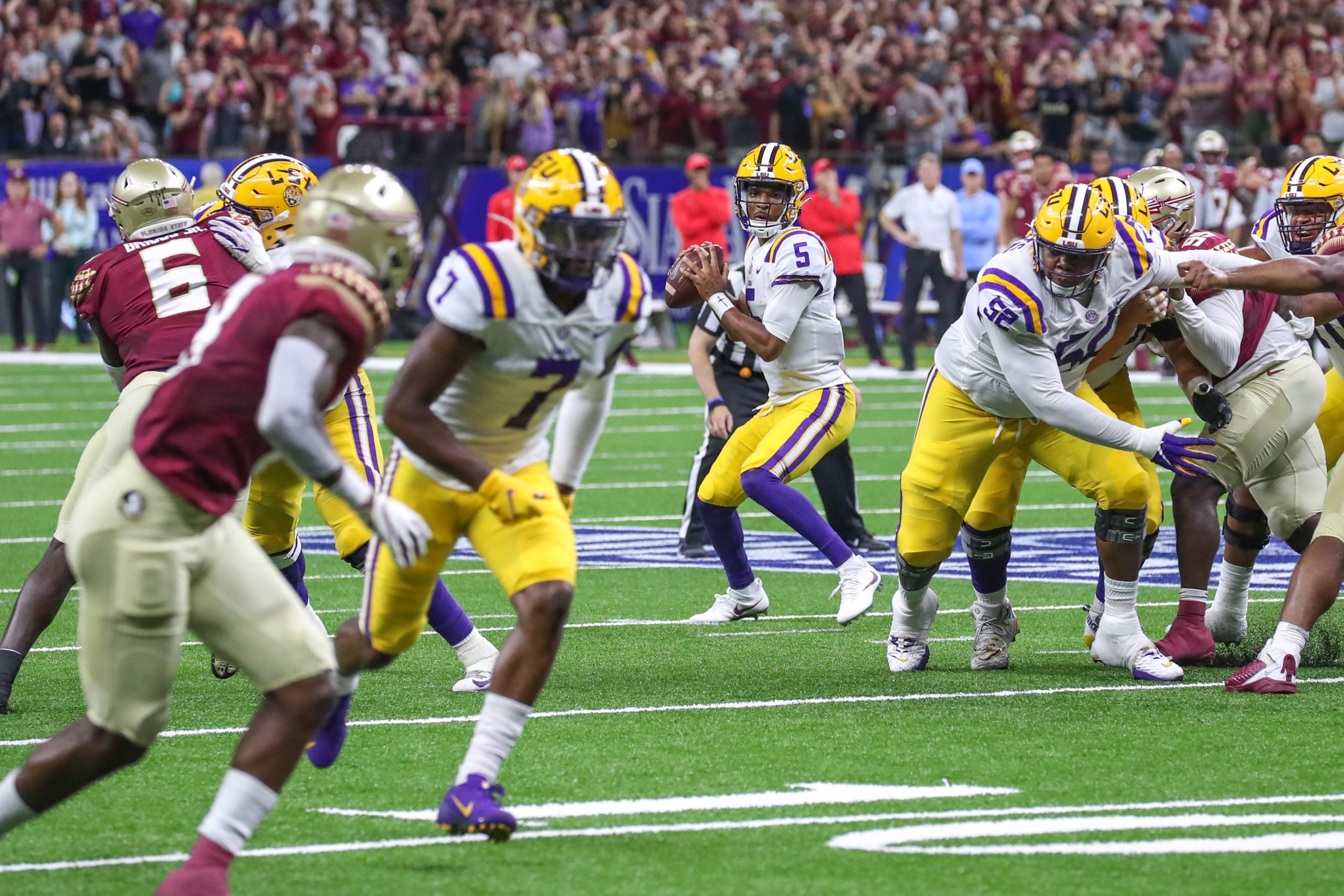 You didn't think this was going to somehow become a miracle season, did you?
Although LSU nearly pulled out a miracle finish in the opening night, a 24-23 loss to Florida State, we saw just how much of a rebuilding job Brian Kelly has on his hands.

There are some pieces in place, although one of the Tigers biggest pieces – defensive tackle Maason Smith – will not be around the remainder of the season with a knee injury that was confirmed as an ACL tear.

Smith is probably the best player on that defensive unit, but the Tigers have bigger problems moving forward if the offensive line doesn't play better. The patchwork group looked much worse than anticipated and prevented LSU from getting any momentum in the first half.
If quarterback scrambles are not just your best play but only play, it's going to be a long season.
The defense, even without Smith, lacked only the ability to make a play on third down.
Florida State converted 11 of 17 third-and-long plays and LSU just missed getting to the quarterback on a handful of those.
Special teams was a disaster and there was no hiding it.
The inability to catch a punt or block for a placement kick hints at a combination of coaching assessment and players who wilt in the spotlight of a game, as opposed to getting it right in the controlled conditions of a practice.

There was also a disturbing lack of poise and poor play by players LSU was counting on for leadership. Wide receiver Kayshon Boutte was a little better than a no-show. Defensive end Ali Gaye committed a textbook targeting penalty and Harold Perkins nearly short-circuited the LSU comeback with an unconscionable personal foul penalty on the kickoff after LSU had cut the lead to seven points in the fourth quarter.

This game was a prime example why coaches say teams make their biggest improvement from the first game to the second. Especially for a first-year coach patching together a team with transfers and freshmen, you don't find out what you have until you go against another team.

"Mistake after mistake for us, particularly in the first half," Kelly said. "And obviously more mistakes in the second half. We started to overcome some of those and played, I would consider, with more of a sense of urgency the last 12 minutes.

"We've got to coach better. We've got to have our kids coached in a manner where they're ready. I'm accountable for that. We have to have them tackling better, executing better in all phases."

As always, there were some positives. The Tigers showed good fight on a frustrating night when it would have been easy to quit.

Every time Florida State left a crack of daylight, LSU pushed the door open and fought back. It seemed like whatever culture Kelly is trying to build has taken hold to some degree.

Jayden Daniels, once he got around the poor offensive line play, showed he could bring a team down the field and lead a comeback. He'll get more help from the running game when John Emery Jr. gets back, and perhaps other areas of the offense will improve with some tweaking in practice, now that the coaches have something to work with.

Other than Boutte, the receivers played well when Daniels could get them the ball.

On defense, LSU was pretty good on first and second down but couldn't make a play on third. It's good they were getting gashed by any means, just coming up a fraction of a second or yard short. That will improve.

The immediate work is obvious. The offensive line – and the placement kick blocking by association – will require a reevaluation and/or change in personnel. Garrett Dellinger's untimely bad snap was glaring, turning an opportunity for a TD into a field goal and 3-0 lead.

Malik Nabers impressed coaches enough to win the punt return job, but the first rule is to catch the ball. Again, that's easier to do in the comfort of practice as opposed to the spotlight of the game.

The staff also has to address whatever is going on inside Boutte's head. He's supposed to be the team's best offensive weapon and nearly bolted LSU via the transfer portal in the offseason.

Boutte couldn't hold a potential touchdown pass on third down and didn't turn around to look for another pass that could have resulted in TD, again on third down, on the next possession. Those two plays were in the first quarter and cost the Tigers points. It got worse with two ugly drops and his body language suggested early on his head wasn't in the game.

LSU fans who weren't happy with Kelly's hiring should be honest and feel fortunate to have a 60-year old coach who has been through these moments before. The staff won't panic, even though the coaching was part of the problem on Saturday.

Even Ed Orgeron, with much better players, had an early, embarrassing loss to Troy during his rebuild.

This wasn't Troy, and Orgeron is no Brian Kelly.