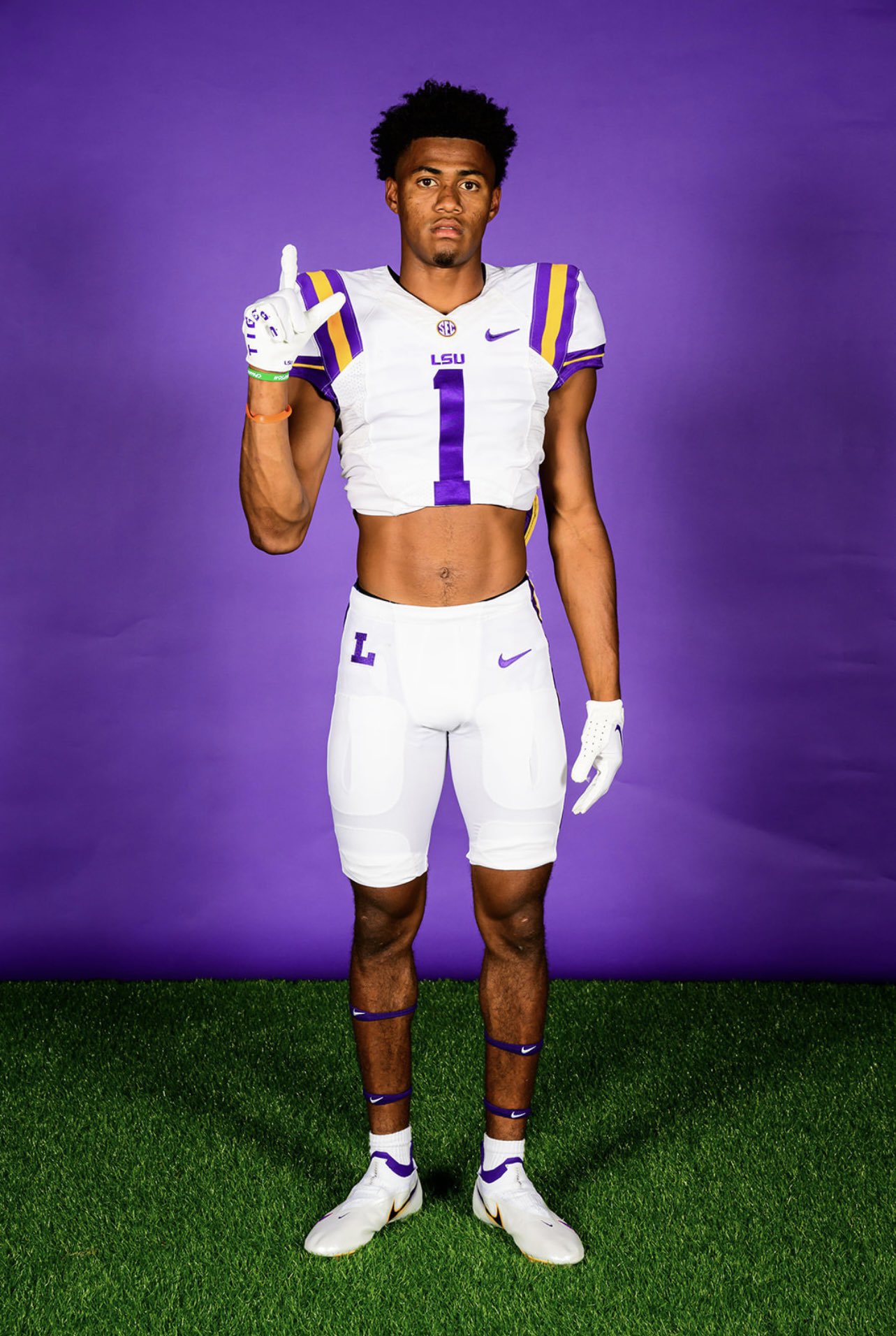 Less than a week after making his own recruiting pitch to LSU's coaches, Terrebonne High wide receiver Kylan Billiot was rewarded for his hard work at the Tigers' skills camp.
The 6-foot-3, 190-pound Billiot committed to LSU on Wednesday after receiving a scholarship offer from the Tigers on Saturday following his participation in the school's skills camp and 7-on-7 tournament.
"LSU has been my dream school since forever," Billiot told TigerDetails.com. "Now that I have an opportunity not everyone gets, it's really a blessing. I knew once I got this offer, I was going to commit as soon as my mom had time to get up here. This all means a lot to me, and I'm extremely blessed. I won't take an opportunity like this for granted."
Billiot, a three-star prospect, gives LSU its 17th overall commitment and joins JoJo Stone of Fairburn, Georgia as wide receiver pledges in the Tigers' Class of 2024. He's also picked up offers from Georgia Tech, Florida, Tulane, UL-Lafayette and Troy.
LSU's current class ranks sixth nationally according to 247Sports.
LSU's a finalist for the commitment Friday of four-star cornerback Ondre Evans of Nashville, Tennessee. Evans will decide between the Tigers, Alabama, Georgia, Michigan and North Carolina State.
Billiot decided to shift his athletic focus from strictly basketball and also began playing football as a sophomore. He even went to work out at LSU's skills camp a year ago without much fanfare.
This time, Billiot caught the attention of LSU head coach Brian Kelly and wide receivers coach Cortez Hankton who offered a scholarship after camp. He helped Terrebonne to the final of the 7-on-7 tournament at LSU which was won by Lafayette Christian Academy and LSU commitment Ju'Juan Johnson.
"He is not about to just offer anybody," Billiot told On3 of Hankton. "You have to work for it. Him following me around (at camp), that showed me I really have to work for this."
Billiot, who runs 4.57 in the 40, is the 11th in-state member of LSU's recruiting class. He's the nation's No. 48 wide receiver and ninth-rated prosect in Louisiana, per 247. He turned in one of his best games during the 2022 season with six catches for 100 yards in a 39-26 loss to Lakeshore.
Moreover, Billiot helped Terrebonne to a 26-14 record in basketball and earned honorable mention Class 5A All-State laurels.
Terrebonne, where current LSU defensive lineman Maason Smith will be a redshirt sophomore, went 3-7 last season.