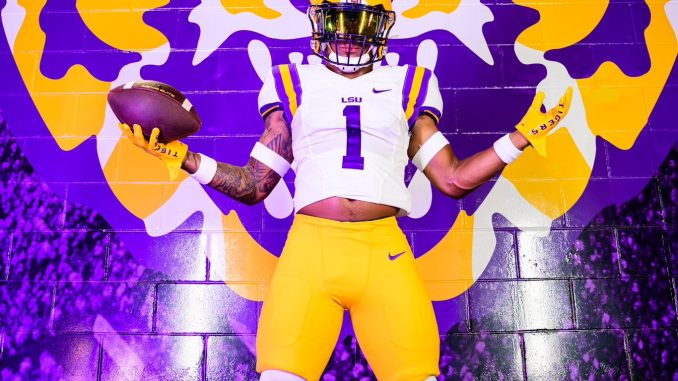 LSU picked up a potential centerpiece of its future offenses when four-star running back Caden Durham of Duncanville, Texas committed to the Tigers on Thursday during a ceremony in his school's gymnasium.
"The culture there is just different," Durham told On3. "(LSU running backs) Coach Frank (Wilson) has sent over 10 RBs to the league, so he knows what an NFL running back looks like. And for me to be the only back they are recruiting is big."
While LSU was able to secure Durham – its first running back in the Class of 2024 – the Tigers missed out on five-star edge rusher Colin Simmons who picked Texas over the Tigers and Miami.
Durham's decision sent LSU's class surging to No. 6 nationally per On3. The Tigers have 24 commitments in their current class and fifth player from Texas – joining wide receiver Jelani Watkins of Houston, offensive lineman Ory Williams of San Marcos, cornerback Davhon Keys of Aledo and former Jonesboro-Hodge linebacker Xavier Atkins, now of Humble.
Durham selected LSU over Oklahoma and Texas A&M.
Rivals.com ranks the 5-9, 195-pound Durham, a two-sport standout, the No. 63 overall player, No. 7 running back and No. 11 prospect in Texas. He's also a sprinter that excels in the 100 and 200 meters. He was among Duncanville's offensive leads in '22, rushing 210 times for 1,960 yards and 36 touchdowns. He also caught 9 passes for 93 yards and a score.
Durham was also offered a scholarship by LSU's track program and is expected to compete in the sport in college.
"I'd say trust because I got to trust in you to know that you're going to get me where I want to be and need to be," Durham said of LSU.