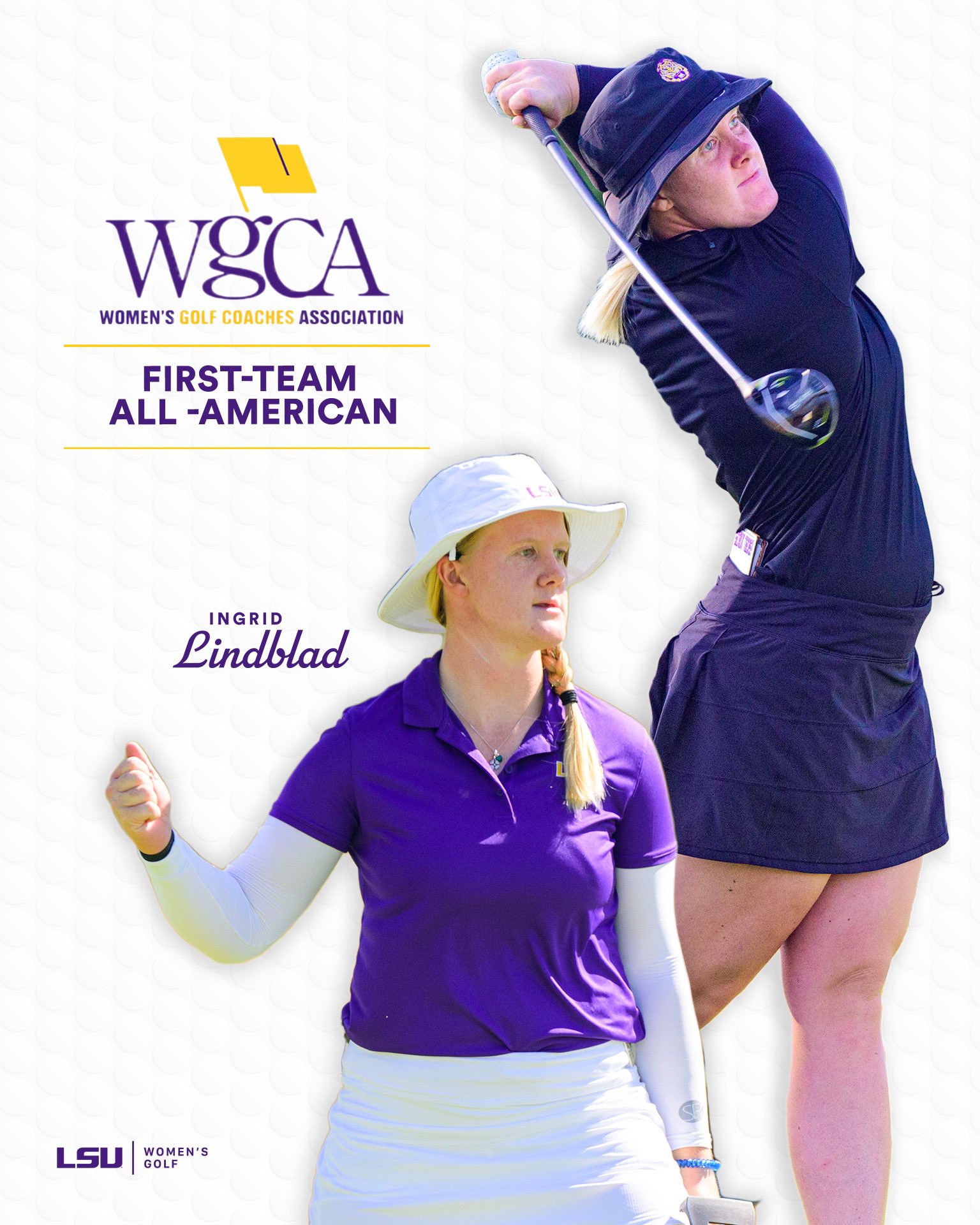 LSU senior Ingrid Linblad became the first women's golfer in school history to be named to the first team All-American on Friday by the Women's Golf Coaches Association announced.
Lindblad, a native of Sweden, recently completed a top-five finish at the NCAA Championships. She wound up with 11 career wins – the most by any LSU male or female golfer – finished the 2022-23 season with a stroke average of 70.65, the third lowest in program history.
Lindblad is the first four-time first-team All American in either men's or women's golf history at LSU.
Also returning to the All-America list of the WGCA is senior Latanna Stone, who after earning honorable mention honors in 2021, is back on the list this year, earning second-team listing. She was a Golfweek Honorable Mention selection in both 2020 and 2021.
Earning her first spot on the WGCA top players list was sophomore transfer Aine Donegan. The native of Ireland also earned honorable mention honors.
Lindblad now owns the top four scoring averages from each of her seasons to date at LSU and over four years has averaged 70.53 for 117 career rounds, the best career average in school history. Her teammate, Stone, is second with a 72.43 stroke average for 116 rounds.
Stone, from Riverview, Florida, scored the first two wins of her collegiate career in the 2023 portion of the season, winning at the Nexus Collegiate in the Bahamas with a 6-under score of 210 (72-68-70) and at the NCAA Women's Regional in Palm Beach Gardens, Florida when she posted three consecutive 1-under 71s to shoot 213 at PGA National.
Stone posted five top five finishes for the year and averaged 71.68 for 34 rounds, better than a 1.6 stroke improvement for her average in 2022 and the best of her four years at LSU. She posted 20 par or under rounds, including a second-round of 4-under 68 in the national championship tournament.
For Donegan, her first year at LSU after transferring from Indiana earned her an honorable mention citation for a consistent season in which she only finished out of the top 18 in one regular season tournament. She finished third in both the Green Wave Fall Classic and the Southeastern Conference Women's Championship and seventh in the Nexus Collegiate.
Donegan shot 10-under 206 (67-68-71) in New Orleans and at the SECs posted rounds of 72-71-71 for a 2-under 214.
Her first season average with the Tigers was 72.97 with three top 10s and 15 rounds of par or under.
The complete WGCA All-America teams:
WGCA 1st Team All-Americans
Jenny Bae, University of Georgia
Zoe Campos, UCLA
Karisa Chul Ak Sorn, Iowa State University
Hannah Darling, University of South Carolina
Charlotte Heath, Florida State University
Madd Hinson-Tolchard, Oklahoma State University
Rachel Kuehn, Wake Forest University
Andrea Lignell, University of Mississippi
Ingrid Lindblad, Louisiana State University
Julie Lopez Ramirez, Mississippi State University
Megan Schofill, Auburn University
Lauren Walsh, Wake Forest University
Crystal Wang, University of Illinois
Lottie Woad, Florida State University
Rose Zhang, Stanford University
WGCA 2nd Team All-Americans
Kajsa Arwefjall, San Jose State University
Rosie Belsham, Baylor University
Carla Bernat, Tulane University
Sadie Englemann, Stanford University
Laney Frye, University of Kentucky
Sera Hasegawa, Baylor University
Lion Higo, Pepperdine University
Carolina Lopez Chacarra, Wake Forest University
Ashley Menne Arizona State University
Jennie Park, Texas A&M University
Amanda Sambach, University of Virginia
Celina Sattelkau, Vanderbilt University
Latanna Stone, Louisiana State University
Chiara Tamburlini, University of Mississippi
Mirabel Ting, Augusta University
WGCA Honorable Mention All-Americans
Amari Avery, University of Southern California
Phoebe Brinker, Duke University
Jensen Castle, University of Kentucky
Mathilde Claisse, University of South Carolina
Aine Donegan, Louisiana State University
Megha Ganne, Stanford University
Melanie Green, University of South Florida
Tiffany Le, University of California Riverside
Mackenzie Lee, Southern Methodist University
Lucia Lopez-Ortega, San Jose State University
Patricie Mackova, University of Maryland
Caitlyn Macnab, Texas Christian University
Antonia Malate, San Jose State University
Caley McGinty, The Ohio State University
Emilia Migliaccio, Wake Forest University
Catherine Park, University of Southern California
Louise Rydqvist, University of South Carolina
Emma Schimpf, College of Charleston
Jeneath Wong, Pepperdine University
Michelle Zhang, Southern Methodist University