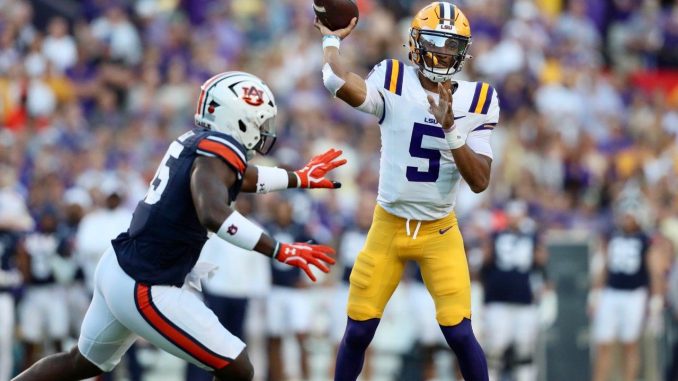 Earlier this year LSU quarterback Jayden Daniels was presented with the opportunity of attending his first Mardi Gras celebration in New Orleans.
He was three months removed from making the decision to return to LSU for his fifth season of eligibility instead of opting for his boyhood dream of professional football and the NFL Draft.
The native San Bernardino, California could have stepped out of his comfort zone and frolicked with thousands of other revelers and really let his hair down.
Instead, Daniels remained committed to his mission of improving his skills and preparing for the 2023 season and went to Dallas to work out for several days.
"It's something I want to do in the future to experience that," Daniels said on a recent appearance on The Official Heisman Trophy Podcast with Chris Huston. "I had to get some work in. That's the mindset. I'll enjoy Mardi Gras later down the road. I had my eyes set on a goal. I had to do anything I can to achieve it."
Teammates are enamored with Daniels work ethic and attention to detail. Because he routinely shows up at LSU's Football Operations Center to watch film at 5:30 a.m. and later leave after 8 p.m., second-year football coach Brian Kelly said the staff had to adopt new policies and procedures involving player usage of the facility.
"We used to cut off players at a certain time," Kelly said. "We gave them unlimited access to the building. He (Daniels) just lives in this building."
Teammates took notice, heralding Daniels' efforts to become the best quarterback he could and lead LSU to a national championship. He's achieving the former, while the latter's become a little more difficult.
"He continues to come here at 5:30 in the morning, watch film and focus on things to get better on," LSU wide receiver Malik Nabers said of Daniels. "Always putting in work after practice with us as a receiver group. Just the little things he does throughout the week, it shows how great of a leader he is on the field and I'm proud of him. He came into this year wanting to focus on the Heisman. The stuff that he's been producing for the Heisman is a pretty good showing."
Daniels was the odds-on favorite before the season to finish behind last year's winner, Caleb Williams of USC, in this year's race for the Heisman Trophy.
With six weeks remaining until the award's announced Dec. 9 on ESPN, those roles have reportedly been reversed. There's been a groundswell of support for Daniels to not only be invited to New York for the Heisman Trophy ceremony but join the exclusive club of Billy Cannon and Joe Burrow of LSU to win the hallowed award.
"He's a frontrunner for the Heisman for me," SEC Network football analyst Jordan Rodgers said on Oct. 21. "When you have everything covered up, and the defense is perfect and just somehow a guy like Jayden steps out of the pocket and down the sidelines for 30-40 yards. As a defender you just go, 'What are we supposed to? Everything's in place and it was the perfect defense, and he was just better. That element of his game is what really sets him apart."
One of the built-in components of the award – team success – is relative with No. 15 LSU (6-2, 4-1 in SEC) enjoying an open date this week in advance of next Saturday's 6:45 p.m. showdown at No. 9 Alabama (7-1, 5-0) in Bryant-Denny Stadium.

The game looms large for the Tigers in their quest to repeat at SEC West Division champions and return to the league's championship game.
It's an even bigger opportunity for Daniels to not only lead LSU to a fourth consecutive victory and gain a bigger foothold in the SEC, but his candidacy for the Heisman Trophy could further springboard into a greater reality with another fantastic performance.
In the eyes of Heisman voters, it could turn into Daniels' 'Heisman Moment' which could help define his season and possibly help propel him up the NFL Draft boards next spring.
"I think Jayden has some serious headwinds," said Scott Rabalais of The Baton Rouge Advocate/Times-Picayune, a 26-year voter of the Heisman. "LSU's two losses, the fact that the one game most voters probably saw him was against Florida State (45-24 loss) when he wasn't his best and being compared in the minds of voters to Joe Burrow. That said, you can't vote on him against the past. No one in college football is playing better than him. I think he has an improving chance to win, but it's likely to come down to what happens in the Alabama game."
His team, which has endured uneven defensive play at different times, lost two of first five games and threatened to either bury or drop Daniels out contention for the award that honors college football's best player.
The unflappable Daniels never flinched, went back to work and since a 55-49 loss at Ole Miss, he's directed LSU to three consecutive wins Missouri (49-39), Auburn (48-18) and Army (62-0).
He ranks first nationally in the following categories: Passing touchdowns (25), total offense per game (386.8) and passing efficiency (204.32) He's second in passing yards (2,573) and points responsible for (182).
LSU has the nation's No. 1 offense in scoring (47.4) and total offense (552.9).
"Beauty's in the eye of the beholder, but he sure looks good to me," Kelly said of Daniels after the Army game. "When your quarterback's playing at that kind of level, he gives you a chance to win every game. He's got a great supporting cast. Whatever it is the quarterback's the driver and right now he's playing at an elite level."
Daniels only needed a half against Army to show opposing coach Jeff Monken what all the fuss was about. He completed 11 of 15 passes for 279 yards and three touchdowns and added another score on the ground.
LSU led 38-0 at halftime and Daniels headed to the sideline to enjoy the rest of the game with a towel wrapped around his neck.
"He's unbelievable," Monken said. "And we're trying to put pressure on him. We tried to get some pressure on him, but when you do that kid stands back there and he can expose defenders on the back end. Putting our guys on an island against their players with that guy back there, you've got pick and choose and put some pressure on him. You can't do that all night long and let him have his way with the secondary."
Daniels has established a school record, accounting for at least four touchdowns or more over a five-game stretch – including five each in games against Grambling State (72-10) and Ole Miss.
He's completed 73.1% of his passes (163 of 223) for 2,573 yards and a career-high 25 TDs with three interceptions. Since the emergence of running back Logan Diggs, he's had one 100-yard rushing game (130) against Missouri and has led the team in rushing once and has 521 yards on 91 attempts and 5 TDs.
Daniels has 3,094 total yards, 30 total TDs and 3 interceptions.
"I would just say the work I put it in throughout the offseason," Daniels said of his improvement this year. "Coming back, I wanted to be better than I was last year. You always want to improve but you know make sure I had a plan set for how I was going to get better in all aspects of being a quarterback leadership, footwork, fundamentals, things like that and just trying to grow my knowledge of the game."
With LSU's re-emergence since its defensive debacle at Ole Miss, a stretch that's catapulted the Tigers back into the chase for the SEC West crown, Daniels' season-long consistency and brilliance have been noticed and his name's a constant among the viable Heisman Trophy candidates.
"The Heisman's become such a promotion piece and the flavor of the week," Kelly said. "What I've tried to tell our guys that we've had involved in the Heisman, look you're going to have control over this other than being consistent at what you do. Every day your focus isn't what they think about the Heisman because they're going to have opinions to range from one side to the other. Your focus is consistency and performance. If your performance is consistent week in and week out, then it's going to take care of itself."
Daniels' ascent has correlated with a couple of college football's biggest names stumbling somewhat in recent weeks.
According to college football analysts as On3 Sports, Daniels has risen to their No. 1 candidate for the Heisman followed by Ohio State wide receiver Marvin Harrison Jr., Washington quarterback Michael Penix Jr. and Michigan quarterback JJ McCarthy.
He's the No. 1 candidate according to 247 Sports, leading Penix, Harrison, Florida State quarterback Jordan Travis and Oklahoma quarterback Dillon Gabriel – the latter duo who are leading Top 10 and undefeated teams.
"They have to do something that sets them apart from the rest of the field," Rabalais said of part of his criteria for the Heisman. "Stats, certain plays, ways they lead their team. It's not a criteria for me per se but the look of a champion, of a winner. Someone who elevates the rest of his team to be something better than they could be without him."
Williams was on course to possibly be the first repeat Heisman winner since Ohio State's Archie Griffin (1974-75), but USC was blown out two weeks ago 48-20 at Notre Dame and dropped a 34-34 decision against Utah last week.
Penix, who has 2,579 total yards, 20 total TDs and 5 interceptions, leads No. 5 and 7-0 Washington but last week the Huskies had to withstand a determined effort from Arizona State, 15-7. He threw for 275 yards with two interceptions and no touchdowns.
McCarthy is the QB for No. 2 Michigan (8-0) and has 1,967 total yards, 21 TDs and three interceptions; Travis leads No. 4 FSU (7-0) with 1,926 total yards, 20 TDs and 2 interceptions; Gabriel leads No. 6 Oklahoma (7-0) with 2,361 total yards, 24 total TDs and 3 interceptions and Bo Nix is the QB of No. 8 Oregon (6-1) with 2,194 total yards, 21 TDs and 1 interception.
Harrison has 42 receptions, 773 total yards and 6 TDs for No. 3 Ohio State (7-0).
Through eight games, Daniels compares favorably to Burrow's Heisman season:
Daniels Burrow
Completion percentage: 73.1 78.8
Passing Yards 2,573 2,805
Passing TDs 25 30
Interceptions 3 4
Rushing Yards 91-521 52-187
Rushing TDs 5 3
Total Offense 3,094 2,992
Avg. Per Game 386.8 374.0
Record 6-2 8-0
"It's just an honor to be able to be considered for a prestigious award, honestly," Daniels said on the Oct. 18 edition of the Paul Finebaum Show. "That's something that when I grew up, you watch the Cam Newtons, the RG3s, Lamar Jacksons, Johnny Manziels, those guys win that award. And as a little kid, you want to win that award, too, at some point. I'm blessed that I'm able to be a part of that conversation, and just got to finish this season and let the cards play out."