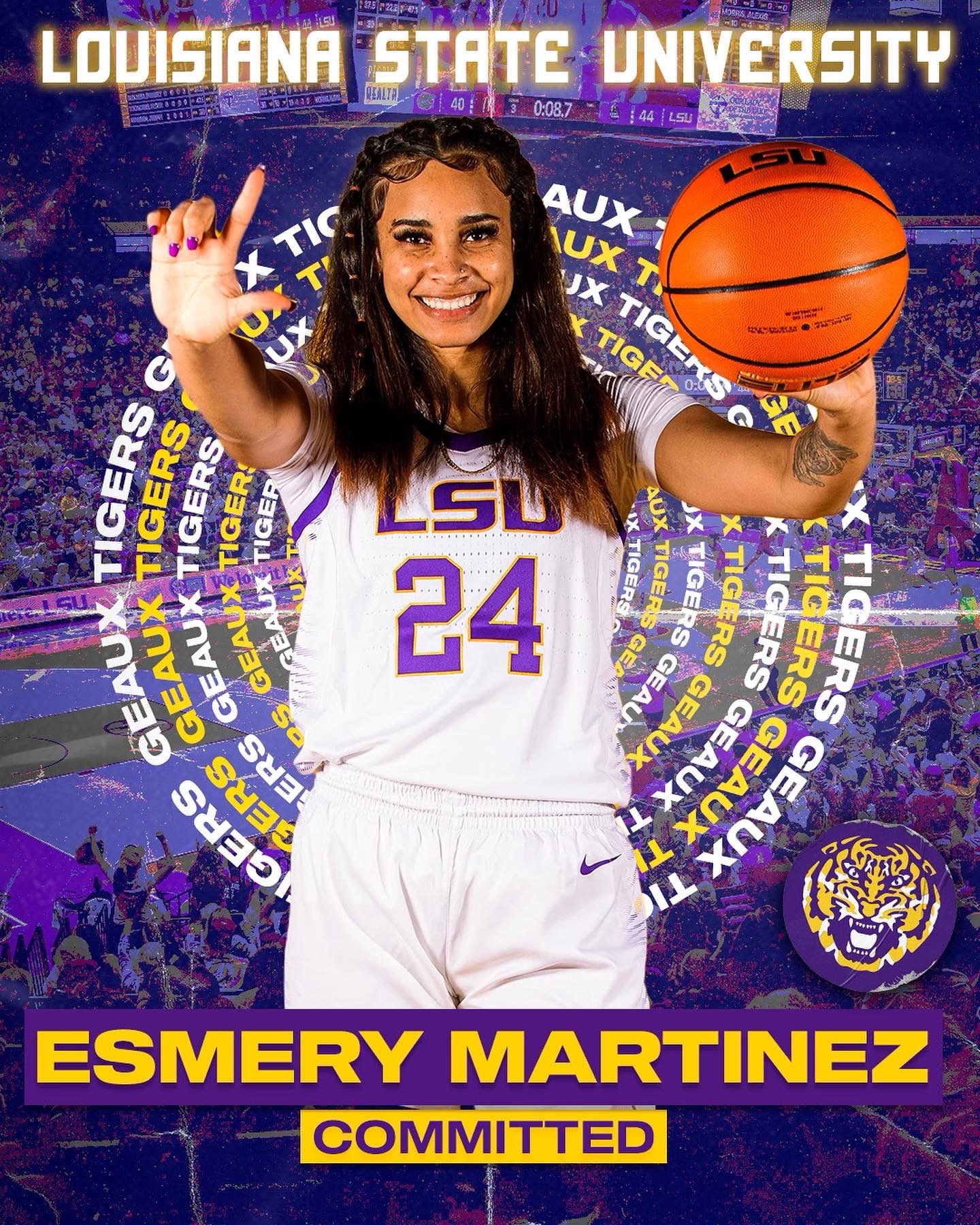 The first true recruiting class for LSU women's basketball coach Kim Mulkey grew Wednesday with two players from the NCAA transfer portal.
The Tigers picked up pledges from West Virginia teammates Esmery Martinez, a 6-foot-2 junior forward, and Jasmine Carson, a 5-10 senior guard, who both announced their intentions to attend LSU on their respective social media accounts.
LSU released a statement that said Carson had signed.
Both players have at least one year of eligibility and join Mulkey's Class of 2022 that featured three high school signees (Flaujae Johnson, Alisa Williams, Sa'Myah Smith), a junior college signee (Last-tear Poa) and a preferred walk-on (Izzy Besselman).
LSU has also three players with remaining eligibility that have entered the NCAA transfer portal according to Women's Basketball Recruiting.com. That list includes sophomore forward Ajae Petty (2.4 points, 2.4 rebounds) and freshmen forwards Grace Hall (7 games, 3 points scored) and Logyn McNeil (torn ACL in preseason).
Martinez is the more heralded of the two new players from West Virginia, where Dawn Plixzweit was hired to replace veteran coach Mike Carey, who announced his retirement after 21 seasons in Morgantown. The Mountaineers went 15-15 overall and 7-11 in Big 12 play this past season and declined an invitation to play in the Women's NIT following a second-round exit in the league's postseason tournament (66-60) against Iowa State.
Martinez, a native of the Dominican Republic who played at Hamilton Heights Christian Academy in Chattanooga, Tennessee, has twice earned All-Big 12 honors the past two seasons, including first team laurels in 2020-21 when she averaged 13.6 points and 11.6 rebounds and led her team in rebounding 12 times.
She was named second team All-Big 12 this past season when she started in 28 of 29 games for West Virginia, ranked second in scoring (11.3) and first in rebounding (8.8), shot 43.4% (137 of 316) from the field and made 20 3-pointers
Martinez had nine double-doubles, scored in double figures 19 times with a career-high 26 against Oklahoma and had three 20+ rebound games. She wound up starting in 57 of 87 games in her career, shooting 46.3%. averaging 10.1 points, 9.0 rebounds with 128 steals and 71 blocks.
Martinez averaged 18.3 points and 14.3 points during her senior season at Hamilton Heights where she was regarded as the nation's No. 25 overall player by All-Star Girls Basketball Report and originally signed with Mississippi State. She also was a representative on the Dominican Republic's Junior National team and averaged 8.8 points and 5.3 rebounds during the FIBA Caribbean Women's Championships.
LSU represents the third stop for Carson who played at Georgia Tech for two years before transferring to West Virginia for a 1 ½ years when she didn't return to the team after 12 games last season. She played in a total of 37 games at West Virginia where she averaged 4.7 points and 1.3 rebounds, shooting 36.8% (32 of 87) from 3-point range.
Carson averaged 9.7 points and 3.2 rebounds during her sophomore season at Georgia Tech. She scored in double figures 15 times, including a stretch of eight-straight games, and scored more than 20 points on three occasions.
She averaged 17 points and three steals in her senior year at McEachern High in Powder Springs, Georgia after transferring from Memphis-Central. She was a 2018 Naismith High School honorable mention choice.
"Jasmine's athleticism and quickness will translate well for us on both ends of the court," Mulkey said in a statement. "She brings in an outstanding perimeter shot that will stretch the floor for us offensively."