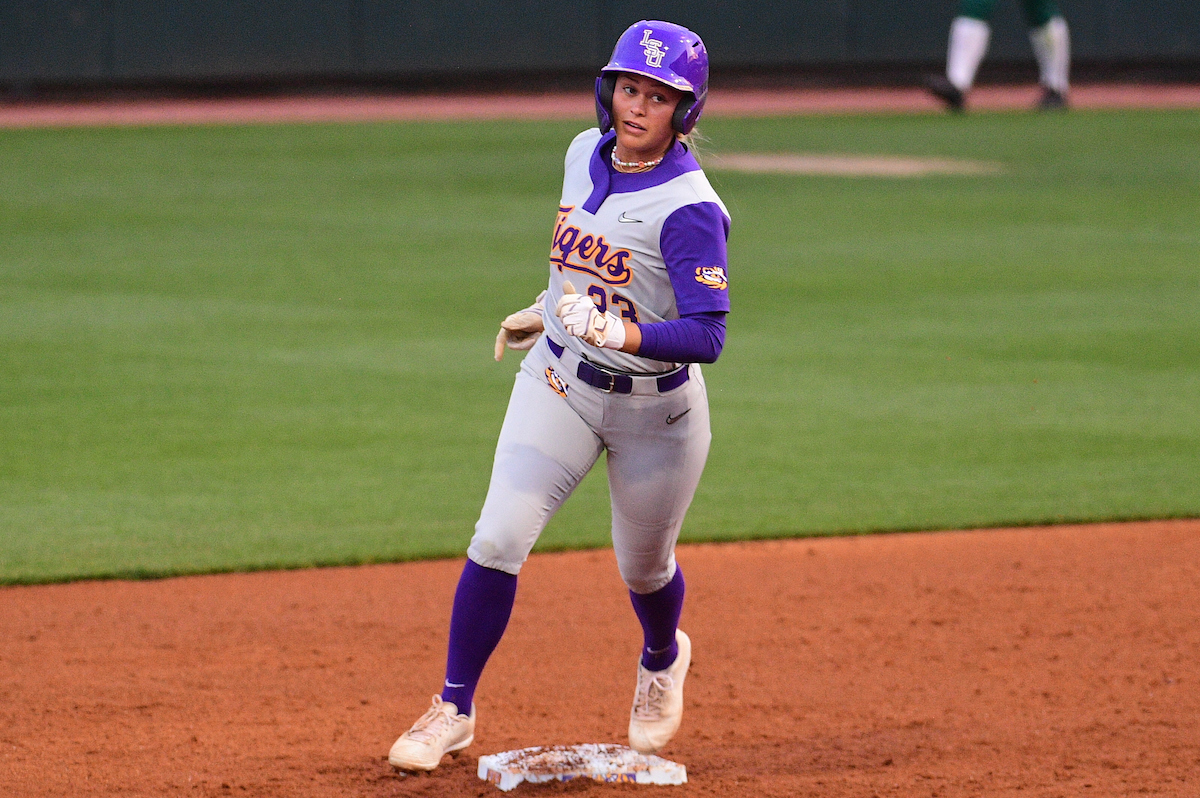 Youth was served in No. 18 LSU's softball win over Southeastern Louisiana at Tiger Park.
Freshmen Baylea Brandon collected three hits and drove in five runs and pitcher Raelin Chaffin allowed two hits in a 11-0 mercy-rule victory in five innings.
No. 18/20 LSU (20-7) scored 10 runs in the third and fourth inning combined to run-rule Southeastern Louisiana (14-8), 11-2 in five innings Tuesday at Tiger Park.
"I was very stoked about it," Brandon said. "I worked hard to get my opportunity tonight and I capitalized on it."
Sophomores Raeleen Gutierrez and Taylor Pleasants both had a pair of RBIs on the night for LSU (20-7) which scored 10 runs in the third and fourth innings..
Chaffin (4-0) struck out with no walks and two hits. Sophomore pitcher Taylor Edwards came in to close the game in the top of the fifth inning.
"I thought she did a good job. She did exactly what we needed," LSU softball coach Beth Torina said. "I thought the entire game was what we needed to see tonight for our team. We were able to make offensive adjustments from pitcher to pitcher and I think they did a good job showing up and doing exactly what we needed to do."
Brandon's RBI-single put LSU up 1-0 in the second inning. The Tigers proceeded to score six runs in the third inning highlighted by a two-RBI home run from shortstop Taylor Pleasants, and a three-run shot from Brandon to make the score, 7-0.
"The first pitch, they threw me in, and I was not expecting it," Brandon said. "The next one was out. I knew she was coming back in, and I jumped on it."
In the fourth inning Raeleen Gutierrez had up a two-run double to center field to score Pleasants and sophomore Morgan Smith walked. Brandon and sophomore Cait Calland followed with RBI-doubles to seal a four-run inning to make the score 11-0 through four frames.
ON DECK
LSU heads to the Lone Star State for a three-game series at Texas March 18-19.
Chaffin named SEC's Freshman of Week
Chaffin earned her first collegiate accolade by being named the SEC Freshman of the Week announced Tuesday by the league office.
Chaffin was one batter shy of a perfect game against No. 2 Alabama Saturday evening. She retired 21 of the 22 batters she faced and gave up just one hit, a home run in the second inning.
Chaffin went on to sit down 17 consecutive batters after that home run and had five strikeouts in the 5-1 victory over the Crimson Tide. Chaffin held UA to a .045 batting average.
Tigers move up on polls
The LSU softball team moves up to No. 18 in the ESPN.com/USA Softball Top 25 Poll and No. 20 in the USA Today/NFCA DI Coaches' Polls. The Tigers have been ranked in the national polls for 114 consecutive weeks dating back to 2014. LSU is coming off a huge 2-1 series win over No. 2 Alabama to open its SEC slate.
The Tigers tallied 227 points in the ESPN.com/USA Softball poll and 226 points in the NFCA poll.