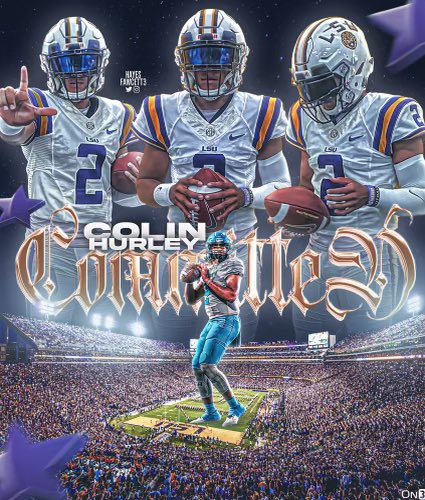 LSU picked up its quarterback of the future who potentially narrowed the scope of his impact by a year.
Not only did quarterback Colin Hurley of Trinity Christian in Jacksonville, Florida commit to LSU on Friday, the 6-foot, 213-pounder also reclassified into the Class of 2024.
"To coach Brian Kelly and the staff at LSU, I want to thank you for the opportunity to graduate a champion and bring a national championship to Baton Rouge," Hurley said in his announcement on his Twitter page.
LSU's class in that cycle, which was ranked No. 5 by 247Sports before Hurley's declaration, now has six commitments and a centerpiece in Hurley that LSU quarterbacks coach Joe Sloan took the lead role in recruiting for the program.
Hurley is listed as a five-star prospect on the 247Sports composition rankings. He's also the No. 3 overall quarterback, No. 24 prospect and No. 5 player in Florida.
"With every visit to LSU, I've come away feeling a greater sense of connection to the school, football program, staff and community," Hurley told On3Sports. "It's been a refreshing experience and I have to say, when you hear about, 'the process' and 'building relationships' and 'go where you are needed and wanted' — that typifies what I have with LSU and what LSU has with me.
"Since the first visit, LSU and the staff — Coach Kelly, Coach (Mike) Denbrock and Coach Sloan have all made it clear where I am on their board. They've evaluated, graded and vetted me very carefully, against all of the top prospects."
Hurley, who has 25 scholarship offers, selected LSU over a group of schools that had extended offers such as SEC brethren Alabama, Florida, Georgia, Ole Miss, Arkansas and Texas A&M. Ohio State, Florida State and Miami also made overtures.
Hurley is planning to attend this week's LSU-Alabama game which would mark his seventh unofficial visit to Baton Rouge.
He was selected Florida's Class 2A Player of the Year after leading Trinity Christian to an 8-4 record and state title in 2021 after completing 144 of 257 passes for 2,146 yards with 24 touchdowns and 12 interceptions. The Conquerors are 9-0 this season going into Friday's game with Munroe.
"Coach Kelly is awesome," Hurley said. "Since the first day I stepped onto campus at LSU, I've had a relationship with BK. He always sets aside time for me when I visit. He has made it a point to stay in contact with me. BK has watched film with me, and we've had some conversations about X's and O's. He's told me from day one, 'I want you to be a Tiger. We want you to be a Tiger. Let's bring a National Championship to Baton Rouge.' Those are his words."