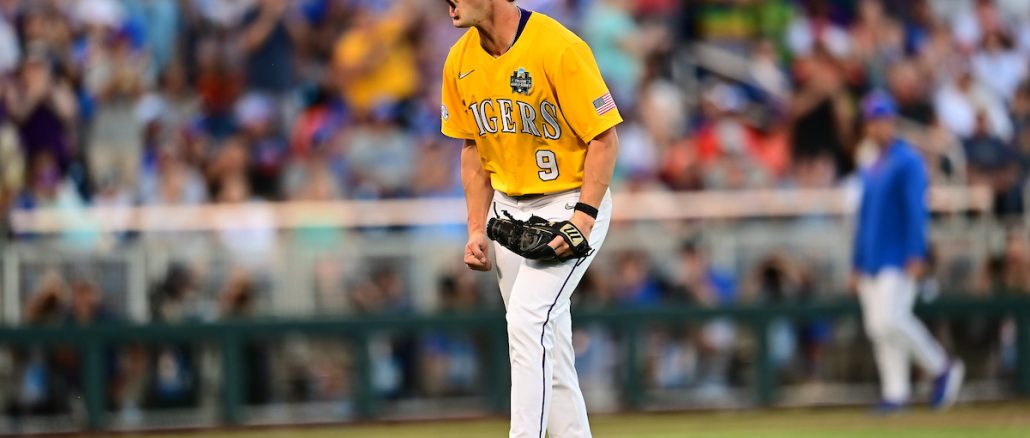 ---
The shadow of LSU's 6-foot-6 All-American pitcher Paul Skenes is long and far-reaching.
So much so, that Tigers baseball coach Jay Johnson believed that his No. 2 pitcher – junior Ty Floyd – had flown through much of the season under the radar.
That was until LSU's run in the College World Series and in particular, Saturday's first game of a best-of-three championship series, when Floyd took centerstage with a career-high 17 strikeouts to keep the Tigers close until an 11th inning homer from Cade Beloso provided the difference in a 4-3 victory.
"He's there," Johnson said Floyd's status amongst the game's top pitchers. "It's probably because of Paul and Paul being so out-of-this-world good. Nobody's really paid attention to him, but the pro people are. He's not going to last very long on that draft board. Somebody will be very happy with Ty Floyd, and I think that he will pitch for a very long time. There's a chance for it to be a short arc from Omaha to a big-league stadium for him."
While Floyd was equaling a CWS record for nine innings with 17 strikeouts, matching Arizona State's Ed Bane's effort in 1972, the Tigers turned the game over to red-hot reliever Riley Cooper. He picked up the win with three innings of one-hit, scoreless relief, with one walk and three strikeouts.
Cooper (5-3) made his fourth appearance of the CWS, extending his stretch of scoreless relief to 8.2 innings. He's yielded four hits, three walks and struck out nine.
The story of the game, though, was Floyd and his ability to negate Florida's talented offense.
"I felt good," Floyd said. "With as many people (25,258) that were here, the adrenaline felt good. I just knew throwing my fastball at the top of the zone, being able to mix in off-speed pitches enough to get them off, was the biggest key for the night."
Floyd enjoyed his second-longest outing of the season, going eight full innings and leaving in a 3-3 tie after Tommy White's homer had pulled the Tigers even in the top half of the inning.
The right-hander allowed five hits, three runs and one walk to go with his career-best strikeout total that eclipsed the LSU CWS record of 16 held by Brett Laxton in 1993. Floyd's previous best this season was 10 strikeouts – both of which occurred in losses to Mississippi State and Wake Forest.
"Really hard to put into words what that performance meant for the outcome of the game and for our team," Johnson said.
The game's hero, designated hitter Cade Beloso whose solo homer in the 11th provided the difference, went a step farther.
"He gave us a chance to win," he told ESPN.
Floyd struck out at least two batters in four of his first five innings, but his team was locked in a 2-2 deadlock after Florida scored on an RBI-groundout. The Gators took the lead an inning later on catcher BT Riopelle's solo homer – his 18th of the year – with two outs to right field.
"I just know that my stuff is going to play," Floyd said. "He put a really good swing on a fastball, you have to tip your cap. I knew that I had a great offense behind me that's going to back me up."
Instead of crumbling from the pressure, Floyd responded with a strikeout of Luke Heyman to end the sixth – igniting a stretch where he retired the next seven straight batters.
There wasn't a bigger stage for Floyd to show his dominance than against the top of Florida's lineup in the bottom of the eighth.
With his pitch count at 110 through seven innings, Floyd mowed down the Gators' top hitters – Cade Kurland, Wyatt Langford and Jac Caglianone – in order with Kurland and Caglianone striking out swinging and Langford popping out to second base.
He struck out every batter in Florida's lineup at least once and got seven of them to fan at least twice.
"Striking out the side with those three hitters right there, that's legit," Johnson said. "That's pitching at the highest level when he emptied the tank to put us in position to get through the first seven innings."
The 17th strikeout, an 0-2 elevated fastball to Caglianone – a finalist for the Golden Spikes Award – capped Floyd's evening. He threw 89 of 122 pitches for strikes.
"I've never been known for my emotion," Floyd said. "When I show my emotion is when I know I'm done. That's one of the reasons I was able to get a little fired up, plus I knew the game was tight. I knew that we had to win the game."
Cooper allowed a two-out walk in the ninth before closing the inning with a strikeout. Florida got two runners on in the 10th on a hit by pitch and Kurland's single, but Cooper got Langford out on a terrific play in left field by Josh Pearson and Caglianone popped up to shortstop.
He was even better in the 11th, retiring the side with a fly out to Paxton Kling in right and consecutive strikeouts, pushing LSU's total to 20, to cement the victory.
"He's had a terrific season, nothing better than that tonight," Johnson said of Floyd. "We're not sitting here in this position without Ty Floyd. I feel like he's one of the more underrated, underappreciated players in college baseball this year."