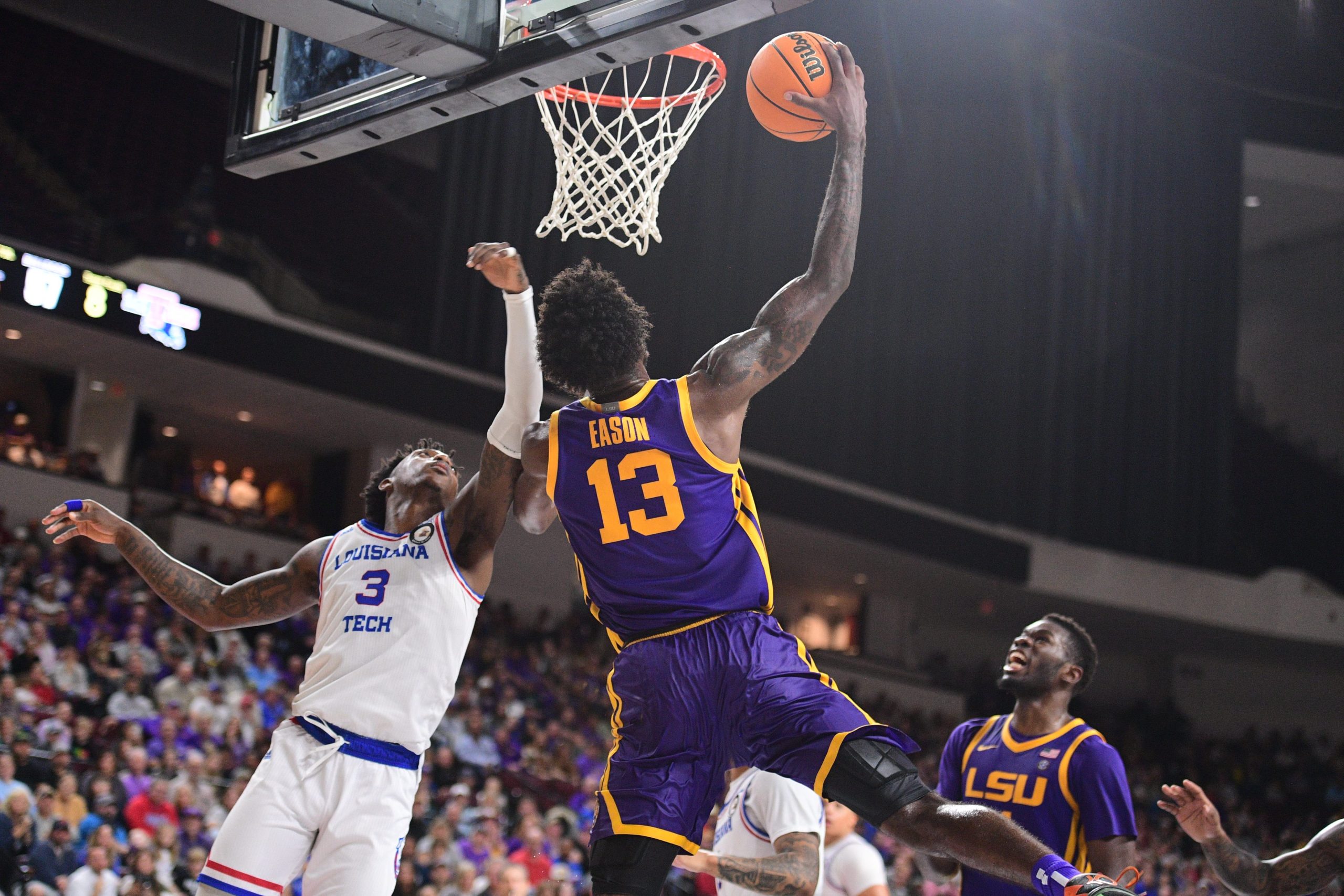 BOSSIER CITY – Tari Eason scored 10 straight late points and Darius Days had a career-high 18 rebounds to help No. 19 LSU rallied from a 13-point deficit in the first half and defeat Louisiana Tech, 66-57, at Brookshire Grocery Arena.
Eason finished with 21 points with eight boards on 8-of-15 shooting, while Days had his 19th career double double with 13 points and the 18 boards, also moving past the 1,000-career points mark. Xavier Pinson added 10 points.
LSU (11-0) after a show first half shot 52 percent in the second half, making 13-of-25 from the field with four treys. Louisiana Tech shot just 25.9 percent in the second half and made just two three-pointers.
Tech was led by Kenneth Lofton Jr., and Amorie Archibald with 13 points each while Exavian Christon had 11 points.
Louisiana Tech (8-3) scored the first 11 points of the game and that's where the game stayed for much of the first half of play. The Bulldogs put an 18-5 advantage as LSU hit just 2-of-10 shots.
LSU was able to get the game to six at 23-17 but the Tigers trailed 35-27 at the break.
Days got his 1,000 points on his first bucket of the game at the 9:35 mark and at halftime he had seven points and 10 rebounds.
Tech was 12-of-28 from the floor in the first half, while LSU was just 10-of-34 for 29 percent. Tech made 5 first half threes compared to 2 for LSU.
The Tigers like they did against Georgia Tech a week ago, came out again, pressing the pace and a 14-3 run gave LSU a 41-38 lead for the first time at the 16:02 mark.
From there the game see-sawed back and forth and entering the final 5:51, the Tigers tied the game at 55-55 on a Pinson bucket. In those final minutes, LSU outscored LA Tech 11-2, 10 of which came from Tari Eason. The sophomore hit an in-rhythm three, converted an and-1, and put the game away with an emphatic late dunk clinching the win.
LSU got 19 points off 16 Bulldog turnovers and had a 26-22 advantage in points in the paint.
LSU closes out the pre-Christmas schedule on Wednesday at 7 p.m. against Lipscomb.