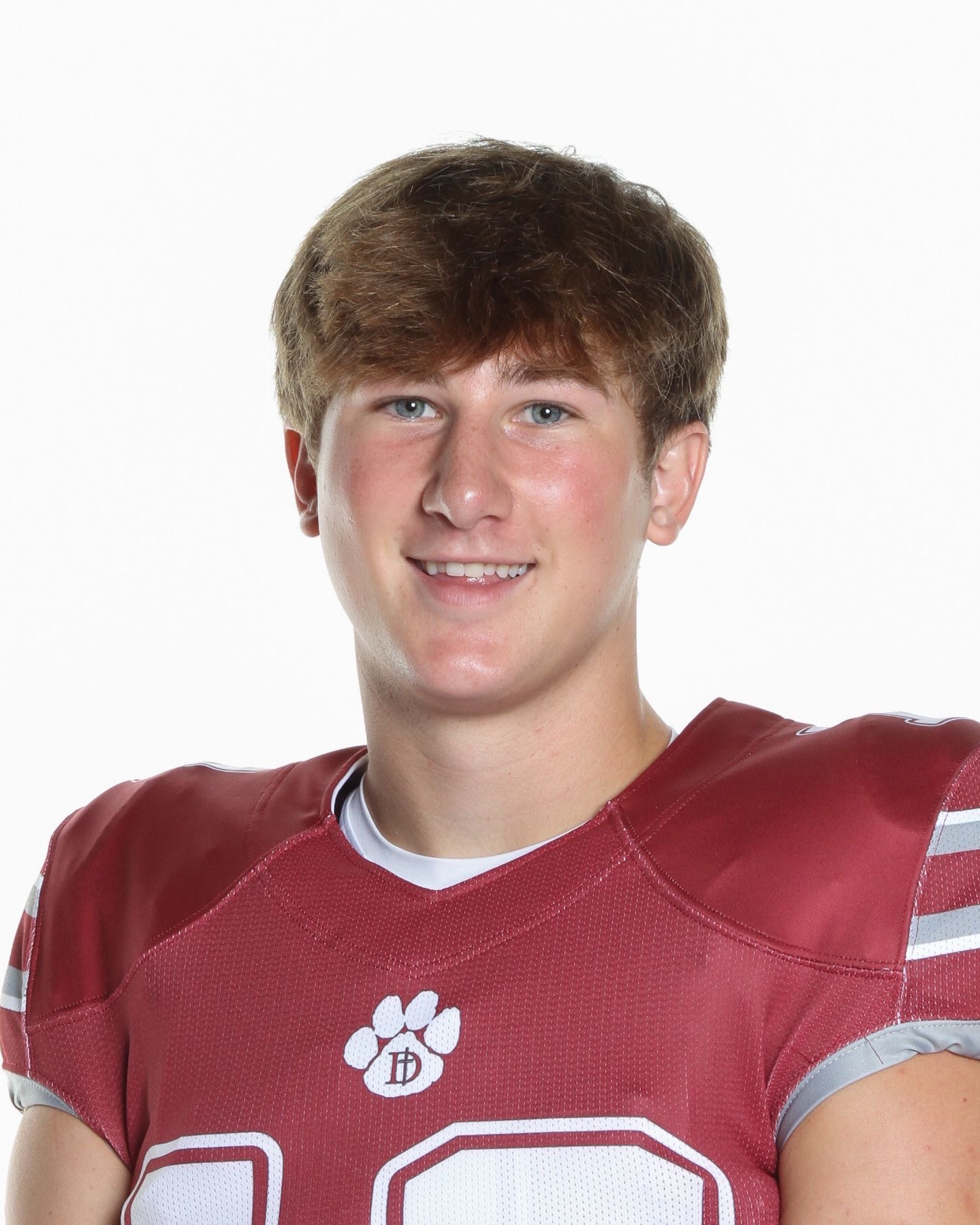 The Dunham School found itself in a back-and-forth District 6-2A shootout at East Feliciana when injuries to its top two running backs appeared to be a recipe for disaster.
After the Tiger had lost the handle on a double-digit lead in the third quarter, they regained a two-point edge and senior quarterback Jackson House re-entered following an injury and scored a 1-yard TD in the fourth quarter to seal a 41-32 victory.
House, the son of LSU defensive coordinator Matt House, was a calming force under difficult circumstances and helped lead Dunham to a pivotal victory that may result in the league's championship. There's no denying the impact his 338 total yards and three touchdowns had on his team, earning this week's Tiger Rag Shining Star of the Week.
"He's just got that warrior mentality," Dunham football coach Neil Weiner said. "He really is tough as nails. He's had to come out for a couple of plays throughout the season at different times. He's a physical runner, we use him a lot. We didn't have a returning running back coming into this year. We rely a lot on running back-by-committee, so that means Jackson ends up running the ball a lot. He's done it through the year, but he just gutted it out. His mental toughness has been tremendous for us as a leader. I feel like he's elevated everybody around him."
House, who has committed to Eastern Kentucky, helped lead St. James Academy (9-4) to nine straight wins and the Kansas Class 4A state championship in 2021, combining for 3,650 yards and 32 TDs.
He's used to pressure-packed moments like the one Dunham stepped into against East Feliciana and led 27-20 at halftime. The Tigers, who lost House for a play, regained a 34-32 lead and added some insurance with more than five minutes left on House's 1-yard score.
House carried 28 times for 207 and a touchdown and completed 7 of 17 passes for 131 yards and a pair of scores. His 338 yards were part of his team's 411-yard output.
"That was huge, being able to go into that environment," Weiner said. "It was their homecoming game. They had a great crowd. They played as well as they played all year. It was a great game, not just for the district standings, but positioned us when we play high quality teams. It was tremendous for us to have that experience and come out on top and Jackson was a huge part of that."
OFFENSE
MILLS DAWSON, East Feliciana (Completed 24 of 46 passes for 381 yards, 3 TDs), RICKIE COLLINS, Woodlawn (Accounted for 300 yards, 3 TDs; Completed 13 of 21 passes for 171 yards, 2 TDs; Rushed 12 times for 129 yards, TD), PIERSON PARENT, Dutchtown (Accounted for 277 total yards, 2 TDs; Rushed 15 times for 225 yards, 2 TDs; Completed 8 of 9 passes for 52 yards), TYLAN JOHNSON, Madison Prep (Completed 16 of 27 passes for 224 yards, TD), CLAYTON ADAMS, Woodlawn (Accounted for 218 all-purpose yards, 2 TDs; Caught 9 passes for 112 yards, TD), GLEN CAGE, Central (Rushed 38 times for 213 yards, TD), REESE MOONEY, Denham Springs (Completed 18 of 31 passes for 208 yards), DANIEL BEALE, Catholic-BR (Completed 16 of 29 passes for 198 yards, 3 TDs), ELI HOLSTEIN, Zachary (Completed 11 or 20 passes for 173 yards, TD), TROY SYLVE, Walker (Completed 12 of 22 passes for 172 yards, 2 TDs), MIKE MITCHELL, Plaquemine (Combined for 164 total yards, 3 TDs; Completed 7 of 14 passes for 113 yards, 3 TDs; Rushed twice for 51 yards), CAMERON STEWART, Zachary (Rushed 21 times for 151 yards, 3 TDs), MICAH HARRISON, Denham Springs (Caught 10 passes for 132 yards), BARRY REMO, Catholic-BR (Rushed 17 times for 127 yards), WARREN YOUNG JR., Walker (Caught 7 passes for 121 yards, 2 TDs), STANLEY JACOBS, East Feliciana (Caught 5 passes for 114 yards, TD), TREY'DEZ GREEN, East Feliciana (Caught 4 passes for 114 yards, 2 TDs), TAKIRI WHITE, East Feliciana (Caught 8 passes for 108 yards), DANIEL HARDEN, Catholic-BR (Caught 8 passes for 92 yards, 3 TDs), WALTER SAMUEL, East Ascension (Rushed 16 times for 90 yards), KAYDEN TUREAUD, Parkview Baptist (Rushed 13 times for 77 yards, 2 TDs), J'KOLBY McCOY, Plaquemine (Caught two passes for 72 yards, TD), KEDRIC BROWN, Walker (Accounted for 3 touchdowns, rushing, punt return, fumble recovery)
DEFENSE
HAROLD LAWSON, Catholic-BR (9 tackles), AIDEN CAIN, Plaquemine (8 tackles), DIEGO DAVIS, Plaquemine (7 tackles, caused fumble, interception, sack), MATTHEW BEALL, St. Michael (8 tackles, TFL), KNOX POIRRIER, St. Michael (8 tackles), WYATT TYNES, LIVE OAK (8 tackles, TFL), HAYDEN KNAPPS, St. Michael (8 tackles), SKYLER MARTIN, Live Oak (8 tackles), DAVID VOORHEIS, Live Oak (8 tackles), GRAYSON BOUDREAUX, St. Michael (7 tackles), AK BURRELL, Dutchtown (7 tackles, 2 TFLs, 4 PBUs), DAVID JONES, Madison Prep (7 tackles), BRODY WELCH, Live Oak (7 tackles), TRAEVON JORDAN, Plaquemine (6 tackles), BENNETT CASTRO, Catholic-BR (5 tackles), LAITHON RILEY, Parkview Baptist (Interception return for 35-yard TD)
SPECIAL TEAMS
DAJON BELONEY, Plaquemine (Had 159 yards of return yardage; 134 yards in punt returns, 25 on a kickoff return), DAVID JONES, Madison Prep (Returned punt 94 yards for a TD)