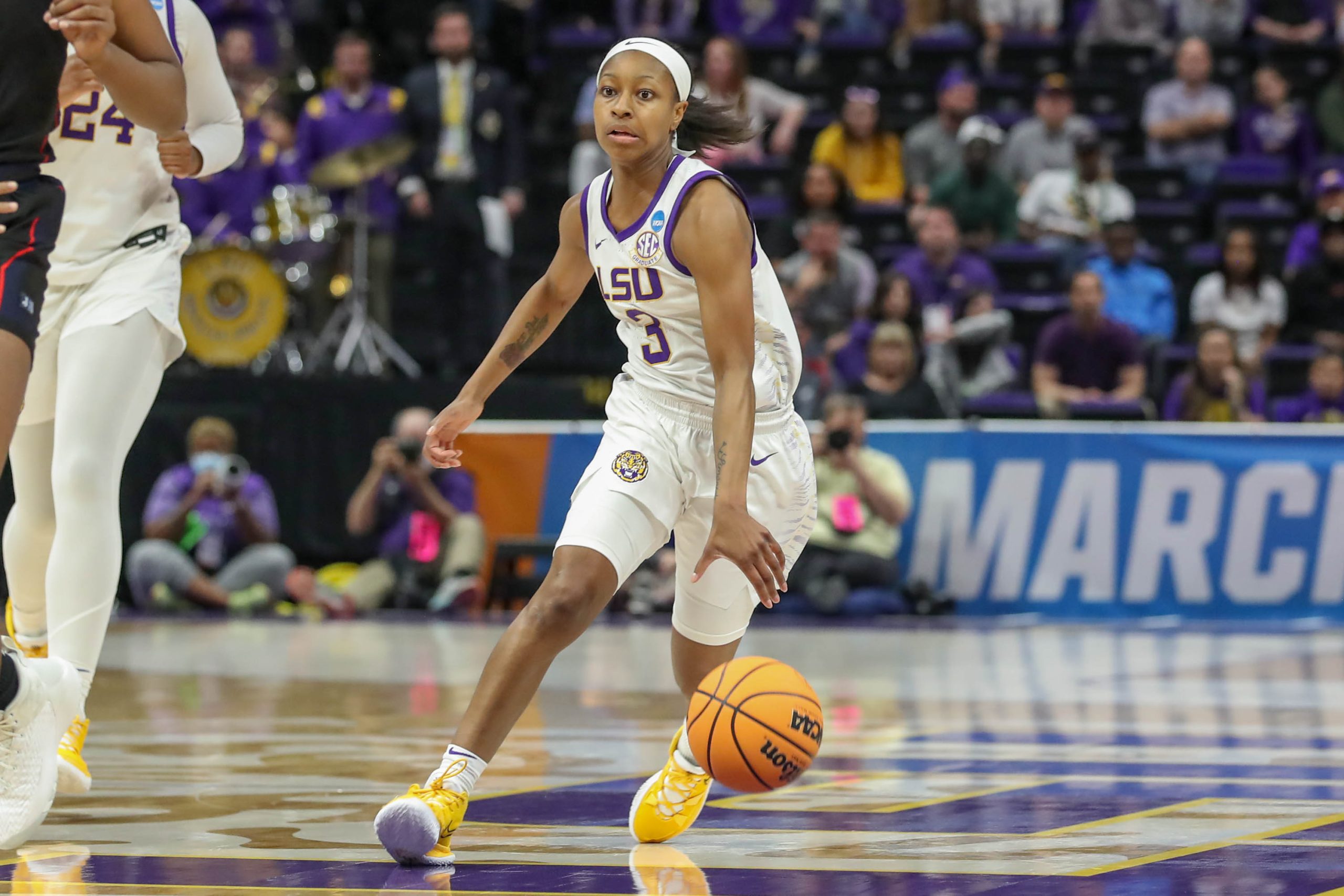 With just under five minutes to play No. 3 LSU found itself on the wrong side of NCAA tournament history.
The Tigers were hosting postseason play at the Pete Maravich Assembly Center for the first time in a decade, in pursuit of their first NCAA tournament victory in eight years and to add to the challenge, trailed upstart No. 14 Jackson State by 10 points with less than five minutes left.
Never has a team from the Southwestern Athletic Conference ever won a NCAA tournament game and when LSU decided to go into a full-court press, the Tigers unleashed a furious rally that resulted in a tied game that graduate student guard Khayla Pointer broke with a 3-pointer with 49 seconds remaining that led to a 83-77 victory Saturday over Jackson State before a crowd of 7,890 at the Pete Maravich Assembly Center.
"It's March, everybody knows seeding doesn't matter," Pointer said. "We have seen it on the men's side. We've seen it on the women's side. It is about who wants it the most and who is trying to extend their season. And, you know, the game is survive and advance. Like I said earlier, Jackson State is a great team. And we knew we were going to have our hands full all night. I'm happy we won it."
No. 3 LSU (26-5) avoided the NCAA's first 3 vs. 14 upset and hosts No. 6 Ohio State, a 63-56 winner over No. 11 Missouri State, in Monday's second round at 7 p.m. on ESPN2 in the Spokane Regional.
Pointer and backcourt mate Jailin Cherry combined for 50 points with 26 and 24 points, respectively, with center Faustine Aifuwa adding a double-double with 17 points, 14 rebounds and seven blocked shots. Pointer also added nine rebounds and dished out eight assists.
"I'm worn out," said LSU first-year coach Kim Mulkey said, who had not lost a first-round game since 2001, her first year at Baylor. "Tired. Worked hard. That was a heck of a ballgame. I don't think anybody turned the TV off. I don't think any fan for either team left. And I was tired. It's like it's over."

In about a 14-minute span LSU went from one extreme to another. They built a 47-30 lead at the 8:44 mark of the third quarter only to watch Jackson State (23-7) go on a 28-10 run to take a one-point lead (58-57) at the end of three quarters.
J-State's hot hand continued behind a team-high 21 points from Miya Crump, who made two of her four 3-pointers and scored 11 points during a fourth-quarter surge for a 74-64 lead with 4:54 remaining.
"I said the game's not over," Mulkey said to her team. "I said but we've got to change the momentum here. We've got to pick it up in a full court and we went to full-court pressing. We haven't had to do that much this year."
Aifuwa kick-started a 13-0 run with pair of baskets, a wave that picked up considerable steam when LSU's press forced back-to-back turnovers for two straight field goals to draw to within 74-73. Pointer converted a steal into a three-point play and Cherry's layup off a steal brought the crowd to its feet with 3:03 left.
Crump missed a pair of technical free throws after LSU's Ryann Payne was whistled for a delay of game call, the third technical in the game, but LSU took the lead on two free throws from Pointer and Cherry reached a new career high with a baseline jumper with 2:14 to go.
J-State tied the game for the eight time at 77-77 on a free throw from Keshuna Luckett with 1:13 left and Daja Woodard's putback with 1:11 showing.
Pointer answered with her second 3-pointer of the game – this time from the left wing – and Alexis Morris, who played 18 minutes for the first time since suffering a sprained MCL on Feb. 24, made 3 of 4 free throws over the last 23.5 seconds to nail down the victory. All of her eight points came from the free throw line.
LSU outscored Jackson State 19-3 in the final 4:42 of the game.
"Just stay confident in your game no matter the stretch of the game," said Pointer, who scored 11 points in the final quarter. "It's a game of runs. I work on those shots every single day after practice. Shooting before practice. The ball came around and I just shot it with confidence. I'm happy it went in."
Pointer was fouled on her way to the basket, drawing a shooting foul against Luckett and a technical against JSU head coach Tomekia Reed when she made it 47-30 with 8:44 left in the third quarter with 2-of-4 free throw shooting.
J-State outscored LSU 28-10 over the remainder of the quarter, including a 10-0 spurt, and carried a 59-58 lead into the fourth quarter.
"I just told them they're man-handling you," Mulkey said of JSU. "I told them that their will to win in that moment was far greater. And lastly, this game's not over."
Cherry and Aifuwa combined to score 16 of LSU's 25 second-quarter points, including 10 of the team's last 12 for a 41-28 halftime lead.
After the game was tied three times in the first 13 minutes of play, LSU went exclusively to Cherry to gain separation with a corner jumper to trigger a 10-0 run that turned a 31-25 edge into a 37-25 advantage with 2:02 remaining.
"I just hit my first couple shots and I was like, 'oh, yeah'," Cherry said of her first-half shooting. "It's just the basketball Gods were shining down on me and I came to play tonight."
Awa Trasi forced a turnover on the defensive end with Cherry finishing another fastbreak layup for her 18th point of the half. Aifuwa's put back and Trasi's 15-foot turnaround inside of J-State's zone defense accounted for the halftime score.
Cherry scored eight of her team's first 12 points for a 12-9 lead but J-State remained within at arm's length because of its ability with three 3-pointers and trailed 16-14 at the end of the first quarter.
"Honestly I've said, 'oh, my God probably the past 10 minutes since the horn ended," Pointer said. "This team, we're just were relentless. … grit. You know, we weren't ready to go home."