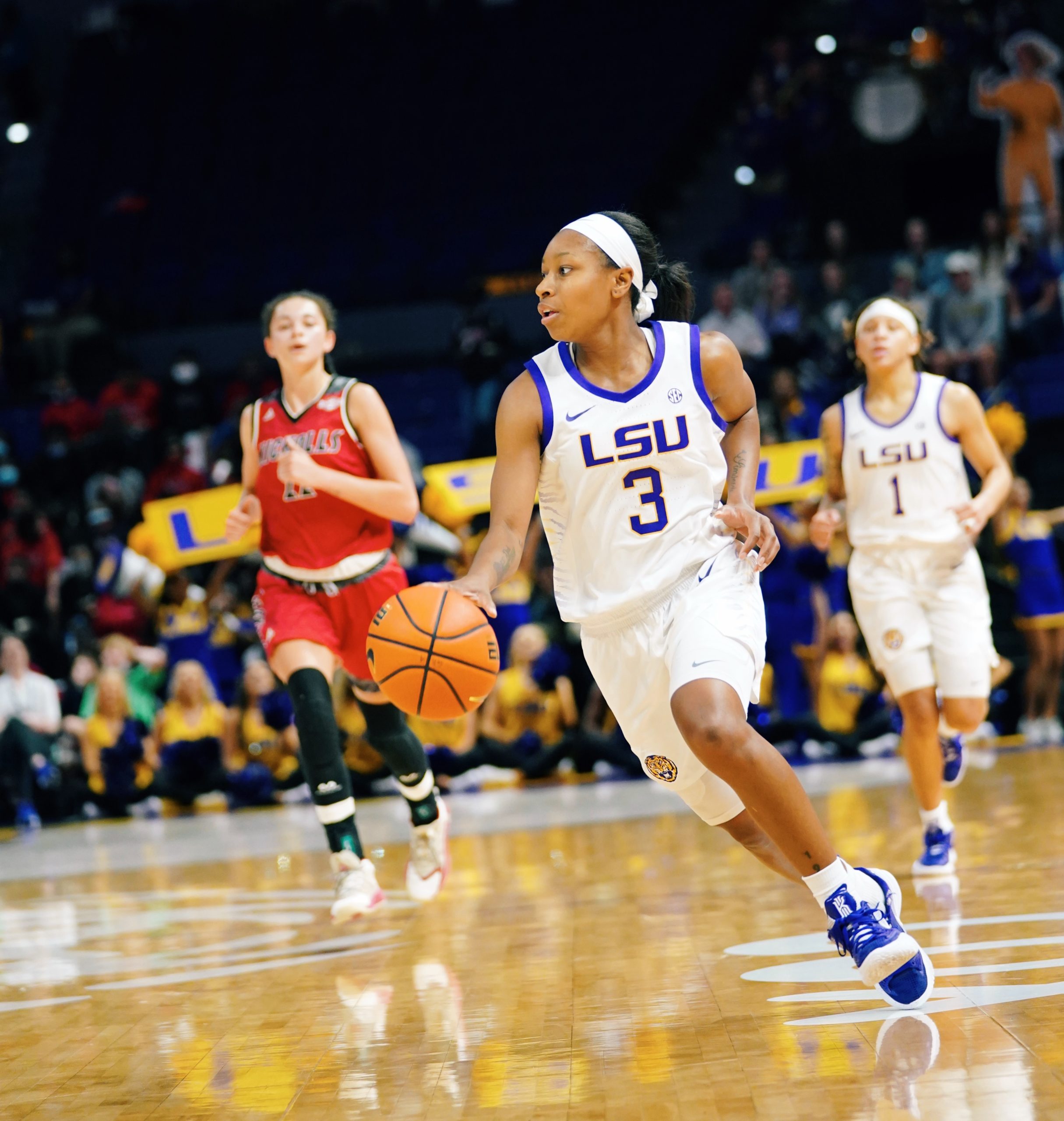 Moments after LSU clinched its historic 58-57 victory at Tennessee last Sunday, guard Khayla Pointer looked at fellow graduate students Faustine Aifuwa and Jalin Cherry and acknowledged the moment.
Not only did Pointer's last-second steal cement her team's road win, the fourth in school history at Tennessee, but the Tigers completed the regular season with eight straight wins to reach a record of 25-4 overall and 13-3 in Southeastern Conference play, good enough for second overall after a preseason projection of eighth.
"I looked at them and said, we're going out with a bang here'," Pointer said.
LSU enters SEC Tournament play at 6 p.m. Friday at Bridgestone Arena in Nashville against either Kentucky or Mississippi State as one of the hottest teams in the country.
Not only are the Tigers riding an eight-game win streak, the second best of the season, but with a No. 6 national ranking are considered to have already locked up a No. 2 or 3 seed in the NCAA Tournament where they would host the first-and-second rounds.
"If you're a team that's on the bubble, conference tournaments mean a great deal," LSU first-year coach Kim Mulkey said. "You need to go, and you need to perform well. I've just never valued a team getting on a roll and being a Cinderella when you've just played however many conference regular season games.
"The regular season in conference is the most important part of the season," Mulkey said. "Anyone can get on a roll and become Cinderella. I have to trust through the years that your seeding has been pretty much, if you're one of the top teams, has been pretty much set in stone for the postseason. Even if you've lost in the first game, would has that knocked you out of what you've done in the regular season."

Based on that philosophy Mulkey, who led Baylor to 11 postseason Big 12 Tournament championships in 14 opportunities, plans to hold guard Alexis Morris out of the SEC's postseason tournament because of a sprained MCL. While Morris and freshman forward Logyn McNeil (ACL injury) are expected to make the trip, Mulkey doesn't believe the risk of playing Morris, the team's second-leading scorer at 15.7 points, outweighs the reward of additional rest in advance of the NCAA Tournament.
"I'm not going to play Alexis Morris because I'm worried about the selection committee having to solidify our seed," Mulkey said. "If we haven't done it by this point, particularly when we just won it outright on the road against Tennessee which has been seeded higher than us, then they're searching to move people geographically."
Morris was also in the top eight of the SEC's top four offensive categories where in her absence against Alabama and Tennessee, LSU produced two (58 and 57) of its lowest offensive outputs of the season.
"We know with Lex being out we have to pick it up a bit," LSU senior forward Autumn Newby said. "We know we have to have a (post) presence. Kim stresses that every day in practice on offense and defense. We've picked that up and have tried to do more defensively, protecting the rim and rebounding."
Pointer, a two-time first-team All-SEC selection, is among the SEC's top scorers and is the team's leading scorers at 18.72 followed by Aifuwa (9.93/6.5 rebounds), Cherry (8.93), Newby (6.3/8.07 rebounds) and Ryann Payne (5.33).
Following the win over Tennessee, LSU took two days off and had a light workout Wednesday before departing for Nashville that afternoon. They also conducted another light workout at Bridgestone Arena on Thursday where they awaited a pair of opponents that required fourth-quarter performances in order to subdue them last month.
Pointer scored 19 of her game-high 28 points in the fourth quarter victory to lead LSU back from a five-point deficit and 78-69 victory over Kentucky, which is back at full strength after relying on seven players in their earlier matchup because of either COVID-19 issues or suspensions.
Morris' 23 points helped LSU rally from a two-point deficit going into the fourth quarter and propelled LSU on a 17-3 closing run in a 71-59 road win Feb. 17. Pointer scored 18 and Cherry added 10.
"Nobody expected us to be where we are today," Pointer said. "We always knew we had a chance of being pretty good. When we put gel and chemistry and the love and wanting to play for coach, look at everything we've been able to accomplish. We're not ready for it to end."