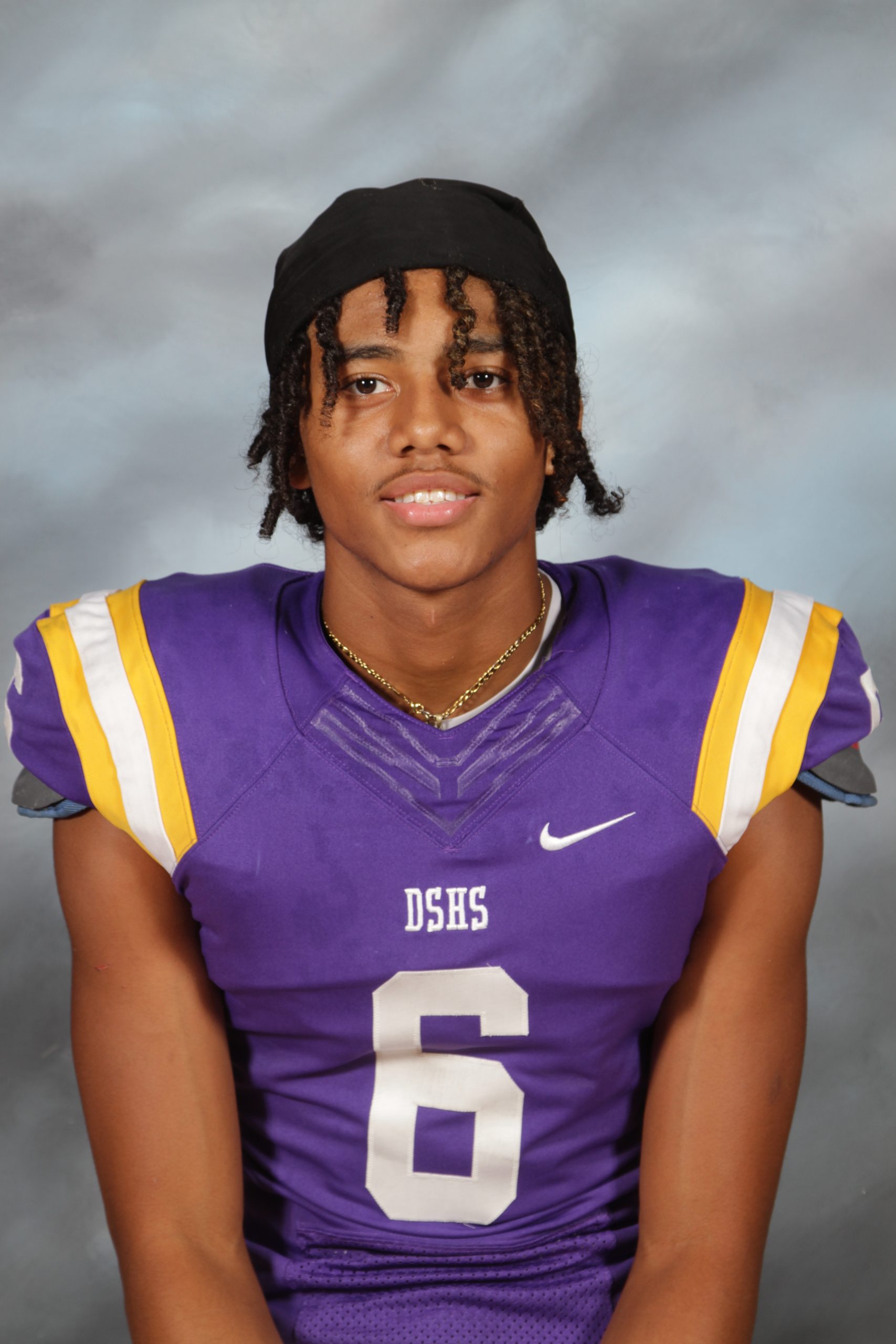 Denham Springs football coach Brett Beard's been on both sides of the Hwy. 16 rivalry with Live Oak to understand the passion that flows through both teams.
With his Yellow Jackets clinging to a 7-0 third-quarter lead, Beard realized his team was on the cusp of delivering a knockout punch and needed someone to deliver it.
Junior free safety Da'Shawn McBryde answered the bell and in the process, helped Denham Springs cement a 33-0 victory over Live Oak and take a big step in the District 5-5A race.
McBryde, who has received scholarship offers from Texas Tech and Tulane, registered nine tackles, broke up two passes and brought back two interceptions for touchdowns that helped the Yellow Jackets win and the 6-foot-3, 195-pounder capture this week's Tiger Rag Shining Star of the Week.
"In the course of a big rivalry game like that, in a setting like that where nerves are different, the physical fight is different than most, we were looking for a spark and a play to be made," Beard said. "That's all we kept talking about, that somebody had to make a play. Who was it going to be? In typical DaShawn fashion he's there to make the play. And he finishes it where he's been so deadly this year.
"He's constantly around the football with a chance to swing momentum," Beard said. "He's had huge plays left and right all over the field these first five weeks."
McBryde, who now has six interceptions on the season, was part of a Denham Springs defense that recorded its second shutout of the season and allowed 82 total yards and eight first downs.
The Yellow Jackets made it 14-0 in the third quarter on McBryde's 55-yard interception return off a deflection. His second pick-6 in the fourth quarter, a 60-yard effort, was also a show of determination, breaking a tackle at the 25 and maintaining his balance to avoid a tackle at the 15-yard line to score.
"To finish that play was unbelievable," Beard said. "He made guys missed, rolled on top of a Live Oak guy and stayed up and of course, finished with his guys in the end zone. He had a lot of guys out there with him leading the way. As a defensive guy it's a pretty thing to see. They get to so excited for such a big finish."
OFFENSE

D'WANYE WINFIELD, Lutcher (Accounted for 427 yards 7 TDs; Rushed 24 times for 237 yards and 5 TDs; Completed 13 of 15 passes for 190 yards and 2 TDs, C'ZAVIAN TEASETT, Scotlandville (Completed 14 of 25 passes for 269 yards, 4 TDs), TYLON JOHNSON, Madison Prep (Completed 11 of 16 passes for 235 yards, 5 TDs), MIKE MITCHELL, Plaquemine (Accounted for 225 yards and 2 TDs; Rushed 20 times for 195 yards, 2 TDs; Completed 3 of 6 passes for 27 yards), DEVIN LANIEU, Plaquemine (Rushed 12 times for 224 yards, 2 TDs), ELI HOLSTEIN, Zachary (Completed 15 of 19 passes for 187, TD), BARRY REMO II, Catholic-BR, (Rushed 15 times for 179 yards, 2 TDs), LEWIS WARD, Episcopal (Completed 12 of 17 for 141 yards, 2 TDs), JOHN HUBBARD, Scotlandville (Caught four passes for 169 yards, 2 TDs), JACKSON FIRMIN, Central (Completed 13 of 22 passes for 159 yards, 3 TDs), JOEL ROGERS, West Feliciana (Accounted for 153 total yards, 3 TDs; Passed for 125 and 3 TDs, Rushed for 28 yards, DAVID JONES, Madison Prep (Caught five passes for 142 yards, 3 TDs), BRAEDEN GEORGE, Episcopal (Carried 12 times for 141 yards, 2 TD), RICKIE COLLINS, Woodlawn (Completed 10 of 19 passes for 141 yards, TD), COVANTA MILLIGAN, Scotlandville (Rushed 12 times for 141 yards, 3 TDs), DANIEL BEALE, Catholic-BR (Completed 12 of 18 passes for 132 yards, 5 TDs), WALTER SAMUEL, East Ascension (Rushed 22 times for 128 yards, TD), GLEN CAGE, Central (Rushed 23 times for 109 yards), TYLIN JOHNSON, Lutcher (Caught 7 passes for 104 yards), JOHN MARTINEZ, St. Michael (Rushed 27 times for 102 yards, 2 TDs), CALE BONANNO, Parkview Baptist (Carried 8 times for 101 yards, TD), CAMREN STEWART, Zachary (Carried 17 times for 90 yards), KAMERON THOMAS, Zachary (Carried four times for 86 yards, 2 TDs), RAY MCKNEELEY, Denham Springs (15 carries for 82 yards, TD)
DEFENSE
WYATT TYNES, Live Oak (15 tackles, 3 TFLs), DICKSON AGU, Dutchtown (13 tackles, interception, PBU), HARRY BEACHAM, University (12 tackles, 2 TFLs, 1 ½ sacks), JAIDEN AUSBERRY, University (12 tackles), DAVID VOORHIES, Live Oak (11 tackles), AIDEN CAIN, Plaquemine (10 tackles, blocked punt), CARTER HANBERRY, Dutchtown (9 tackles), PARKER JACKSON Plaquemine (8 tackles), ANTONIO SCOTT, Plaquemine (8 tackles), LAMAR BROWN, University (7 tackles, 2 TFLs, 1 caused fumble, 1 forced fumble), TED JACKSON, West Feliciana (7 tackles), AK BURRELL, Dutchtown (7 tackles), CHASE CRESSON, Episcopal (6 tackles), BLAINE BRADFORD, Catholic-BR (5 tackles), HAROLD LAWSON, Catholic-BR (5 tackles), CJ STEWART, Episcopal (5 tackles), SHEMAR CARTER, Plaquemine (3 tackles, 82-yard kickoff return for TD), ALEC HAYNES, University (2 TFLs, 3 sacks), TRAEVON JORDAN, Plaquemine (2 tackles, 2 sacks, 2 fumble recoveries), MARKEIS BATISTE, Madison Prep (2 sacks, 2 TFLs), JARON CAGE, Madison Prep (3 TFLs)