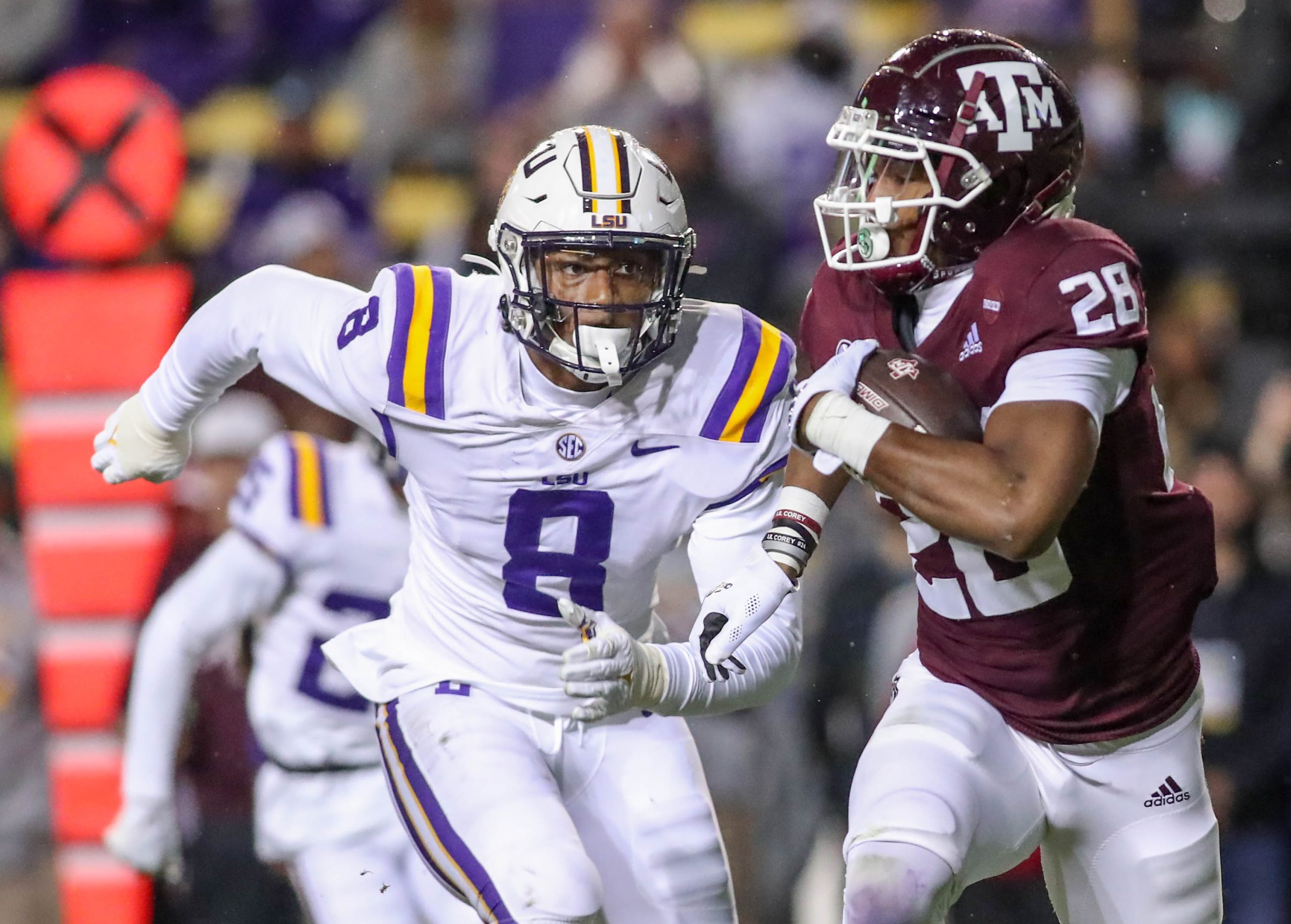 A lot has happened to LSU's football team in the past five weeks since Max Johnson's game-winning touchdown pass to Jaray Jenkins on Nov. 27 to beat No. 14 Texas A&M to conclude the regular season.
Start with the fact that Ed Orgeron's no longer the head coach and Johnson's no longer a part of the program.
It's been recurring theme amongst LSU's program which resembles more of a house of cards than an established Southeastern Conference.
When the Tigers (6-6) face Kansas State (7-5) in Tuesday's 8 p.m. TaxAct Texas Bowl at NRG Stadium in Houston, they will do so reportedly with a roster of 39 scholarship players and a coaching staff with four remaining members from the one that began the season.
The game will be televised by ESPN and broadcast locally by 98.1-FM.
First-year offensive line coach Brad Davis was elevated to interim head coach after Orgeron, who was fired Oct. 17 but allowed to finish the regular season, was informed after the Texas A&M game that he would not be coaching the team in a bowl game.
"We've had great preparation leading up to this event," Davis said during Sunday's media availability at the Texas Bowl. "I'm very proud of our guys for the way they've gone out and competed every day for one another. They've been incredibly selfless, and as coaches, we're working our butts off to put together a great plan that will allow us to go out and be victorious."
Davis said because of a confluence of injuries, academics, opt outs and disciplinary reasons LSU's roster, which had thinned out considerably by the end of the regular season, is a now shell of itself. The Tigers won't have their leading tackler – senior linebacker Damone Clark – or leading rusher – Ty Davis-Price – because of opt outs to prepare for the 2022 NFL Draft.
Since the start of training camp LSU's team was beset by injuries, a trend that continued throughout the season and included season-ending injuries to wide receiver Kayshon Boutte, defensive ends Andre Anthony and Ali Gaye, and defensive backs Derek Stingley Jr. and Eli Ricks.
"One could say it's challenges," LSU sophomore linebacker Mike Jones Jr., a projected starter with Clark and Micah Baskerville out. "With the adversity at this level, it's only brought guys together. You've got to lean more on each other. We may be missing this or missing this, but that makes you go harder for your brothers."
Davis has been coy in his handling of his quarterback situation. With Johnson having transferred to Texas A&M, the depth chart released Sunday by the school listed true freshman Garrett Nussmeier as the starter at quarterback with true freshman walk-on Tavion Faulk set to be his back up.
The school submitted a waiver to the NCAA in mid-December so that Nussmeier, who played in four games during the 2021 season, could play in the bowl game and still retain his redshirt.
Davis said the school had received a decision from the NCAA but wouldn't divulge the outcome.
There's also been speculation LSU could use senior wide receiver Jontre' Kirklin at quarterback where he accumulated 10,500 career yards and 147 touchdowns as a quarterback at Lutcher High School.
LSU has six players on offense and two on defense scheduled to start in the bowl game in the exact position they began the year against UCLA.
For only the second time this season the Tigers will have their next starting offensive line intact with second team All-SEC performer Ed Ingram and graduate student Austin Deculus leading the way.
The loss of Davis-Price, coupled with an injury to Goodwin, moves true freshman Corey Kiner (65 carries, 271 yards, TD) into the team's role as lead running back with sophomores Josh Williams and Corren Norman listed as his backups.
True freshman wide receiver/tight end Jack Bech (43-489-3) is the team's leading receiver from a group that includes Jenkins (33-479-5), Malik Nabers (26-400-3) and Brian Thomas Jr. (26-344-2).
"We have a limited roster but there's no excuses," Davis said. "We're going to win this game."
Senior free safety Jay Ward (62 tackles, 2 interceptions) and sophomore defensive end BJ Ojulari (49 tackles, 10 TFLs, 6 sacks) are the two constants for a defense that's lost the services of Clark and defensive lineman Neil Farrell Jr., who both opted out of the game.
Without Clark or Micah Baskerville, LSU's starting linebackers will be Jones (31 tackles, 2 ½ TFLs) and true freshman Greg Penn III (4 tackles) in front of a secondary, led by Ward, which will look drastically different. Senior Darren Evans (20 tackles, 3 PBUs) and true freshman Damarius McGhee will start at cornerback with graduate student Todd Harris Jr. at strong safety and freshman Nicholls State transfer Pig Cage at nickel.
McGhee played in 11 games during the season all on special teams.
The defensive line has some familiar faces with senior Soni Fonua (24 tackles, 6 ½ TFLs) and Ojulari starting at end, sophomore Jaquelin Roy (30 tackles, 5 TFLs) and true freshman Maason Smith (19 tackles, 5 TFLs, 4 sacks) at tackle.
LSU will have its specialists in place with junior placekicker Cade York (39 of 39 extra points, 15 of 18 field goals) and senior Avery Atkins handling kickoffs and punts (42.4-yard average).
"We have to compete like we've always done," Jenkins said. "Don't let nobody stop us. That's been the message throughout the whole team, we know what we have to do to win this game, we just have to execute it well."