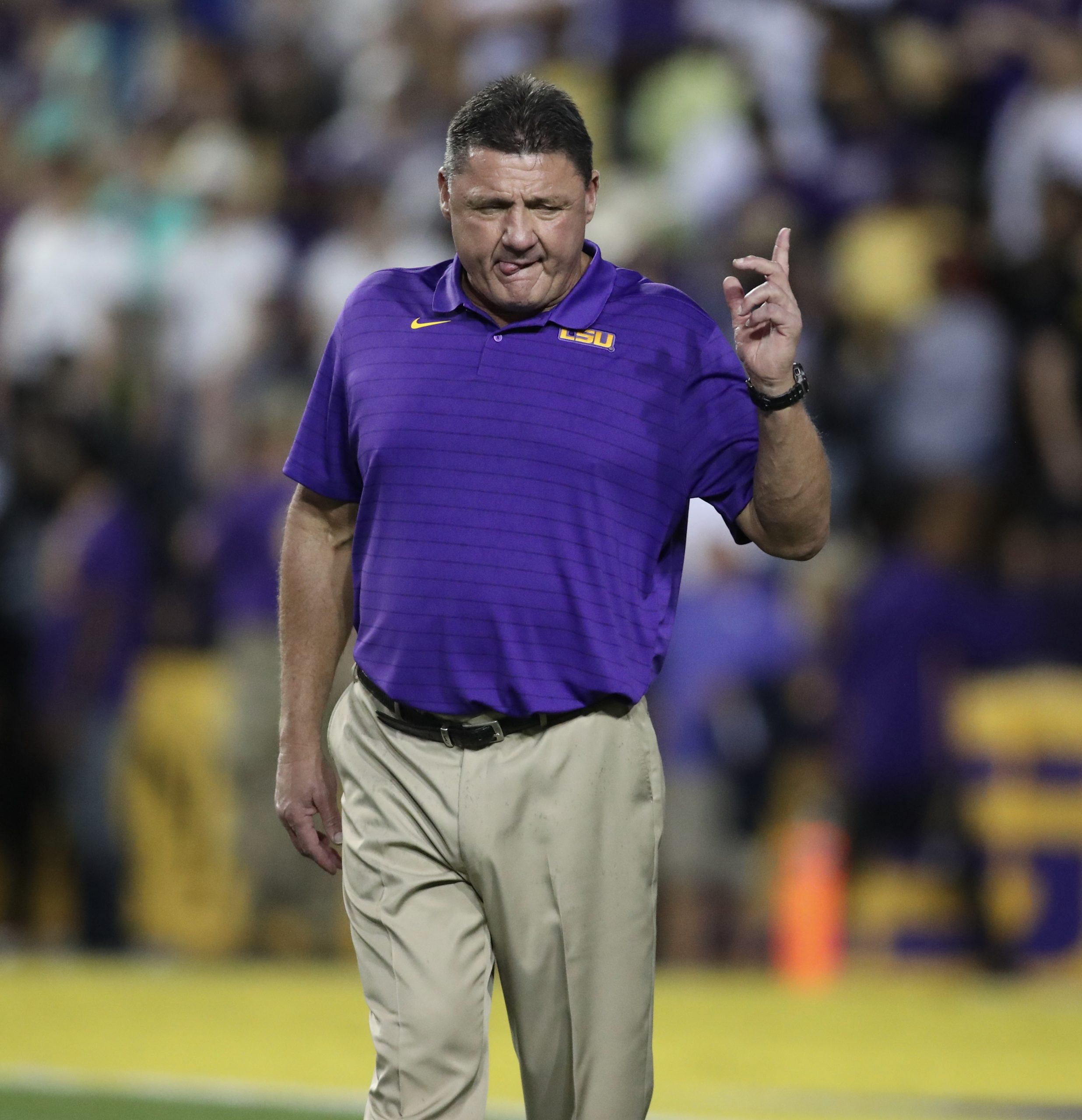 After he walked off Kroger Field eight days ago in a 42-21 loss at Kentucky and looked at the final stat sheet that revealed the Wildcats ran for 330 yards, LSU head football coach Ed Orgeron knew three things.
He was embarrassed.
"It wasn't the LSU style of football," Orgeron said. "It wasn't pretty.
He didn't have any answers.
"If I had the answers to what went wrong, I'd fix it," he said.
He knew it there was nothing he could do to turn around the basically breakeven record he's had since he guided the Tigers to the 2019 national championship with a 15-0 record.
"I knew it was time," he said. "I understand the expectations of LSU, I invited them myself. We did not meet them the last two years."
On Sunday, a day after the Tigers outlasted No. 20 Florida 49-42 in Tiger Stadium, Orgeron signed off on a $16.9 million buyout which he'll be paid in six-month installments over the next two years starting in mid-December when he'll receive $5 million.
The Larose, La. native, who was named LSU's head coach on Nov. 26, 2016 after serving as interim coach for eight games following the late September firing of Les Miles, is currently 49-17 overall and 30-14 in the SEC.
He was rewarded with a new contact after the Tigers won the national championship. This season, Orgeron is the second highest paid head coach in college football (behind Alabama's Nick Saban) collecting $9,012,917.
Orgeron, who will coach in the final five regular season games and a bowl game if currently 4-3 LSU qualifies for a postseason bid, said his immediate future plan is to not coach in 2022.
"I want to take a little time off," he said. "I'm 60 years old. I've coached for 37 years. I think I'll have enough money to buy a hamburger every once in awhile. Maybe a double-meat cheeseburger."
LSU athletic director Scott Woodward, sitting next to Orgeron in a hastily scheduled Sunday night press conference in the Lawton Room in Tiger Stadium, said the decision to seek a new direction for the football program was difficult because he considers fellow native Louisianian Orgeron as a friend.
But business is business.
"At LSU, we expect to compete for SEC and national championships year in and year out," Woodward said. "We are proud of that standard and will always work to uphold it. Our last two seasons have simply not met that standard. When we evaluated our on-field results and the future program with (LSU) President (William) Tate, we determined it's time for us to move in a new direction.
"That was LSU's decision, but it is one Coach O understands. It's clear in our conversation he wants what's best for LSU above all else.
"We've asked him and he had agreed to remain as head coach until the end of the 2021 season. We believe that gives our student-athletes the best chance for success this season. We believe it will help us in our recruiting efforts as well and I know Coach O will continue to give everything he has, because that's who he is and that's what he's always done for our state and our university.
"His passion and pride for our football team and our state are unrivaled and undeniable."
Woodward also said the search for the Tigers' next coach starts immediately.
Possible candidates thought to be on Woodward's wish list are head coaches James Franklin of Penn State, Jimbo Fisher of Texas A&M, Luke Ficknell of Cincinnati, Mel Tucker of Michigan State and Lane Kiffin of Ole Miss.
As word leaked during the day Sunday about Orgeron's buyout, there was reaction from former LSU players like 2019 Heisman Trophy winning quarterback Joe Burrow.
Burrow, who came to LSU in the summer of 2018 as a graduate transfer from Ohio State, had a 25-3 record as the Tigers' starter. He said in his Heisman acceptance speech he hoped LSU would give Orgeron a lifetime contract.
"That's disappointing to me because he's really a man who gave me an opportunity when nobody else did," Burrow said after he led the NFL's Cincinnati Bengals to a win at Detroit on Sunday. "I wouldn't be here without Coach O.
"I'm forever indebted to him as a person and a player. Our relationship will continue for the rest of our lives. I love the man. I love the coach.
"They haven't been winning as many games as they would like, but we did just win a national championship two years ago.
"That's disappointing. I love Coach O and everyone over there. So, I hope he's able to find a place where he feels like he's welcome."
Orgeron said he was honored he had the chance to coach LSU.
"This administration has treated me with class and dignity the whole time I've been here," Orgeron said. "They've given me everything we've needed to have success."
Orgeron said he delivered the news of his buyout to his players at a Sunday afternoon meeting.
"I am happy that I can be the coach of the LSU Tigers through the end of the season," he said. "I promise you this. We're not going to blink. I'm glad we beat Florida. . .and it's on to Ole Miss and I'm going to take it one game at a time.
"I'm always going to appreciate my time here. I have no regrets."