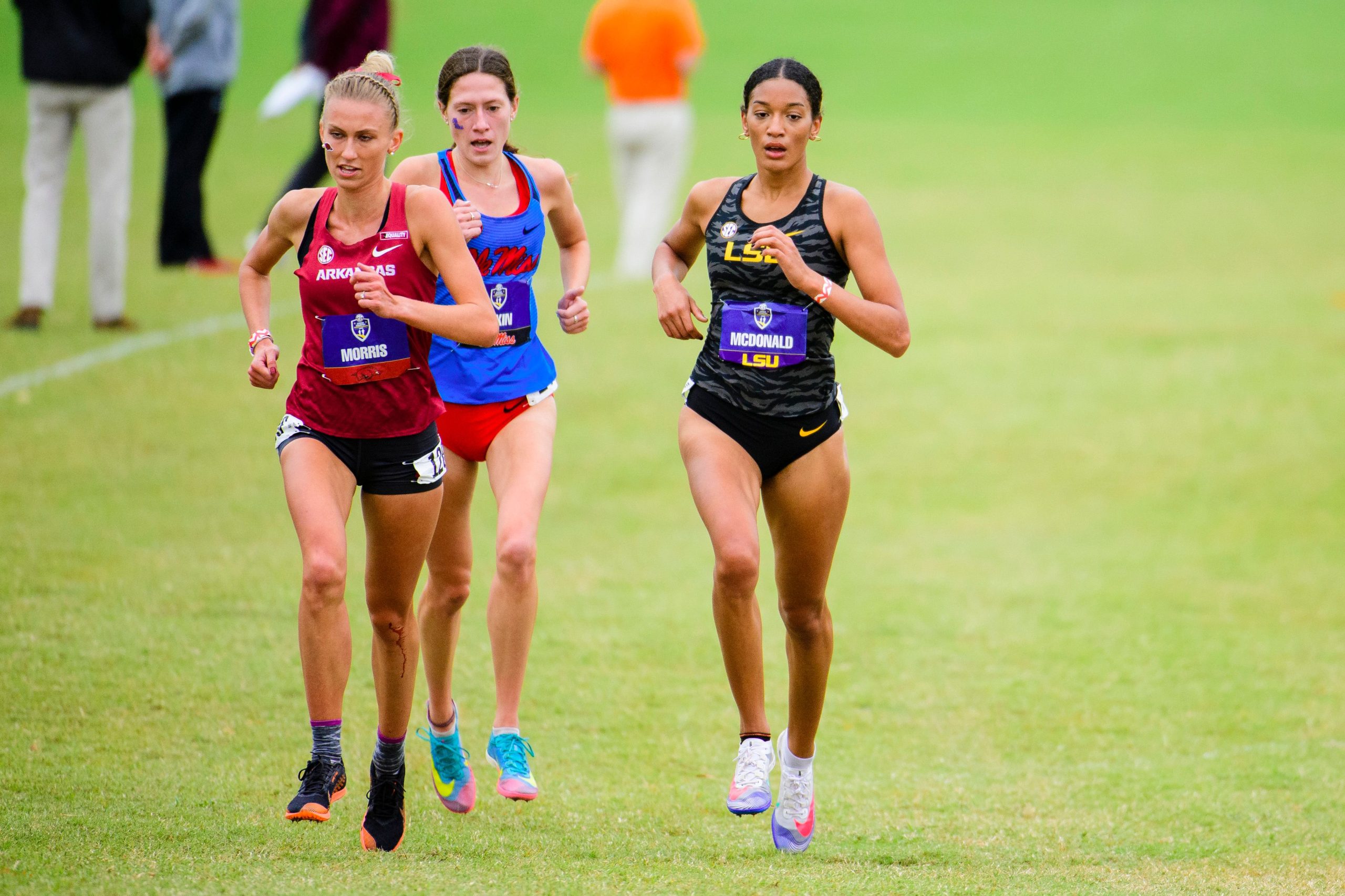 The cross country season feels more like a sprint than a marathon where despite having to run races up to 6K, runners such at LSU's Katy-Ann McDonald will complete her final regular season campaign by the end of October.
After that the senior from London, England has her sights set on closing her career in not only individual glory, but team brilliance as well.
McDonald finished a career-best 12th at last year's SEC Championships. But after a sterling spring track season where she reached the NCAA meet in the 800, is riding the crest of momentum into her final season of cross country at LSU where she won her second career title in the team's inaugural meet Sept. 17.
"I'm going to try and give it my all and see how it goes and hopefully it's big," said McDonald, who was second at Arkansas' Chile Pepper Festival with a 5K time of 16:50.5.
McDonald didn't set a barrier on what she can accomplish this fall. She would like to crack the Top 10, maybe even finish in the Top 8 at the SEC meet, but more than anything would like to continue LSU's ascension in women's cross country after the Tigers were fifth in last year's SEC meet, their best finish in 21 years.
"Top 8 would be quite cool," McDonald said. "I would like to make it to nationals because we have the capability as a team. Everyone needs have their best race on that day and just work really hard."
LSU coach Houston Franks knows if the Tigers are to reach such lofty standards McDonald will play a significant part in leading the way for the Tigers.
"She's very talented," Franks said. "She's a great competitor. When she puts the jersey on there's a little extra get up and go that's she's got. She shows up in the big moments when the lights are brighter. She races fearless. She's not scared to be aggressive, and she's not scared to lose. She really understands how to be aggressive and tough. She's someone we're going to count on big. She's experienced. She's definitely a big piece of the puzzle."
For the first time in her career McDonald earned All-SEC second team honors in 2020 and was honored as Runner of the Year on the All-Louisiana cross country team. She posted two other Top 10 finishes during the regular season with a runners-up showing (17 minutes, 36.4 seconds) at Florida State's Invitational and was also sixth at Texas A&M's 6K event (20:51.30).
She turned in her career-best effort in the 6K during the SEC meet at 20:33.8 and her 12th place was the highest finish for an LSU runner since 2012.
Because of the coronavirus pandemic, the NCAA didn't conduct a regional or national meets.
By comparison, McDonald was 45th at her first SEC Championships during her freshman season (20:36.2), moved up to 17th as a sophomore (20:48.7). She also improved her time in her second straight NCAA regional competition where she was 14th in 2019 (21:21.7) – earning All-Region performer and her first All-Louisiana honor.
"For cross (country), my expectations for myself have always been to do as best as I can do and hopefully that's better than the year before," McDonald said.
After sitting out the 2021 indoor season McDonald experienced her 'breakthrough' moment during the outdoor track season where she ran both the 800 and 1500 meters.
A week after finishing second in the 800 at the SEC meet, McDonald competed in the NCAA East Regional where she posted a personal best time of 2:02.54 to win her heat. She qualified for the NCAA Championships by lowering her personal best to 2:01.67 – the fifth best time in school history.
"It kind of put me on the scene," McDonald said. "I was running OK before, but I was running 2:01 which is kind of where I need to be at nationals. Running 2:01 did come as a shock because I wasn't expecting it. I didn't feel like I had done the right training to run that. I can go faster if I do the right stuff."
McDonald opted to take some time off in the summer, eschewing the opportunity to compete in England's Olympic Trials, and steadily ramped up her training for the start of this cross country season.
With the team returning intact, coupled with a few key additions in recruiting and the NCAA transfer portal, LSU embarked on its new season with a first-place performance in its own Invitational – the first of three meets during the regular season until the SEC Championships on Oct. 29.
McDonald led the way for the Tigers, capturing her second career individual title by nearly a full minute over her second-place competitor. The thing that struck McDonald's winning time of 17:57.7 – which was nearly a minute off her 6K best of 17:06.2 – was the role the humidity and soggy grounds played in her performance.
"It was a really good start," McDonald said. "The time was OK, but it wasn't great. The conditions weren't going to help me run a crazy time. In terms of how I did and I how I felt, it was pretty good. It's setting me up for a good season ahead. It's a benchmark for training. I can improve in practice. It was fun."