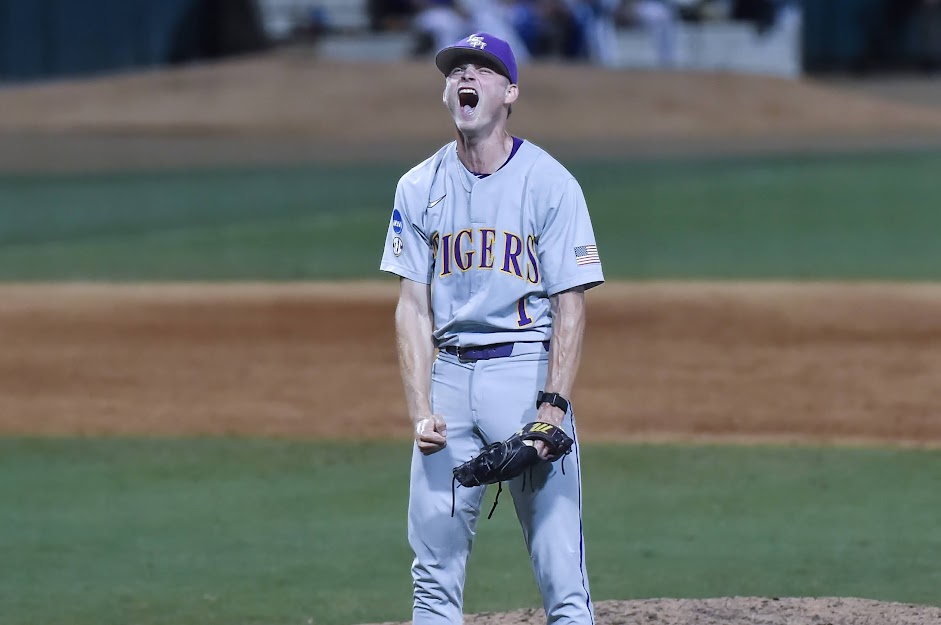 Kentucky's Nolan McCarthy homered off LSU starter Ty Floyd to lead off the bottom of the fourth inning, cutting the Tigers' lead to 5-3 Sunday in the second game of the NCAA Super Regional at Alex Box Stadium.
It was the third time in four innings Floyd surrendered a home run to the Wildcats, whose 51 homers entering Super Regional were the fewest among the 16 teams in the field.
LSU's weapon of choice, needing a win to close out the Super Regional and advance to the College World Series, turned out to be a pair of contrasting pitchers to hold the Tigers' lead and reach Omaha, Nebraska for the first time since 2017.
Junior left-hander Riley Cooper was spectacular in his winning three-inning relief outing and freshman right-hander Gavin Guidry showed his mettle down the stretch, saving his third game in LSU's 8-3 victory before a crowd of 12,640 at Alex Box Stadium.
Cooper (4-3) picked up his first win since April 30 against Alabama. It was the eighth time this season he logged at least three innings, allowing two hits with a walk and two strikeouts.
"(It) Felt great to do," Cooper said. "And if I would say if we had a crutch all year it would be the bullpen. It was good to show that that's not our crutch and that we can hold our own."
Guidry, recruited as a shortstop out of Barbe High, help solve some of the team's dilemma when season-ending injuries to Garrett Edwards, Jaden Noot and Chase Shores took a toll on the bullpen. Guidry worked his second-longest stint of the season, a perfect 2.2 innings with one hit and four strikeouts.
Guidry tied Thatcher Hurd for the team lead with three saves.
In the Super Regional sweep, LSU's three relievers – including Blake Money in Saturday's 14-0 victory – combined to allow no runs in seven innings of work. They permitted three hits, one walk and struck out six batters.
"I never doubted the talent," LSU baseball coach Jay Johnson said of his relief pitchers. "I think we just needed to help them get lined up a little bit better mentally. I think the two things that we really focused on were making sure that they were ready to get the first hitter out when they come in the game. Like, we're bringing you in to get that guy out to start with.
"And when something goes wrong, just to be able to reset and get to the next pitch," Johnson continued. "And the two guys who pitched tonight, they pitched tonight because they're winners. I mean, it's no accident that big boy has been to Omaha twice and has pitched there and helped us get there twice. I mean, I think that's the second Super Regional win for him.
"And with Gavin, man, that dude is something else," Johnson added. "He's got "it." And I was joking the other day but after the news with (pitching coach) Wes (Johnson) broke, after we won the Regional, he popped his head in my office, doesn't matter who is calling the pitch, I'll strike everybody out anyways. Have a good night. See you tomorrow."
Takes some kind of confidence to do that. Those guys are special. Great performances all the way through for the bullpen down the stretch.
Cooper, who pitched on Arizona's 2021 World Series team under coach Jay Johnson, kept Kentucky's offense in check during a period LSU's offense was held scoreless for five innings against Wildcats' reliever Mason Moore.
Floyd, in possibly his final appearance at Alex Box, left with a 5-3 lead after getting Grant Smith to fly out to Josh Pearson in left. He allowed three runs on seven hits with a walk and five strikeouts in 82 pitches.
Cooper experienced a mixed bag in the sixth with a strikeout of leadoff batter Jackson Gray – who homered in the first off Floyd – for the second before walking Jase Felker. Catcher Devin Burkes then represented the potential tying run, but Cooper got him to fly out Dylan Crews in center for the final out.
Cooper retired Burkes for the first out of the seventh when Emilien Pitre singled up the middle, closing out Cooper's outing after 54 pitches, 31 which were for strikes.
The Wildcats increased the drama when Hunter Gilliam greeted Guidry, who had come into the game for Cooper. With the potential tying runs on base, including Pitre at third after a stolen base, Guidry struck out Ryan Waldschmidt swinging for the second out. Reuben Church came within inches of possibly tying the game with a long foul ball down the left-field line, and was called out on strikes to end the threat.
Guidry hit a batter in the eighth but got Gray to fly out to Crews and Felker to foul out to third baseman Tommy White.
"I mean, it got hard in a good way at the top of the ninth was like 45 minutes long," Johnson said. "You have to account for everything. And we have first and goal on the 5-yard line. We're winning tonight. No doubt about it in my mind.
"But the way they just weren't getting swings on him whether it was right or left and the breaking ball. And then once we scored I felt like we had some margin for error. And so you put them back out there," Johnson added. "The moment obviously wasn't too big for him — as Coach (Skip) Bertman talks about, he's past the pressure barrier. For me, the situation never becomes bigger than him executing his plan. We did that."
LSU finally broke through against Kentucky pitching in the ninth with three runs, increasing its lead to five runs, and Guidry went on to retire Kentucky in order with a strikeout of Pitre and finally a groundout by Gilliam to White that ended the game.
Guidry, whose 41 pitches were his third highest of the season, matched his strikeout total from two previous games, but none bigger than the game that sent LSU to the World Series.
"I think we're firing on all cylinders," Cooper said. "Everything's clicking. And I think it's all the hard work we've been doing through the whole year, it's finally come about."