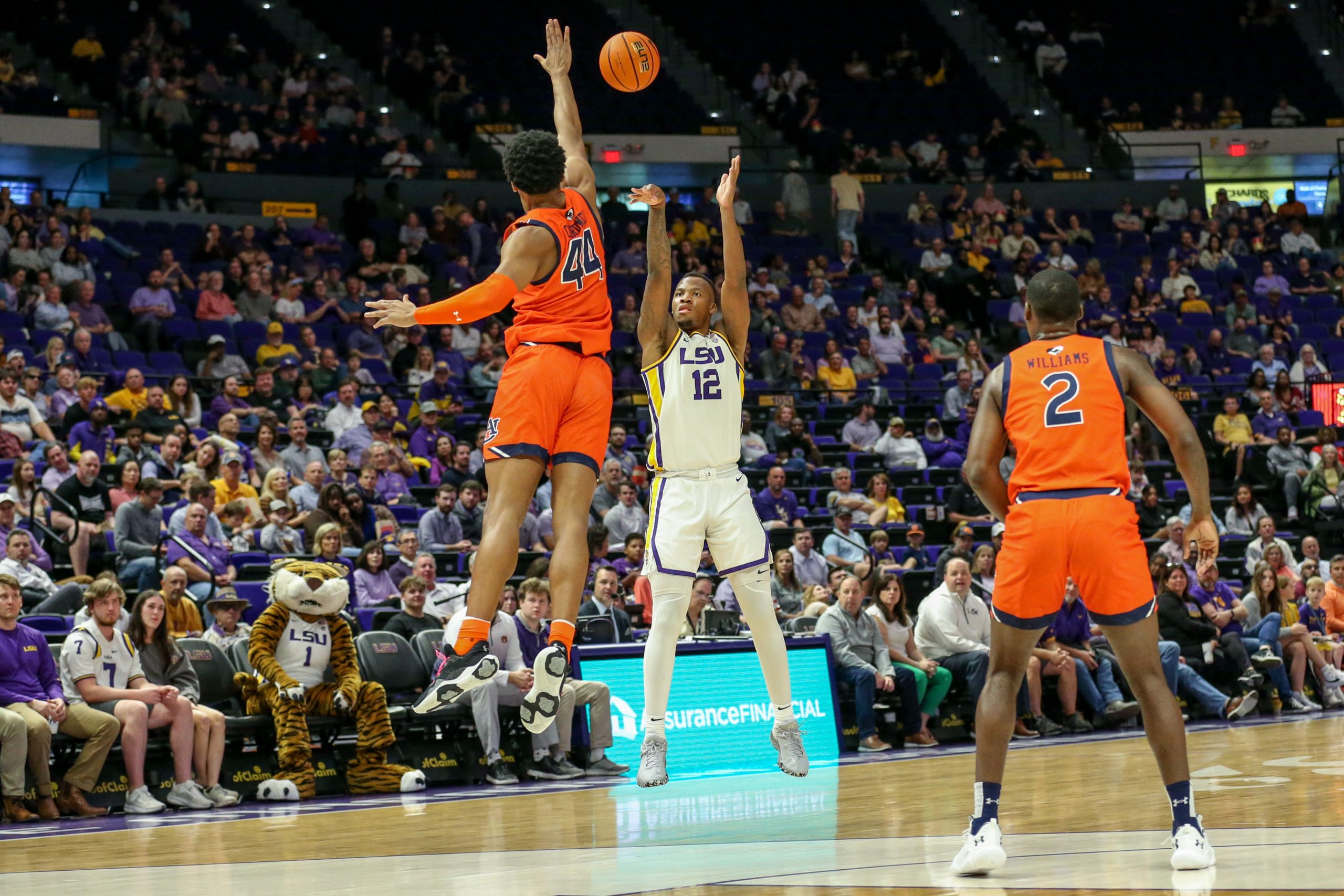 It's simple really.
You can't win in basketball at any level if you can't score.
And, simply put, LSU cannot score.
The Tigers' painful offensive predicament went from bad to worse on Wednesday when No. 16 Auburn handed LSU its fifth straight loss, 67-49.
LSU shot 29% for the game and to make matters worse, the Tigers actually sustained two big misses before the game started.
First, forward Mwani Wilkinson was lost for the season on Tuesday when he had to undergo season-ending shoulder surgery, and then minutes before the game, it was announced starting point guard Justice Hill left the program for personal reasons.
Of course, Auburn proceeded to show no empathy for LSU with Wendell Green Jr. and Jaylin Williams each scoring 14 points to lead the visiting Tigers to their fourth straight victory.
KJ Williams and Trae Hannibal led LSU (12-6, 1-5 Southeastern Conference) with 16 points apiece.
Auburn (15-3, 5-1) never trailed in the game.
LSU's threatened to make it a game in the early minutes of the second half, cutting Auburn's 32-21 halftime lead to two points (34-32) when Adam Miller and Justice Williams led a brief scoring flurry that powered an 11-2 run.
But LSU ran out of gas and Auburn quickly rebuilt a double-digit lead, cruising to an easy win.
Miller, who missed all six of his shots in the first half, made a layup and a 3-pointer in the first two minutes of the second half. Justice Williams, who made one field goal in the first half, added a layup and a 3-pointer.
Justice Williams then hit a 3-pointer at 15:05 remaining to pull LSU within two points again at 37-35. However, Auburn went on a 15-2 run and quickly regained control. Green scored five points and Lior Berman had a three-point play in the run.
LSU never pulled closer than 12 points over the last 10 minutes of the game. After cutting Auburn's lead to two points at 37-35, LSU made four field goals the rest of the game.
The last time LSU lost five consecutive SEC games was in 2017 when the Tigers lost 14 straight.
"Obviously, we are in a very challenging situation right now," LSU coach Matt McMahon said. "But I just want to be clear as it pertains to Justice Hill, it's not a disciplinary matter. He will be stepping away from the team for the time being for personal reasons, and we'll see where it moves forward from there."
McMahon did not elaborate on Hill's situation, however, he clearly left the door open for a potential return at some point this season. Hill transferred from Murray State and was considered to be an integral part of McMahon offense at point guard heading into the season.

"You know, this is life," McMahon said. "You look back, you go through summer and fall, I thought two of our most productive practice players all along were Mwani and Justice and just it's been a tough go there, unfortunately, due to injury and the other circumstances. We'll keep fighting and keep moving forward, though."
McMahon was pleased with LSU's first-half defensive performance. And even though LSU managed to score two points in the paint during the half, and made only 7 of 24 layups, McMahon said his team still had a chance in the second half.
"I thought in the first half, we really competed on the defensive end," he said. "I mean, that's the only chance we have. We've got to get down and get stops and try and grind teams out there. I thought we really competed on that end of the floor. We took them late into the shot clock, which is very beneficial to us right now. There were a few possessions we didn't finish, but nonetheless, they've got 32 points at the half, you've done a solid job on the glass, and you've given yourself a chance.

"But you have got to score a little bit," McMahon said. "Got to be able to score a little bit. We got to be able to get the rim and finish some plays, knock down some shots. That's just, I mean, it's, I know that sounds very simple, but that's the reality of where we're at."
Auburn coach Bruce Pearl said he was pleased with his Tigers' play as they moved into second place in the conference.
"Good road win for us," Pearl said. "We had great balance. We knew that LSU had their backs up against the wall tonight.
"We established ourselves early and led for most of the game. Wendell Green Jr. was special, Jaylin Williams built on what he has been doing. We didn't turn the ball over. How about Lior Berman? He came off the bench and played like he belonged out there. He did it last year, and he is doing it again this year. Just a really good team victory," Pearl said.
LSU now must try to figure out to score more with No. 9 Tennessee visiting on Saturday at 3 p.m.