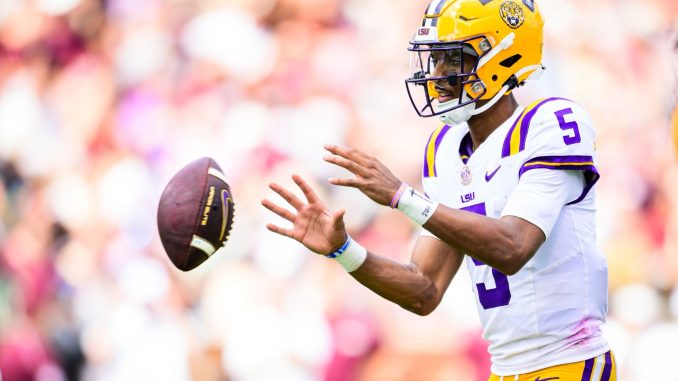 With a relationship built over the last 1 ½ years that encompasses 17 games, LSU football coach Brian Kelly felt the best of quarterback Jayden Daniels was still to come.
Kelly believes Daniels never looked better for the Tigers than with the 425 yards in total offense and four touchdowns he produced in Saturday's 41-14 road victory over Mississippi State in the SEC opener for both teams.
"He's been outstanding and obviously we've won a lot of football games," Kelly said of Daniels during his weekly press conference Monday. "His ability to win a game with his feet or in this instance, throwing and running the ball, he was as good as anybody in the country. We've seen incredible development at the position. That's what's more exciting. It's fun to watch the development of a quarterback."
Daniels, who ranks third nationally in total offense at 377.7 yards per game, shared the SEC's Offensive Player of the Week on Monday with wide receiver Malik Nabers, who produced career highs in receptions and yardage and was on the receiving end of both of Daniels' touchdown passes.
Daniels, a fifth-year senior, completed 30 of 34 passes for a school record 88.2 completion percentage with a minimum of more than 20 attempts. He completed his first 13 passes of the game and led the Tigers to a 24-7 halftime lead – a stretch that included scoring passes of 26 and 33 yards to Nabers behind man coverage.
"We showcased what we can do if we execute at a high level," Daniels said after the game. "I had one-on-one (matchup) with Malik in the slot and all I had to do was give him a chance to touch the football."
Nabers later explained State hadn't displayed a lot of man coverage in its previous two games but chose to be aggressive and apply press-man coverage against the preseason All-SEC first team wide receiver.
"On Wednesday, I said there were a lot of holes in their defense that me and Jayden saw," Nabers said. "We were just picking at it all game, just trying to get me the ball in space to where it was open for me and him to be connected, for me to just gravitate."
Nabers had established solid credentials in becoming LSU's No. 1 receiver in 2022, taking that mantle from Kayshon Boutte with team highs in receptions (72) and yardage (1,017) and three touchdowns. He concluded his sophomore season with an MVP performance in the Citrus Bowl, catching nine passes for 163 yards and a TD to go along with a 5-yard TD pass to Daniels in the 63-7 triumph.
Nabers equaled Josh Reed's school record with 10 catches in the first half for 188 yards and two touchdowns against State. His 13 catches on 13 targets were the fifth best performance in school history and his yardage total was the fourth highest.
Daniels' red-hot first half included 20 of 21 passing for 255 yards and 2 TDs – both to Nabers. He was 6 of 6 on passes that went for 15-plus yards, five of which went to Nabers.
"A lot of these calls are predicated on the defensive structure," Kelly said after the game. "If they're going to play off, maybe that's a hitch and seven yards. But they challenged our receivers and Jayden was up to the task. We know our receivers can run. Many times, we're not put in press situations and those hitches get converted into goes (routes) and today they wanted to take away the short, quick passing game. It presented us with higher risk but certainly the bigger reward with pushing the ball downfield."
That Nabers, an established player with his size and speed drew man coverage that included a safety, was quite a revelation, Kelly said.
"He had a double move a touchdown and twice he got pressed on the outside," Kelly said after the game. "My question would be, why?" Because when you do that, we're gonna go to those matchups. But as you saw, they brought a lot of pressure. And when you bring a lot of pressure, we're gonna try to find that matchup. And I thought Jayden did a great job of seeking out Malik in those matchups and getting him the ball."
Kelly credited the additional work between Daniels and Nabers in the lead up last week to the State game paying handsome dividends.
"He really worked hard the past week of getting on top of his throws," he said "He had been a little bit low in terms of trajectory. We saw that against Grambling. He worked hard with Malik after practice, getting on top of his throws. It was great to see that come to fruition."