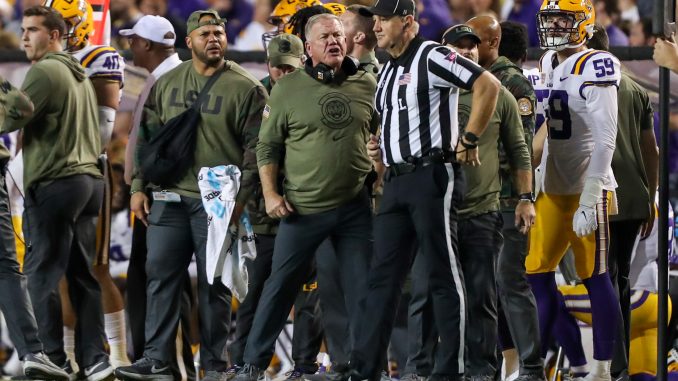 With a player he's clearly thrown his support behind for this year's Heisman Trophy expect LSU football coach Brian Kelly to continue to accentuate Jayden Daniels' strengths this week.
When No. 15 LSU (7-3) hosts Georgia State (6-4) in Saturday's nonconference game at 7 p.m., Kelly plans to keep his foot on the gas as long as possible with Daniels at the wheel of an offense that ranks in the Top 10 nationally in nine categories.
The mission?
For LSU to continue its march toward a second consecutive 10-win season and further help cement a trip for Daniels to New York to receive the Heisman Trophy on Dec. 9.
The Tigers close their regular season at home next week against Texas A&M at 11 a.m.
"I think what we do is try to play the kind of football that has been the hallmark of this offense, and so you want to feel as though that you're playing to that standard and then you evaluate it from quarter to quarter," Kelly said Wednesday on the SEC Coaches' Teleconference. "But you've got to reach that standard of play and then we'll see where that takes us. There will be sometimes when we've been not to the standard of what we believe our team is. So, it's really immaterial about the opposition. It's really about our standard. So, we'll judge this based upon our standard of play, and go from there."
LSU's a 32-point favorite against Georgia State of the Sun Belt Conference. The Panthers have dropped their last three games, including the last two games in which they've allowed 42 points each.
Daniels is coming off an historic performance in last week's 52-35 victory over Florida with an FBS record of 606 total yards to go with five touchdowns. He completed 17 of 26 passes for 372 yards and three touchdowns and rushed 12 times for 234 yards and two touchdowns.
He won the following awards for his performance: SEC Offensive Player of the Week, Davey O'Brien National Quarterback of the Week, Maxwell Award National Player of the Week and Walter Camp National Offensive Player of the Week.
Daniels is the national leader in total offense (408.2), passing TDs (30), pass efficiency (202.1) and rushing yards by a QB (914). He's second in TD's accounted for (38) and passing yards per game (316.2).
Here's what else Kelly had to say:
Opening statement:
"Certainly, coming off a rivalry game against Florida, which was marked by an historic performance by Jayden Daniels over 600 yards in total offense, a Heisman worthy performance. We look towards continuing that kind of elite offensive performance, and then continue to work on our defense, and we're getting better each and every week. We'll need to do that against a talented Georgia State team. Darren Granger's an experienced quarterback, (running back) Marcus Carroll is the No. 3 in FBS and rushing and a team that's got quality wins and is bowl eligible. (It's) A team that is going to come in here with nothing to lose and we're going to have to play a very solid football game for four quarters. So, excited about playing home again and getting an opportunity to continue to work towards being a better football team in November."
Thoughts of SEC doing away with divisional play in 2024?
"I don't think that from my perspective, that it changes my feeling about what the SEC represents. From a week-to-week perspective in other words, the depth and the talent, whether it be the East, or the West is so good. You don't focus on just the West or the East. When you go to Missouri, you're not thinking, 'Wow, we don't have to win this game because they're not a West opponent'. So, I think from my perspective, it doesn't hit me as hard that we're not going to be East and West, that we're just one SEC. As somebody that's only been in it for a short period of time, I see it as the depth of the league and the challenge that you have every week is about playing an SEC opponent."
Do you have last year's SEC West trophy in your football offices?
"We got a banner there's no doubt, so we cherish the banner, but this is really about winning the SEC. Certainly, winning the West was a great accomplishment in the first year. We're all here for championships and you know, that's what we're all looking for is an SEC championship."
Thoughts of having more job security with a long contract?
"Well, the comment (of having a 10-year contract) was really tongue-in-cheek relative to a question that was being asked. It had nothing to do with hiring and firing. The fact of the matter is this business is such that you're well compensated. There's a lot of pressure and you know it's a business that requires consistently moving forward. And I think everybody that's in it understands that. You hate to see any of your fellow coaches lose their jobs, but we all know that it's part of the business, too. And we clearly understand that, so I think it's just being realistic and understanding that this is a business that requires moving your program forward on a on a consistent basis. And if the powers to be don't feel like the program's moving in the right direction, then you could feel that that change."
Are you surprised at the amount of money buyouts being dished out to fire coaches?
"Nothing really surprises me relative to what universities are willing and can commit to. You know, there's clearly a large financial piece that's involved in this and everybody's all in and so because of that, and I think everybody can assume that if you're not getting the results that you want, change can easily happen."