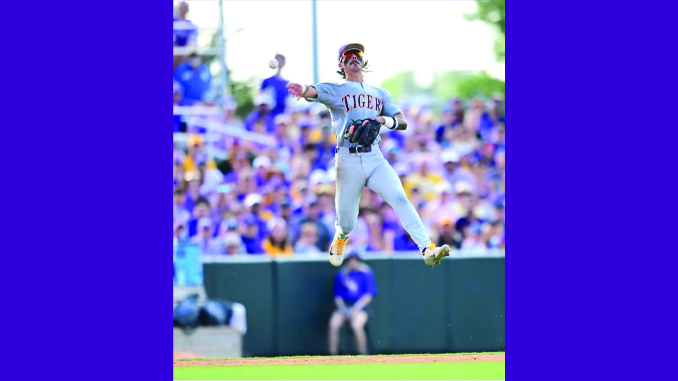 After some careful consideration LSU shortstop Jordan Thompson finally admitted as much.
For a player with 187 career starts, Thompson agreed that his play in bottom of the second inning from deep in the hole at shortstop for an out in Sunday's 8-3 win over Kentucky, was his best ever in a game in an LSU uniform.
"I've probably made better plays in practice," Thompson said earlier in the week. "Those are things I like to do just in case it happens in a game. Definitely, one of the best in-game plays I've made. I didn't realize how high I actually jumped until I saw the picture.
"It was one of those moments where we needed to get the out," Thompson continued. "Trying to stop and plant wasn't going to be as quick as just getting up and getting it over as fast as I could. We were lucky to get the out. Tre' (Morgan) made an incredible stretch to complete that play. It takes both sides for that play to be able to be made. I'm just super happy Tre' was able to hold the bag and make a really big stretch in order to complete it."
Whether it's been with his flashy glove or productive bat, Thompson's been among the mainstays for an emerging LSU team that begins play in the College World Series at 6 p.m. Saturday.
The Tigers (48-15) face Southeastern Conference foe Tennessee on ESPN. The game will also be broadcast locally by 98.1-FM.
The 6-foot-1, 185-pound Thompson has been the constant on the infield, having started in all of his team's 63 games, with a .273 average and 11 homers – one of eight players with double-digit homers – 49 runs scored, 49 RBIs, 12 doubles and a team-high seven stolen bases.
The native of Chula Vista, California had also fielded at a .937 clip and committed a career-low 12 errors. He's also tied for the team lead with Gavin Dugas in doubles plays accounted for with 12, but it was his highlight-reel play in the Super Regional championship that left everyone in awe.
"We've seen some plays in this super so far," ESPN analyst Ben McDonald, a former LSU All-American, said on the broadcast of the game. "But none better than that."
Kentucky's Nolan McCarthy led off the second and sharply lined a ball to the left side of the infield against LSU starting pitcher Ty Floyd.
Thompson got a good jump on the ball when he made a back-handed scoop of the ball two steps off the infield dirt. With his momentum carrying him toward the left-field line, he took two steps, jumped up in the air and made an accurate throw to Morgan at first base.
Thompson had enough on the throw that it carried straight to Morgan, whose athleticism enabled him to make one of his classic stretches, remaining engaged with the first base bag for the out.
Kentucky challenged the call, but to no avail. LSU's capacity crowd of 12,640 at Alex Box Stadium roared in approval.
LSU's baseball Twitter account dubbed its photo of Thompson's aerial throw, 'Air Jordan'.
"I probably made that play 5-to-10 times in our pregame infield-outfield just because I knew if there was an opportunity to do it, I want to be able to make that play," Thompson said. "Just trusting my preparation is the biggest thing to make plays like that. Being confident in the work I've put in during practice and just letting it show up on the field."
Thompson realizes the ground he's covered since he was hindered by knee problems at the end of the 2021 fall season. He wound up having scar tissue removed and was expected to miss eight weeks of the 2022 season but was in the starting lineup three weeks later, a place he remained for 62 games that season which ended in the NCAA Regional final at Southern Mississippi.
"It was kind of rough last year having to play the way that I did and maybe not be able to get to as many balls and make the plays as I usually do because of the injury that I had," he said. "Basically, (I) had surgery after three weeks of the season started. There have been times where if I make a cool play, something I couldn't have done last year, and see that I'm doing it this year. I'll look at it a couple of times, (but) it's on to the next and keep practicing trying to get better. Not try and worry about before but continue to get better."
Thompson's presence during LSU's Super Regional was also felt at the plate. He was part of the team's success at the bottom of the lineup that created traffic on the bases the top of the order, helping fuel a 14-0 victory in Game 1 and also played a role in the team's clinching five-run victory.
The combination of Brayden Jobert, Thompson and Josh Pearson were 4-of-11 with five RBIs, a double and homer in the 14-0 triumph.
"Those guys at the bottom — Jobert, Thompson and Pearson — have done really well for them," Kentucky coach Nick Mingione said. "If you go back and look, they were responsible, I counted, I think it was seven of the 14 runs, half of their runs. That bottom of that lineup is really good. It's hard to exploit much of them. They're a super well-rounded team. And there aren't many weaknesses there, no."
Thompson has batted in five different spots in LSU's lineup this season but, at No. 8 in the lineup for 27 games, has truly found a home. He's successfully reached base in 16 straight games and carries a five-game hit streak into the World Series where he's batted .444 with four RBI during that stretch.
Moreover, Thompson has improved his defense and only committed one error in his first 25 games of the season. His 117 assists are a team-high and his 191 total chances are fifth.
"That there's nothing else like it," Thompson said of playing at home. "You see places on the West Coast, and they really don't get that many fans and you come here, and a midweek game gets 5-7,000 people. I had no idea what the Super Regional was going to be like with the crowd, but every pitch was like the ninth inning with two strikes and we're trying to get a strikeout to end the game.
"That's how every single pitch of the game was," Thompson added. "You don't get this everywhere else. It's truly a special place to play college baseball and this is where you want to be if you want to be a winner and you want to continue to play in those big games. I think this is the ultimate place to be able to be."