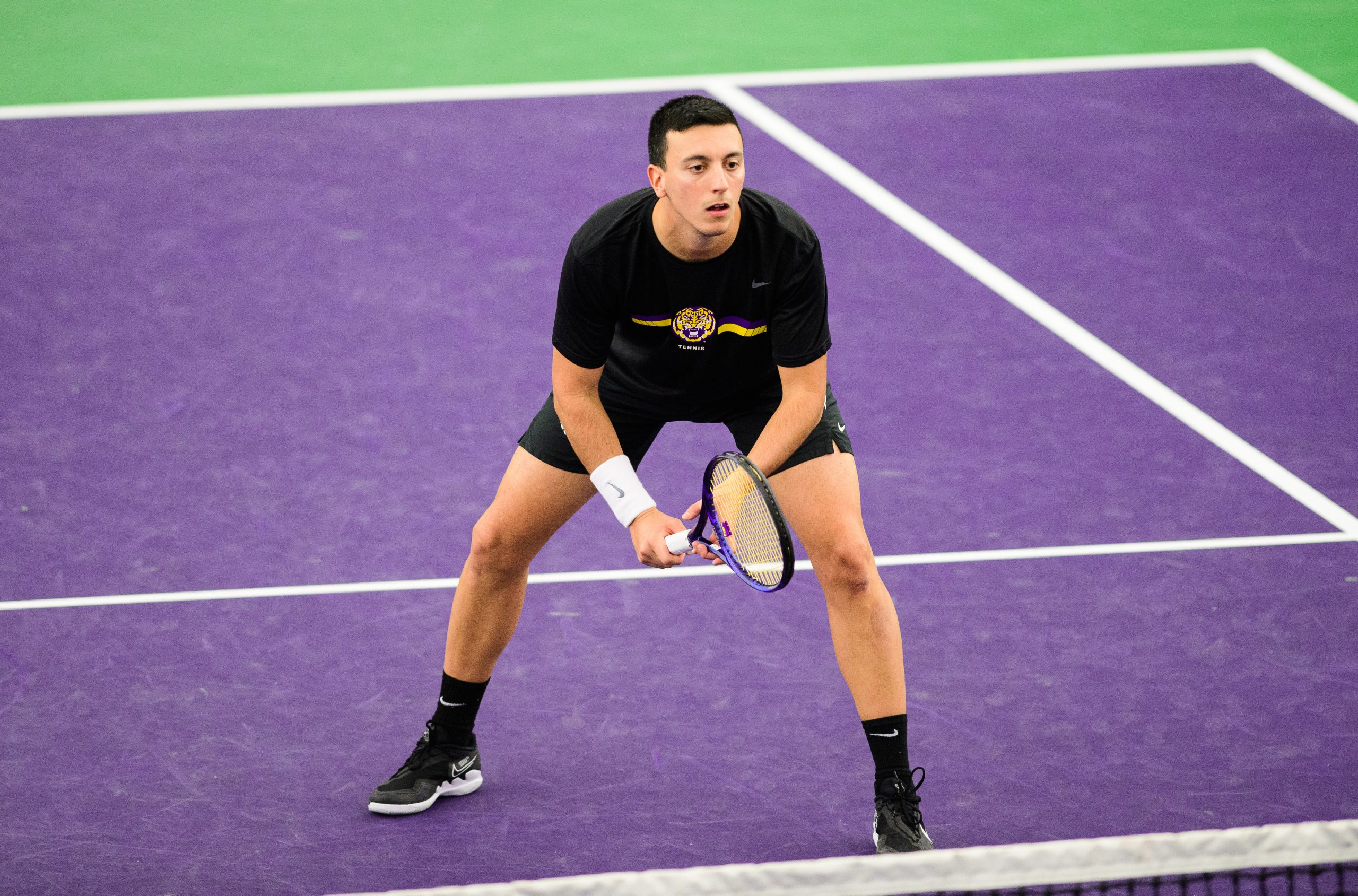 In the Southeastern Conference it just means more, especially in men's tennis.

The league, which featured the 2021 NCAA national champion in Florida, had 12 teams that finished ranked in the top 50.

For a team with a lineup dominated by first- and second-year players LSU found the terrain difficult to gain footing, finishing in 10th place and was bounced 4-0 in the first round of the NCAA regionals by Stanford.

With that core group of players back with an additional year against the league's gauntlet of teams, coupled with the arrival of three transfers, the Tigers find themselves in a much better place for the 2022 season.

"Our strength this year is our depth," LSU men's tennis coach Andy Brandi said. "We're way deeper than we were last year. That's going to allow us to compete with teams that last year, at the top two or three, we were not at their level. There's a couple of teams in the SEC that are heads and shoulders above the rest. Other than that, we can hang in there with anybody."
LSU has opened the season with a 3-1 record but had to postpone Saturday's match at Tulane because of COVID-19 protocals within the Tigers' program. They're scheduled to next host Purdue on Feb. 13 at noon.

LSU added graduate transfers Gabriel Diaz Freiere of Alabama and Vlad Lobak of Minnesota after last season and signed Kent Hunter of Cal-Berkley, grad transfer after the fall season, adding to LSU's depth and experience level.
The Tigers also return proven players in sophomores Ronald Hohmann, Ben Koch, Joao Graca and Banjamin Ambrosio, along with junior Boris Kozlov in singles and Baton Rouge native Nick Watson, a junior in doubles.

Brandi said Hohmann would miss the first couple of weeks of the season after having his appendix removed Jan. 17.

"I'm excited about the team as a whole and the possibilities that are on the table with the additions, with the returners and the ability to be there," Brandi said. "This year eight (SEC) teams were ranked in the Top 25. Last year 12 of 13 teams went to the NCAAs. It's not getting easier, but I feel we've raised the level of our team where we can hang with some of those teams where last year we weren't on the same level."

LSU (12-13 overall) went 4-8 in SEC play last year and didn't get much of an endorsement from the league's coaches that predicted the Tigers to finish 12th this year during their preseason poll.
Defending champion Florida was expected to repeat and was ranked No. 1 in the first ITA poll in January with No. 4 Tennessee and No. 8 Georgia among the top 10.

Brandi believes his team is equipped to contend for the upper half of the SEC.
"That's expected," he said. "We have the horses to do that and if we can be there, we're having a heck of a year. The depth is going to be the key. Last year we left some matches on the table that we could have capitalized on that this year, because of the depth, we'll be able to close the door."

Hohmann, the No. 37 ranked player in singles, was 10-9 at No. 1 singles last season and was 10-10 at No. 1 doubles with Rafael Wagner, who graduated.

The arrival of Diaz Freire, who played No. 1 earlier in his career at both Loyola-Marymount and Clemson before transferring to Alabama, could push Hohmann for the No. 1 spot in singles along with Hunter, who was 21-15 in singles his previous two years at Cal.

"There's a couple of guys that can make a run for that position," Brandi said. "Kent had some
great wins in the Pac 12 that are very high-level wins. He just needs matches and time to find his groove. We have guys that able to play anywhere and everywhere. Boris brought up his game a whole notch (in January). The guys are stepping up and bringing up their levels to literally they could play three through five."

Diaz Freire, who had a 44-34 singles record and 37-21 mark in doubles at Alabama, was 5-5 during the fall for LSU in singles but teamed with Lobak to go 7-1 in doubles that included an appearance in the ITA Southern Regional final.

Lobak, 53-27 in singles and 35-22 in doubles while at Minnesota where he was ranked as high as No. 4 nationally in doubles, went 5-4 in the fall in singles and doubles.

Lobak and Diaz Freire began the season ranked No. 45 nationally in doubles and are the only pair locked in for the Tigers. Kozlov was 13-12 overall, playing the Nos. 4-5 singles positions, and 5-4 in SEC play a year ago, and went 14-10 with Watson, including 11-5 mark at No. 3 doubles. Graca had a 4-1 record at No. 5 singles and Ambrosio 9-6 overall, but 6-2 at No. 6 singles.

"We want to get to the NCAAs, I feel like we could do way better than last year," Brandi said. "We have the experience of guys that have played in the team event and done well. I hope we can go way further than we did last year."