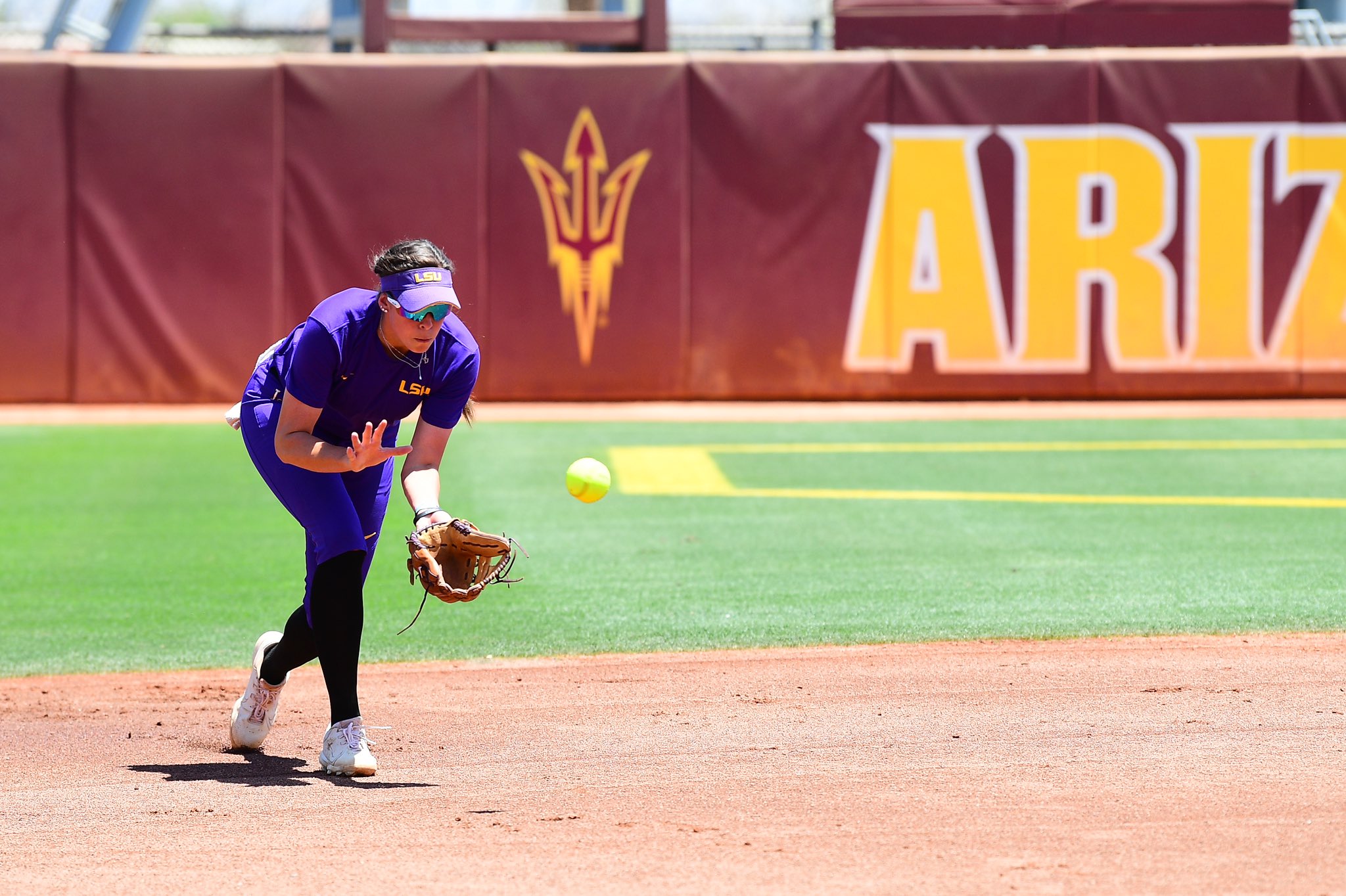 With the final two games slipping away, one to close the regular season and the other in the Southeastern Conference Tournament, LSU's softball team has had to charter a new path for the postseason.
The Tigers had to come to grips during Sunday's NCAA pairings show they would have to travel throughout the entire postseason with their first stop in Tempe, Arizona for this weekend's NCAA Regional.
Pac 12 champion Arizona State (39-9) landed the nation's No. 8 seed and will host a double-elimination field which No. 20 ranked and second-seeded LSU (34-21) opens against third-seeded San Diego State (37-14) at Farrington Stadium at 7 p.m. on ESPN2. The game will also be broadcast locally by 107.3-FM.
"It's another time to put on a Tiger uniform and I don't know when the last time is going to be," LSU senior pitcher/designated hitter Shelbi Sunseri told The Advocate.
The LSU-San Diego State game will be followed at approximately 9:30 p.m. by host and top-seeded Arizona State against fourth-seeded Cal State Fullerton (36-20).
LSU hasn't been to the Women's College World Series since 2016 before anyone on this year's current roster played for the Tigers. It's been even longer (2014) since the team wasn't able to host a regional which had been the case for six consecutive years (not counting the 2020 COVID-shortened season) but ended with this year's designation for Arizona State.
The state of Arizona hasn't exactly been favorable for LSU where they've been 6-8 in games played at the University of Arizona and Arizona State. The last time the Tigers ventured to Tempe, they won the first two games of the 2009 regional, only to get swept on the final day by the Sun Devils, 6-4, 5-0.
LSU's never faced San Diego State in postseason play but is 2-0 all-time with a pair of wins (4-1, 6-1) against the Aztecs in 1988 and 2015, respectively. The Tigers are 11-12 away from Tiger Park this season.
San Diego is an automatic qualifier, having won the Mountain West Conference with a 20-4 record. The Aztecs, who have won 10 of their last 12 games, are led by a pair of Division I transfers in the Mountain West Player of the Year, Mac Barbara, and Pitcher of the Year, Maggie Balintz.
Barbara, a catcher, spent her redshirt season at Ole Miss in 2021 and is the team's leading hitter at .395 with 15 of her team's 32 homers and 32 RBIs. Balintz is a transfer from Oregon where the senior right-hander (18-5, 2.09 ERA, 5 shutouts) is one of the nation's top strikeout artists with 263 strikeouts in 177 innings of work. Right fielder Bella Espinoza (.388, 12 RBIs, 13 stolen bases) is also a first-team, all-conference choice.
With 63 homers, LSU's homered nearly twice as many time as San Diego State and will rely on a lineup led by first team NFGCA All-South Region selections Danieca Coffey (.385, 10 stolen bases), Ciara Briggs (.385, 2 HRs, 32 RBIs), Taylor Pleasants (.302, 14 2Bs, 12 HRs, 48 RBIs), Georgia Clark (.285, 16 HRs, 59 RBIs) and Sunseri (.266, 15 HRs, 41 RBIs).

The Tigers' lone first team All-SEC selection and second team All-South choice, pitcher Ali Kilponen, is 18-7 with a 2.32 ERA, 16 complete games, five shutouts and 138 strikeouts in 162.2 innings.