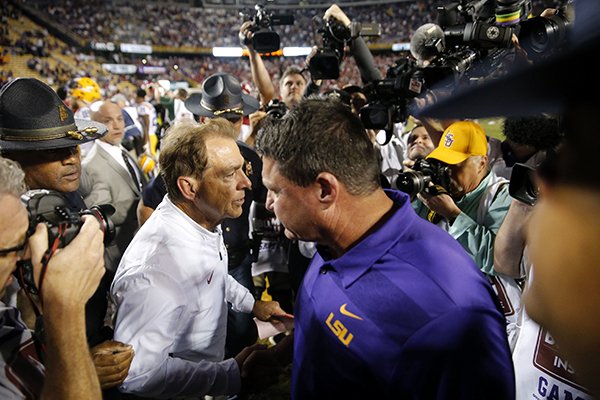 TUSCALOOSA, Ala. – It's hard to believe it was just two seasons ago then-No. 1 ranked and unbeaten LSU was about to head to Alabama to play the then-No. 3 ranked unbeaten Crimson Tide.
The year before in 2018 in Baton Rouge, the 7-1 No. 4 ranked Tigers were blanked 29-0 by the 8-0 No. 1 ranked Crimson Tide, a beatdown that led Orgeron to go to a true spread offense the next season and hire Joe Brady as passing game coordinator.
As a result, eventual Heisman Trophy winner Joe Burrow led the Tigers to an 8-0 start in 2019, hoping to snap an eight-game losing streak vs. Alabama.
But LSU head football coach Ed Orgeron, sitting on his office patio just a few days before the showdown, felt there was something bigger at stake.
"I knew if we win that game we have a chance (to win the national championship)," said Orgeron, whose team won a 46-41 shootout and went on to win the national title with a 15-0 record. "We had to go through Alabama. That was a big victory for us.
"Things are different now, but it's still LSU-Alabama. Throw all the records out."
Orgeron can keep telling himself that as the 4-4 Tigers take on No. 2 ranked and 7-1 Alabama here in Bryant-Denny Stadium Saturday night at 6 p.m.
It's not "still LSU-Alabama." The Las Vegas oddsmakers have plenty of reasons to make the Crimson Tide a 28½-point favorite.
SEC West Division leader Alabama is just behind Georgia, No. 1 in the first College Football Playoff rankings. The 8-0 Bulldogs have already won the SEC East title and are set for the league championship game.
There is no margin of error for the Crimson Tide to advance to their seventh CFP berth in the eight-year history of the postseason format.
They have to win out and Alabama standouts like senior starting defensive linemen and former Monroe (La.,) Neville High star Phidarian Mathis know it.
"You're remembered for what you do in November, that's what we say around here," Mathis said. "We just have to grind harder."
Also, some of the Alabama players have said they haven't forgotten LSU's post-game celebration two years, capped by Orgeron screaming in the locker room afterwards, "We're going to beat their ass in recruiting! We're going to beat their ass every time they see us! You understand me? Roll tide, what? F— you!"
"That's something that keeps lingering," Alabama senior starting running back Brian Robinson said. "We make sure people (younger teammates) know just the disrespect that was with that, how it made us feel and everything we've got to do to make sure it doesn't happen again."
Alabama coach Nick Saban is more concerned about his team improving from game-to-game, but acknowledged his players have to be careful playing "too emotional."
"People make a lot of bad decisions when they're emotional," Saban said. "You're always trying to find the balance. But I do think, on the other hand, humiliation is still a real human condition that creates a lot of motivation for a lot of people. And even though it may not be something that you use, I don't think you can ever discount it."
In the LSU camp, the goal Saturday might be to beat the point spread. Orgeron is a lame-duck coach who has already been fired effective at the end of the season and the Tigers' injury situation may be the worst in college football.
Since the preseason, LSU has lost 14 players for the season due to injuries, academic suspension and transfers. The Tigers are so decimated in the secondary that Orgeron is having trouble finding enough healthy players to start.
Earlier this week, Orgeron didn't exactly inspire confidence from his squad when he talked about what he and his staff learned in a self-study of the team during last week's open date.
"We're too predictable about (offensive formations), too predictable on first downs," Orgeron said. "We're very, very predictable on defense. We need to have more of a variety (defensively) on first down. We give them the same looks over and over again. There's not much of a surprise.
"This part of the season, you can't put a lot of new stuff in. We've put in a couple of wrinkles to make it tough.
"The biggest part for us on defense is adjusting. We have not been in the right adjustments. We have not been in the right positions according to some formations."