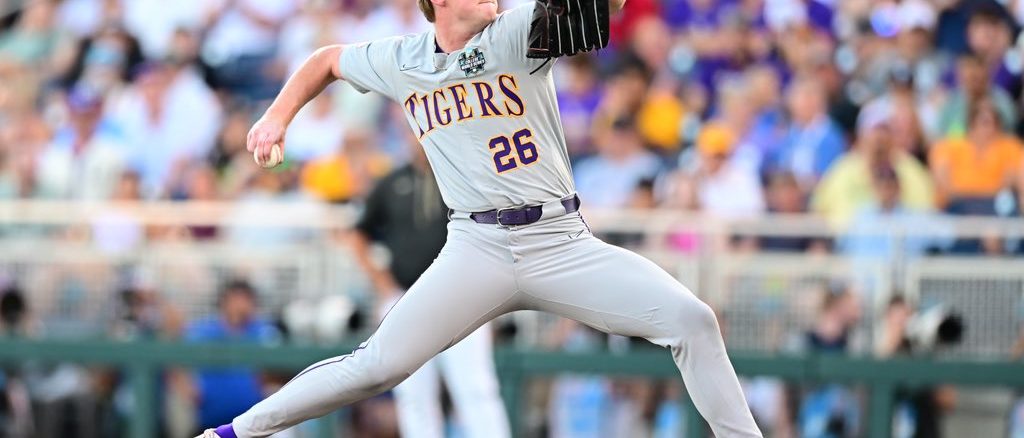 Wake Forest catcher Bennett Lee's RBI-single in the bottom of the eighth inning lifted the No. 1 national seed Demon Deacons to a 3-2 victory over LSU Monday night at Charles Schwab Field in Omaha.
Wake Forest (54-10) is 7-0 in the NCAA tournament and bidding to become the first No. 1 national seed since 1999 to win the championship.
Meanwhile, LSU (49-16) lost its first NCAA postseason game this season, dropping to 6-1, and now must win three straight elimination games to make it to the College World Series final round best of three.
LSU returns to action Tuesday night to take on Tennessee in a rematch. The contest is scheduled for a 6 p.m. central time on ESPN, and it can be heard on the LSU Sports Radio Network affiliates.
"It was a great college baseball game," LSU coach Jay Johnson said. "Hats off to the pitching on both sides. They got a clutch hit there at the end and we did not. We'll get ready to go tomorrow."
Wake Forest reliever Camden Minacci (1-1) earned the win after tossing 1.2 scoreless innings. LSU right-hander Thatcher Hurd (6-3) was charged with the loss after firing 3.0 relief innings. He allowed one run on three hits with five strikeouts.
LSU started the scoring with two runs in the top of the third. Left fielder Josh Pearson drew a walk and advanced to second on a wild pitch. Third baseman Tommy White delivered an RBI-single to give the Tigers the first lead of the game.
First baseman Tre' Morgan followed with an RBI triple to left field to score White for a 2-0 lead.
LSU starting pitcher Ty Floyd threw five scoreless innings, but Wake Forest tied the game in the bottom of the sixth inning when third baseman Brock Wilken hit an RBI single, and Wilken then scored to tie the game at 2-2 when second baseman Justin Johnson grounded into a base-loaded double play.
Wake Forest scored the go-ahead run in the bottom of the eighth inning when designated hitter Danny Corona doubled and scored on Lee's RBI single.
Floyd worked five innings and allowed two runs on two hits with four walks and a career-high 10 strikeouts.
Wake Forest starting pitcher Josh Hartle worked 6.0 innings, allowing two runs on four hits with four walks and nine strikeouts.
"I think it would be very easy to crawl in the hole with disappointment," Johnson said. "That's a great college baseball game that we came up on the short end of the stick. I have all the faith in the world in our team that we can recover from this. So let's stick to what we do. And if we do that well, then we'll be in a good spot."