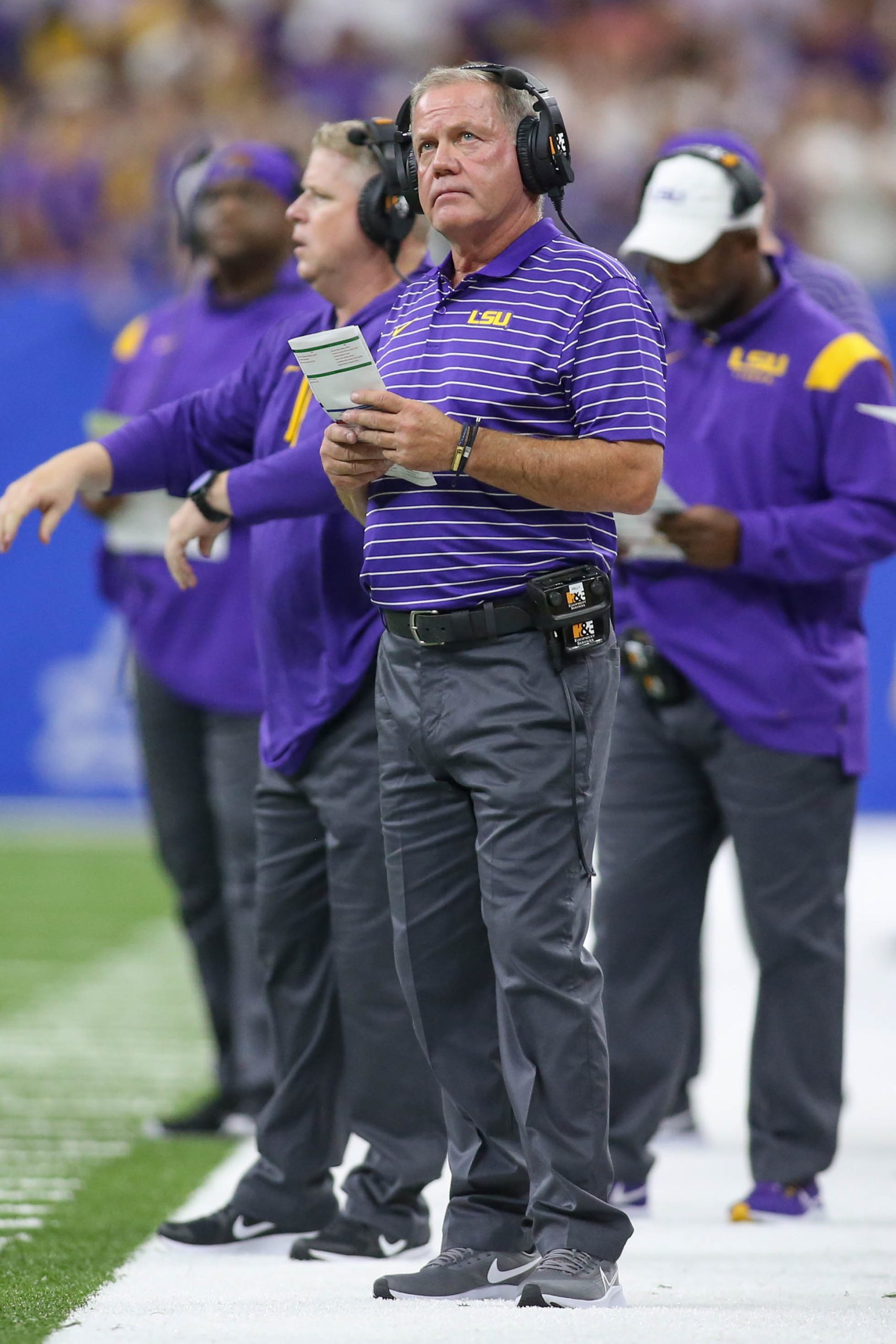 LSU coach Brian Kelly's 61st birthday was Tuesday, but Kelly was not in much of a celebratory mood.
Far from it, in fact.
Though Kelly appeared light and jovial at moments during his less-than-20-minute press conference, he was clearly not in a party mood, quickly turning everyone's attention to LSU's preparations for its Nov. 5 SEC West showdown in Tiger Stadium against Alabama. Kickoff is scheduled for 6 p.m.
Kelly jokingly brushed off birthday wishes from reporters as he approached the podium, and gracefully shot down any birthday banter.
"Yeah, let's get it out of the way," Kelly said. "I'm trying to forget birthdays. I'm on the road of trying to forget them rather than adding them."
The full press conference video is available here.
Oddly enough, neither the battle for first in the SEC West between LSU and Alabama heading into the final month of the SEC regular season, nor the fact that the Crimson Tide is currently a 16-1/2 point favorite over LSU, came up during the Kelly's conversation with the media on Tuesday.
Timestamps and Topic Summary from LSU coach Brian Kelly's press conference – October 25, 2022
:13 – LSU coach Brian Kelly says he is trying to forget birthdays…
:33 – What is different on practice days when you don't play on Saturdays that you have open dates, what happens?
1:08 – On what this week with the open date looks like for the players . . .
2:22 – Kelly explains what he thought about the call involving the hit on Jayden Daniels in the second quarter of the Ole Miss game that was initially called targeting but then reviewed and waved off . . .
4:04 – Kelly describes how LSU goes about making halftime adjustments, explaining there's a lot more that goes into it than inspirational speeches. Making in-game and halftime adjustments have proven to be a solid characteristic of Kelly and his staff so far this season.
6:00 – On recruiting goals during the open date and weekend.
7:19 – On success against mobile quarterbacks carrying over to matchup with last year's Heisman Trophy winner Alabama quarterback Bryce Young.
8:09 – On evolution of LSU's offense the last few weeks and being able to run more complex plays and schemes.
9:54 – On working on trying to stop tendency of falling behind with Alabama looming.
11:15 – Is rebuilding process on pace or ahead of schedule.
12:36 – On LSU fans rushing the field at the end of the game.
14:17 – Emergence of McNeese State transfer Colby Richardson in the defensive backfield.