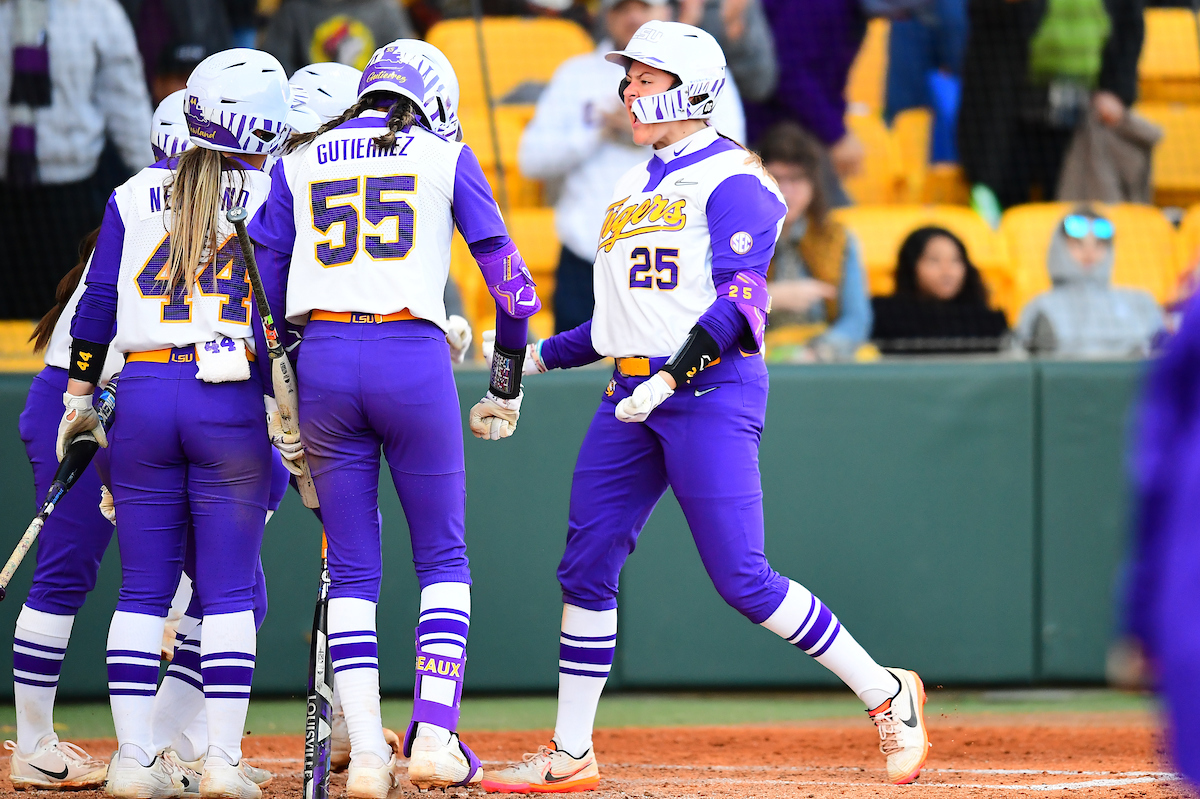 No. 21 LSU softball knocked out the nation's top pitcher on its way toward stopping one of the nation's longest winning streaks in a 13-6 victory Saturday over No. 2 and previously undefeated Alabama.
The Tigers had so much fun, they rallied from an early one-run deficit on Georgia Clark's grand slam homer in the third inning for a 5-1 victory to sweep both ends of the Southeastern Conference doubleheader at Tiger Park.
LSU (19-6, 2-0 in SEC) will close out the three-game series with Alabama (20-2, 0-2) at 2 p.m. Sunday. The game will be streamed by SEC Network+.
The Tigers not only stopped a six-game losing streak to the Crimson Tide but were able to defeat them in consecutive games for the first time since 2016.
"I think we prepared so well," said Clark, who went 4-for-6 with 3 homers and 8 RBIs. "It is the number two team in the country, so we were focused on who our opponent was and basically what our plans were the whole week. Practice was hard. There were a lot of days where we were frustrated, and it was not fun. Then we get out here for games like this and it makes it all worth it. We put on a great show in front of our fans. It was just a great day for us."
LSU 13, Alabama 6
Six players had multiple hits as part of LSU's 15-hit attack in the opener in which they took a 5-3 lead against NFCA first team All-American Montana Fouts, last year's co-Pitcher of the Year in the SEC.
The Tigers scored five earned runs on five hits in 2.2 innings but were also patient in forcing a career-high six walks against a pitcher who had walked 11 the entire season.
Fouts threw 42 of 90 pitches for balls.
LSU's offensive explosion involved having to overcome the loss of one of its top players in the bottom of the first inning.
Having thrown a scoreless top of the first, pitcher Shelbi Sunseri suffered an injury during her plate appearance that resulted in being helped from the field and was done for the day.
A foul ball off the bat of Sunseri knocked her batting helmet off, hitting her nose and sending her to the ground for several minutes. She was replaced in the batting order by Presleigh Pilon and in the circle by Shelby Wickersham.
A three-run third inning gave Alabama a 6-5 lead until LSU answered with a six-run fifth inning for a 11-6 lead. The Tigers were able to add a pair of runs in the sixth.
Ninth-place hitter Mackenzie Redoutey tied the game at 6-all with a run-scoring double and lead-off batter Danieca Coffey made it 7-6 with an RBI single up the middle. Ciara Briggs used her speed to beat out an infield single and shortstop Taylor Pleasants unloaded a three-run homer to left-center field.
Clark then doubled and Pilon, who took over at second base, tripled home Clark against losing pitcher Jaala Torrance (1.2 innings, 8 hits, 6 runs).
Clark accounted for her team's final two runs with a two-run homer with Briggs aboard in the sixth.
Raleen Gutierrez, Clark, Pleasants, Coffey, Briggs and Ali Newland each had two hits apiece with Clark and Pleasants driving in three runs apiece.
Winning pitcher Ali Kilponen (9-2) came in relief of Wickersham in the fourth inning and yielded four hits, three runs (three earned), struck out two and walked five.
LSU 5, Alabama 1
Despite a continued power-hitting display from Clark, it's hard to argue with the performance from freshman Raelin Chaffin in the second game.
In her biggest moment to date Chaffin (3-0) overcame a lead-off homer to Jenna Johnson in the second inning and retired the next 17 batters she faced and finished with a one-hitter. She struck out five and walked none.
"You never know what is going to happen when you go into a series, that is why you have everyone ready," Torina said. "We had all hands-on-deck, and that is the point of having a deep pitching staff. You never know when your number was going to be called, and she was ready when her number was called today."
"I guess I do not pay attention that much, but I did not even know it was a one hitter," Chaffin said "It was the last inning and I looked up and saw a one on the board. I did not even know I was going to start, I thought they were going back to Ali. Once I knew I got the start I knew it was time to get to work."
LSU didn't have a lot of good fortune with Bama's Lexi Kilfoyl, getting three hits, but erased a 1-0 deficit on Clark's two-out grand slam in the third. Sydney Peterson was hit by a pitch, Coffey singled and the Tide elected to put Pleasants on with an intentional walk and pitch to Clark, who crushed a 2-0 offering over the wall in left field.
Clark (2-3, 5 RBIs) also took over team-high honors in homers from Sunseri by leading off the sixth inning with her ninth of the season.
"I was just looking for a pitch to drive," Clark said. "They had just walked Taylor in front of me. I felt that a little bit in my heart. I am not going to lie to you guys. It felt good getting that one out of the way. I was like 'hey, this one felt good.' I saw a pitch I could drive and just basically smoked it. I told myself 'Don't be late, get on time."