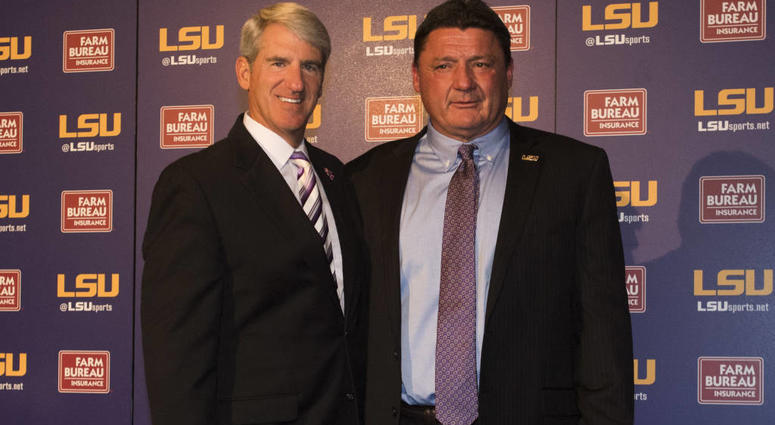 By CODY WORSHAM | Tiger Rag Editor
STOCK UP: Steve Scalise
The House majority whip made his triumphant return to the public eye on Saturday night, just 15 weeks after he was shot. The congressman from Louisiana's first district was shot June 14 by a lone gunman while practicing for the annual congressional baseball game. Doctors described Scalise as being at "imminent risk of death" after the bullet struck him through the hip, but he recovered, and Tiger Stadium greeted him with a thunderous roar in the first quarter of Saturday's game.
STOCK UP: Devin White
White continues to be one of the bright spots for LSU, flying from sideline to sideline every Saturday. He finished the contest against Troy with 11 tackles, adding to that total a momentum-changing fumble recovery – forced by John Battle – to set up LSU's first score late in the third quarter. The sophomore has comfortably taken over at middle linebacker for two day one NFL starters in Kendell Beckwith and Duke Riley, and he hasn't missed a beat.
STOCK DOWN: Ed Orgeron
LSU's first year head coach couldn't have expected to have his job come under fire so soon. But after getting blown out by Mississippi State – who has since lost to Georiga 31-3 and Auburn 49-10 – struggling with Syracuse, and losing to Troy, no one can be blamed for questioning if Orgeron will ever get things back on track. He can't be blamed for key losses due to injury, as LSU was without Derrius Guice, Toby Weathersby, and Rashard Lawrence, but he can be blamed for a team struggling to execute on both sides of the ball, and for a team that looks low on confidence, energy, and preparation.
STOCK DOWN: Joe Alleva
Athletic directors at LSU are defined by what their football coaches do. Alleva has built world-class facilities, turned in annual profits, and even cut checks back to the university, but the football program has declined under his watch. He fired Les Miles, the winningest coach by percentage in school history, after two attempts, and hired Orgeron, a career 3-22 full time head coach in the SEC. To boot, he gave Orgeron a $12 million buyout, when he had the leverage to give him a $0 buyout. The board has long been kind to Alleva, but they won't likely tolerate the thought of a return to the dark days of the early 90s on the gridiron.