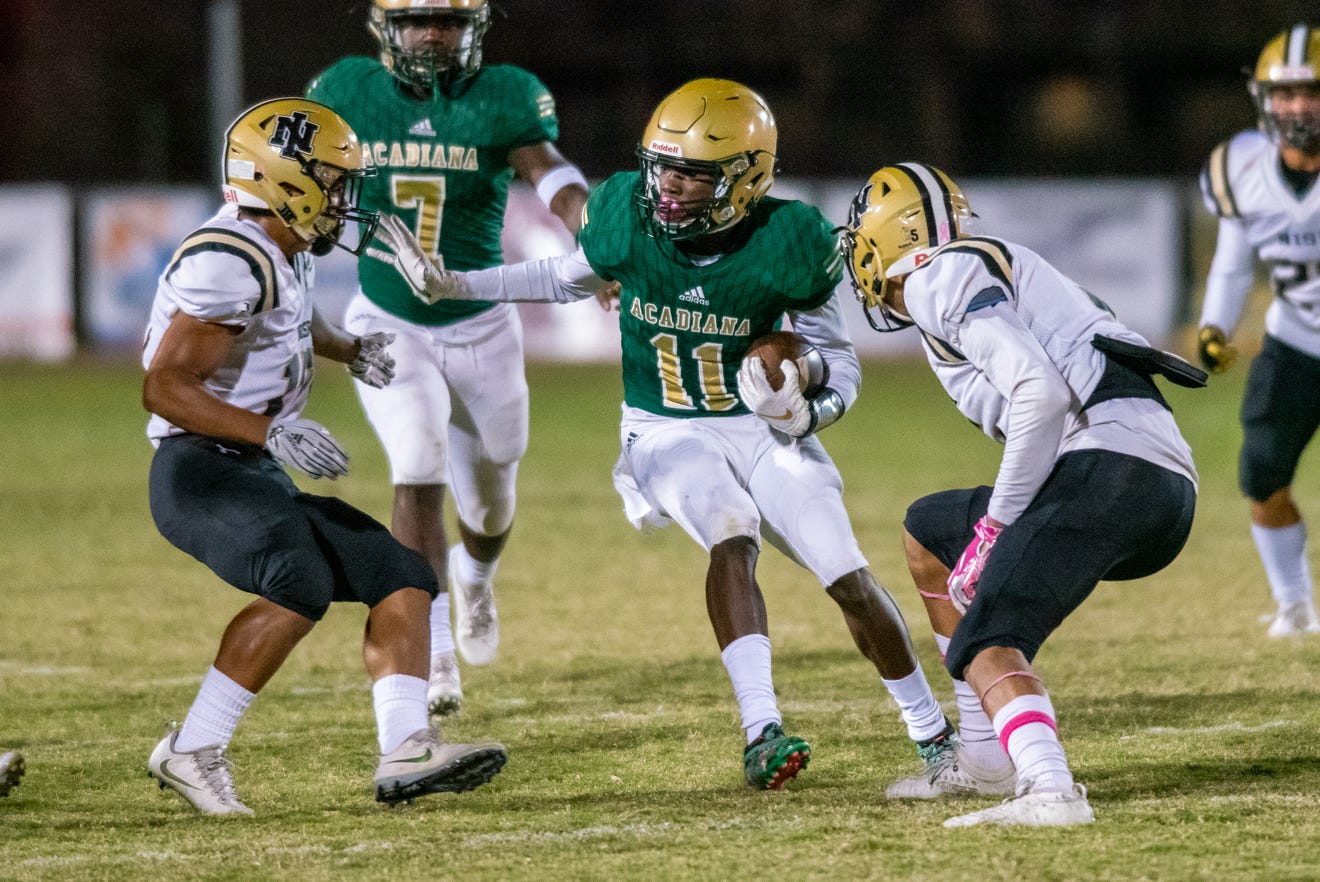 Whether it's defending a pass or announcing his college commitment, Acadiana High star Laterrance Welch has excellent timing.
Sunday morning on his mother April's birthday, Welch, a 6-1, 180-pound four-star recruit who's the No. 1 cornerback in Louisiana in the Class of 2022, committed to LSU in a video posted on Twitter.
"I want to thank everyone who has been there for me in all those moments," he said. "But especially my Mom. Mom, you and Grandma were there for me every step of the way. Your love and care gave me confidence to never doubt I would still reach goals, but also the patience to still pursue them.
"I'm excited to announce my commitment to LSU to fulfill a lifelong dream to represent my family, my state and the Purple and Gold. . .Go Tigers."
Welch, who received his first offer as a sophomore from South Carolina, established an impressive list of scholarship offers that reached 29 overall, but it was his overture that sealed the deal.
LSU extended its offer to Welch two weeks ago, but it was defensive backs coach Corey Raymond, a native of New Iberia, that already had a well-established relationship that helped pushed the Tigers over the top.
"I wasn't worried, I knew it would come eventually," Welch said of LSU's scholarship offer. "I was very patient with it, just took my time. I built a relationship with those guys."
Welch had knee surgery to repair a torn meniscus last June that caused him to miss most of his junior season in 2020. He returned to play in the final two games of the season which were the semifinals and state championship game and helped Acadiana (12-1) to a second straight state title 35-34 by intercepting Alexandria's game-winning two-point conversion attempt in the end zone.
Welch finished his abbreviated season with 28 overall tackles, two fumble recoveries, two interceptions and 15 passes broken up.
"I was looking at different teams where I could start as a freshman, Welch said. "I was just evaluating them, and I made my decision about a week ago and it was them."
Welch relishes the opportunity of being able to step onto the field as a freshman at LSU with the distinct possibility of replacing LSU's first team All-American cornerback Derek Stingley Jr., who is a projected high pick in the 2022 NFL draft.
"I feel like I can do it," Welch said. "I never doubt myself in situations like that where I feel I can hold it down. I'm working on getting better and better each day and when I get there, I want to be that guy."
Acadiana defensive coordinator Kyle Seibold can't say enough good things about Welch.
"LT is a very unselfish, humble kid, a tremendous teammate with an infectiously positive personality," Seibold said. "He has great length and ball skills, plus he's physical and has elite skills and playmaking ability.
"He's a remarkably well-rounded corner who is sound in deep zones, squat corner, catch man and press. He's comfortable playing in the face of wide receivers and being physical with his hands."
Welch has been heavily recruited and had 29 offers from top programs such as Alabama, Florida, Texas A&M, Oklahoma, Georgia, Florida State, Miami and Georgia Tech. He is LSU's eighth Class of 2022 commitment.