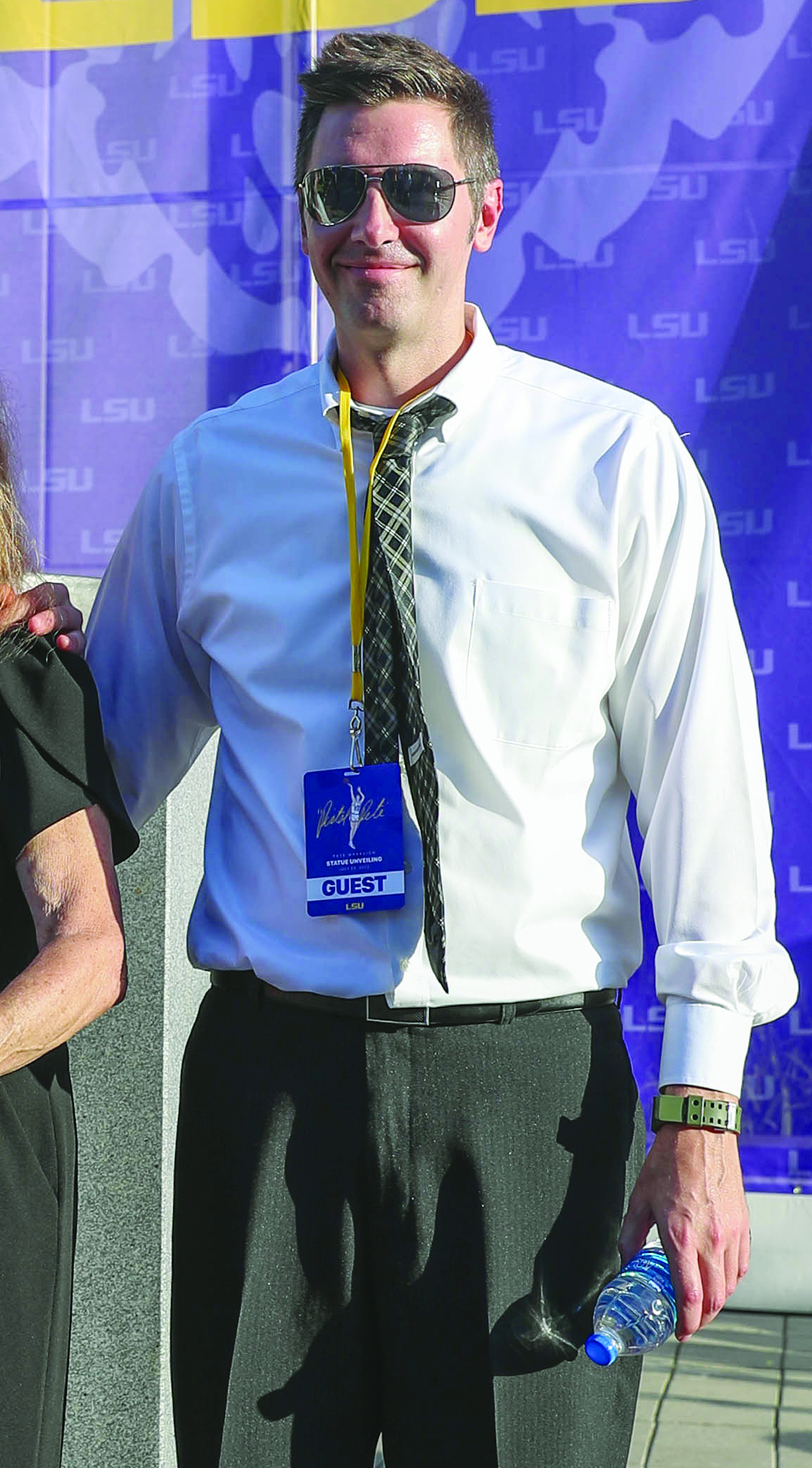 Despite a serious challenge, the 53-year-old scoring record of former LSU All-American
'Pistol" Pete Maravich remained unscathed, but not without some anxious moments.
Detroit-Mercy's Antoine Davis, who was granted a fifth year of eligibility because of
COVID-19 and provided the opportunity to play in 144 games, made quite a push at one of college basketball's most hallowed records which Maravich established during a dazzling three-year career under his father Press Maravich between 1968-70 while at LSU.
Pete Maravich became college basketball's leading career scorer with 3,667 points during an
83-game career spent without a 3-point line and shot clock. Also, his 741 points scored during his
freshman season, weren't part of his career total because freshmen weren't eligible for varsity
competition until 1972 and the SEC didn't conduct a postseason tournament.
Maravich, a five-time All-NBA selection during a 10-year professional career, passed away at the age of 40 on Jan. 5, 1998 from a heart attack after playing pick-up basketball in Pasadena, California. However, Maravich's collegiate scoring record appeared to be under siege into the month of March when Davis, the nation's leading scorer at 28.2 points, entered the Horizon League Conference Tournament within striking distance of Maravich's record. However, the owner of the collegiate record of 588 3-pointers, saw his bid to topple Maravich's record end with 3,664 career points in a loss to Youngstown State.
Despite a 14-19 record, Detroit-Mercy was given consideration to enter the College Basketball
Invitational tournament or possibly the inaugural College Hoops Postseason 8 which would
extended Davis' career, but neither event extended an invitation, thus ending Davis' career four points shy of Maravich's record.
The son of Pete Maravich, 43-year-old Jaeson Maravich who is a basketball trainer in Covington, appeared on the March 21 edition of Tiger Rag Radio to share his opinions of Antoine Davis' pursuit of his dad's record and his father's illustrious career.
TIGER RAG: What were your thoughts when it appeared the CBI would add Detroit-Mercy
and have Antoine Davis breaking the scoring record?
JAESON MARAVICH: "I've done probably 20 interviews in the last two weeks. I've had to bite my tongue on a lot of it. It's been a surreal, unique set of circumstances. It kind of blows my mind what's going on and the fact they were even contemplating going to a tournament whe they were 14-19. If Antoine Davis wasn't on this team, they wouldn't even be getting looked at. He could have broken it in the conference tournament, and it never happened, so I thought that was the end of that. Then I heard about this CBI which most people never heard of and there always seemed there was a catch. There was always one more tournament that they could play in. It was like a fiasco. I'm glad it looks like it's finally over. It's been really weird. They're obviously trying to break it at any means possible. I think it's a very bad look."
TR: Davis says he feels cheated by his team not playing in the postseason. What's your reaction?
JM: "I have not bad-mouthed the kid one time and I'm trying not to. What he said was a real sense of entitlement and no self-awareness at all. The fact that he feels cheated when he got a fifth year, an extra year to play that no one else coming after him is going to get. He got a fifth year, a whole extra year to play because of COVID. When my dad played they didn't have conference tournaments. They didn't play as many games during the year. He's had all of the advantages. He's had a 3-point line, he's had a shot clock. He plays in relative obscurity. I've never heard of the school. Most people hadn't heard of him before the last month. This whole thing has gotten completely out of hand and for him to say he feels cheated, I don't understand or comprehend what he's thinking. I thought he would be more classy and say, 'well, I gave it my best and I had all the time in the world to break it and couldn't do it. I had 61 more games and it never happened'. If anyone should have felt cheated it should have been my dad. This guy had every advantage my dad didn't have. If he could have came out and said, 'I had five years to break the record and didn't do it and came in second all-time, there's no shame in that'. People would have looked at him in such a different light. It would have been classy. But no, he's talking about he feels cheated. I think it's a terrible look."
TR: What does the record mean to your family?
JM: "It's everything to us. I think it's been 53 years and going strong. I told somebody in an interview that if somebody broke it in three years, I said I'd be at the celebration to shake their hand. But something like this, even if he had broken it in the conference tournament, it's still a huge apples to oranges comparison. You just can't compare the two. The points per game, the amount of games it took. I'm still trying to find a way to get his freshman year counted toward his tally. I think in 1972, two years after he left LSU, they started counting freshman points. I don't know why the NCAA can't go back and count those. This record is huge and the manner in which it was going to be broken, especially a record of this magnitude, I think would have been a terrible look and the outcry and support we got from this was really awesome to see. I think anybody with common sense could see this would have been basically bought and paid for. How this tournament would have counted toward his statistics for the NCAA, I don't understand that at all. How can you pay for a college student on the team to get into the tournament and it still counts toward your record? I don't understand that, plus the whole thing with them being 14-19, you don't deserve anything. I don't know why they even want them in a tournament. It's kind of embarrassing when you finished at the bottom of your conference. What about the teams that finished above you?
TR: How heartwarming has it been to see the outpouring of affection for your dad?
JM: "It's been amazing. The outpouring has been incredible. The CBI said they got flooded
with emails and calls saying it wasn't right, they shouldn't invite them. I couldn't be more proud
of all of the fans. It's crazy. I've talked to so many people in the last couple of weeks and done a ton of interviews. I knew he had a lot of passionate fans. His NBA career ended in '80. He officially stopped playing 43 years ago and to still see the support that he garners is incredible to see and I love it. He had a lot of passionate fans and rightfully so."
TR: Did you watch Antoine Davis' last game against Youngstown State?
JM: "I did not. I got a message on my Facebook messenger from one of his friends/agent. He
asked me if I was coming to the ceremony and I responded with, 'well no. Ya'll are assuming
he's going to break it'. He needed 26 and they were acting like it was a foregone conclusion. I
didn't watch the game although I was kind of on pins and needles. I had friends updating me the
whole time. I heard it went down to the wire and he missed a three to tie it. I was pretty ecstatic.
I did not watch it. When I finally got the news he didn't break it, I was celebrating. Then I heard it
wasn't technically over because they may enter this tournament called the CBI and all of the
drama started again. It was a long two weeks."
TR: You're almost like the undefeated 1972 Miami Dolphins, popping champagne as soon as an NFL team loses?
JM: "Exactly. That's a good comparison. This is the first time it's really been threatened. I've been very happy since he didn't break it."
TR: What do you think of your dad's statue?
JM: "I love it. Ninety-nine percent of the statues I've seen of guys are either are in their shooting pose or dunking. I really hadn't seen someone doing a behind-the-back (pass) and it's awesome to see. I think it's the best pose I've seen on a statue. I know I'm a little biased but it's amazing. I'm very proud of it and (sculptor) Brian Hanlon did a good job."
TR: What's your mother Jackie's reaction to all of this?
JM: "She kind of removed herself from all of that. She told me a while back that she lived all that. She didn't want to repeat any of it which I understand. I know last August 1st, she was getting a lot of calls and she really didn't want to deal with any of this and then she put it off on me which was fine. She said I could handle it and I said I'll do it, I don't have a problem doing it. I understand where she's coming from. She's been removed from that stuff for a while."
TR: What would your dad have thought of this?
JM: "I don't think he would be caught up in the record at all. I don't think it would have really bothered him one way or another. For me personally, this whole thing has been stressful because I was really annoyed with the whole thing. I take a lot of pride in what my dad did, and I obviously have a lot of love for him. To see that it may have been broken in a scandalous way, had me pretty heated. I think he would have welcomed it. The last five years of his life after he got saved, he was all about being a Christian. His basketball stuff was like an afterthought with him. It was kind of on the backburner at that point in his life. I think he would have been happy for the kid. I really don't think it would bother him. He had gotten to a different point in his life and I'm sure he was proud of all of his accomplishments, but I don't think he would have lost any sleep that they were broken in a crazy manner like that. I really don't think it would affect him."
TR: Did this indirectly keep your dad's name relevant?
JM: "I've had a couple of friends tell me this was actually a good thing. I asked them what they meant. They said it brings his name back into the limelight and shows people that never saw him play or heard of him exactly how great he was, and I thought they were right. I do think sometimes he's talked about enough. I know he played a long time ago, but he was a very unique player in the fact that he was so far ahead of his time. Somebody told me his college records are kind of equivalent to Wilt Chamberlain's NBA records. They seem like they're so far ahead of anything that would seem possible."
TR: How involved have you been talking on the subject of your dad's record?
JM: "I've done over 25 interviews in the last two weeks. I've had a couple of guys from The Associated Press in Detroit, ESPN, Yahoo, USA Today, a guy from Boston, a guy from California. It's been all over the place. I've been asked to join podcasts."
TR: What's the feedback from people after hearing your opinion on the matter?
JM: "I did a Facebook post to get it off my chest. The amount of likes and comments and the people agreeing with me. I read through every comment and there wasn't one comment that didn't agree with me. I even talked to a guy that worked in Detroit for the local newspaper and he even agreed with me. I understand that if he would have broken it in the conference tournament, even though it was still an apples to oranges comparison and I still look at my dad as still having the real record. But I would have given this guy credit for what he did. But after the whole thing went down and trying to get into this other rinky-dink tournament just to get it, that left a really bad taste in my mouth. It's almost like they were trying to buy the record at any means necessary. That record has stood for 53 years. That's one of the most hallowed records in sports to me. A lot of people were in agreement with me that it would have been a shame if it was broken in that manner. A lot of people were taking it as disrespectful.
"I've been getting flooded with messages. My dad's (family) is from Serbia and I got a text from a guy from Serbia to congratulate me. That's pretty cool. It makes me feel proud that my dad still has a following like that and people still love him and respect his game. I've had people call and text me, people that I've never from before, to hear the stories about my dad which is cool."