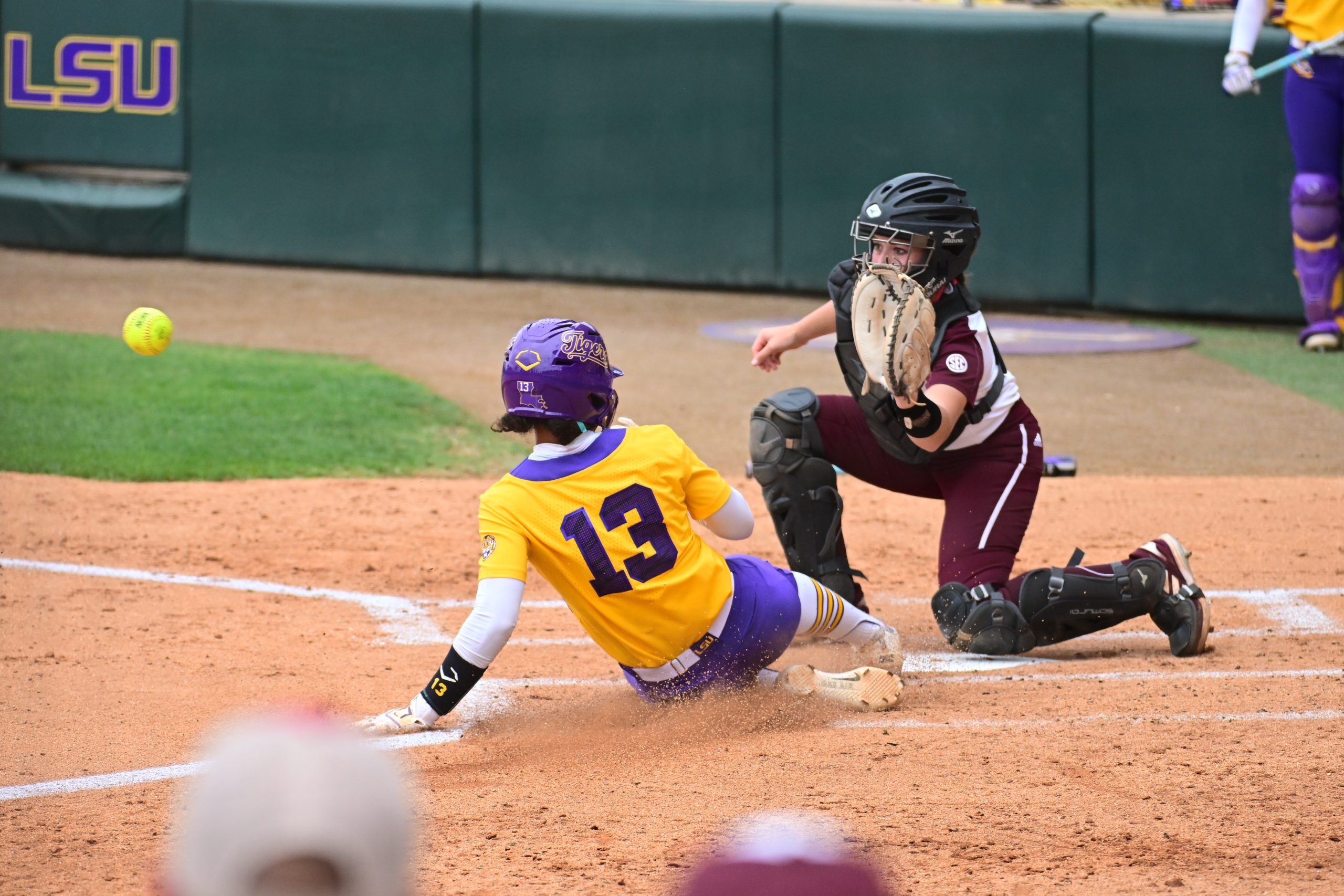 Graduate student pitcher Ali Kilponen had to wait her turn in LSU's pitching rotation this weekend, and delivered a performance more reminiscent of her dominant outings earlier this season.
Kilponen turned in her fourth shutout of the season, allowing two hits and struck out eight, to lead No. 15 LSU to an 8-0 run-rule victory Sunday over Mississippi State to close out a three-game SEC week at Tiger Park.
"It was a great weekend for so many reasons," LSU softball coach Beth Torina said. "Not just for what we did on the field, but for what it represented. It represented all the women who have battled with ovarian cancer and for the Baton Rouge community. It was a really special weekend and I couldn't have asked for much more."
LSU (37-11, 10-8) climbed into a fifth-place tie in the league standings with upcoming opponent Alabama. The Tigers begin a three-game series in Tuscaloosa, Ala. next Friday at 6 p.m. The Tigers have also exceeded last year's win total (34) with their first SEC sweep of the season and have six regular season games remaining.
Kilponen, typically the team's No. 1 started most series, threw her 11th complete game of the season. She didn't allow a runner beyond second base.
For the second straight game LSU's offense registered double-digit hits with 11 against three different pitchers for Mississippi State (24-22, 3-14). Starter Matalasi Faapito (4-6) suffered the loss, allowing two runs (none earned) on a hit in two innings of work.
Three players – Danieca Coffey, Ciara Briggs and Ali Newland – all had two hits apiece. Georgia Clark belted her team-leading 11th homer of the season and drove in a game-high four runs and Newland added her fifth homer.
LSU took advantage of a pair of errors for a 2-0 lead in the first when Clark drove in a run on a fielder's choice and Briggs, who reached on an error, also scored on a throwing error.
The Tigers extended their lead to 4-0 in the third when Karli Petty doubled in a run to right and McKenzie Redoutey lofted a sacrifice fly to left to score Newland.
LSU was able to halt the game in the bottom of the sixth with four runs on four hits. Clark highlighted the inning with a three-run homer with Briggs and Pleasants aboard, and Newland followed with a solo homer to center on a 3-2 pitch from reliefer Josey Marion.