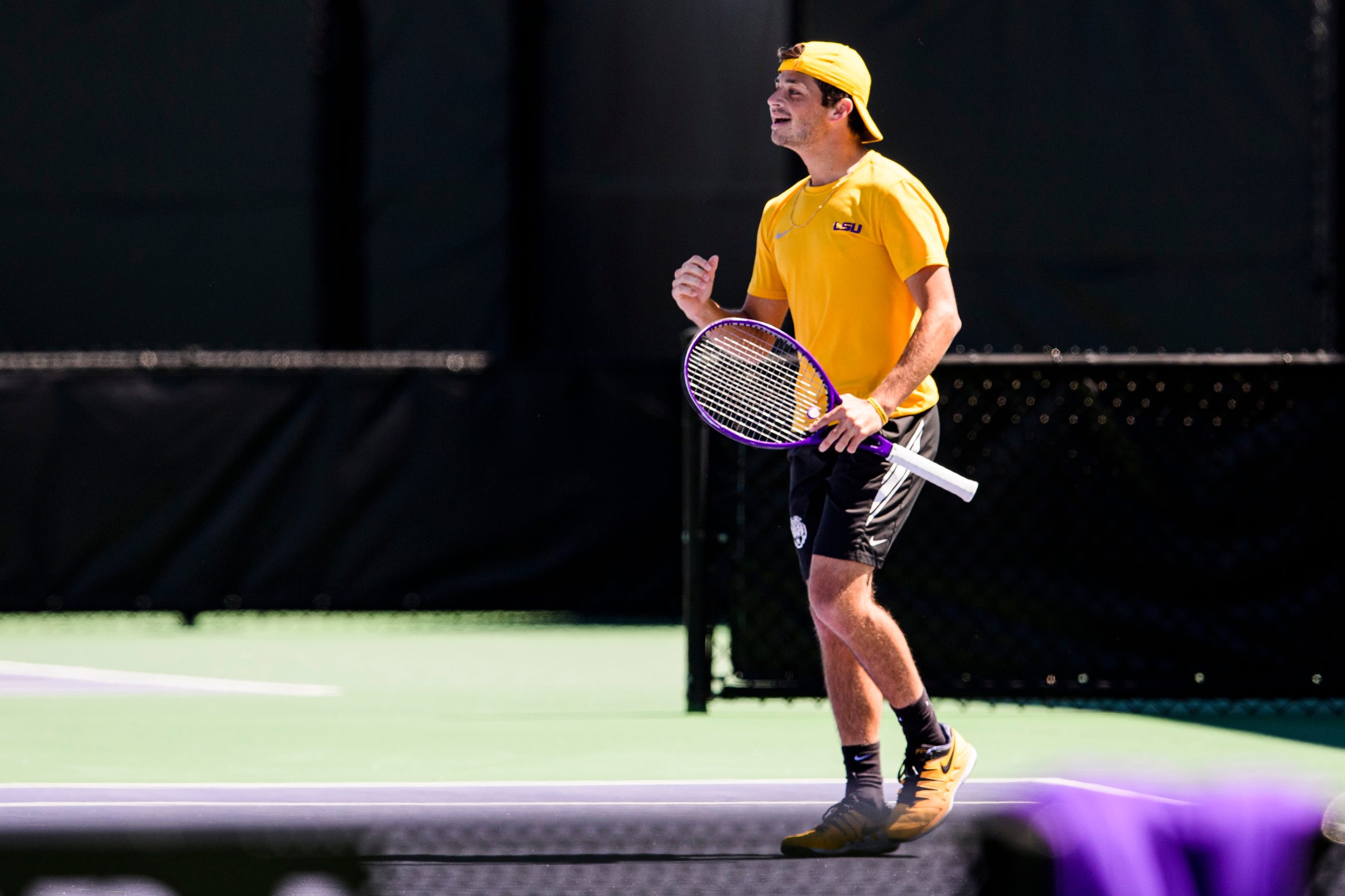 NASHVILLE, Tenn. – LSU overcame a slow start in doubles by winning four singles matches Friday to defeat No. 29 Vanderbilt, 4-3, in a Southeastern Conference match at Brownlee O. Currey Jr. Tennis Center.
LSU (10-5, 2-3 in SEC) returns to conference play Sunday at Alabama at 1 p.m.
Singles
No. 1 singles player No. 50 Ronald Hohmann got LSU's efforts off and moving in a positive way with a 6-4, 6-3 upset of No. 39 George Harwell of Vanderbilt. The Tigers continued the momentum with wins from No. 3 Kent Hunter 6-4, 6-2 before Vandy (10-4, 1-3) when recaptured the lead with win on the Nos. 2 and 6 courts.
However, Gabriel Diaz Freire tied the match at 3-3 at No. 4 singles with a 4-6, 7-5, 6-2 win and Joao Graca secured the match at No. 5 singles in dramatic fashion, 6-7 (7-9), 7-6 (7-4), 6-3.
Doubles
LSU, which dropped the doubles point, got a win from Gabriel Diaz Freire and Kent Hunter with a 6-3 at the No. 2 doubles.
LSU 4, #29 Vanderbilt 3
Singles
#50 Ronald Hohmann (LSU) def. #39 George Harwell (VANDY) 6-4, 6-3
Joubert Klopper (VANDY) def. Vlad Lobak (LSU) 6-4, 6-4
Kent Hunter (LSU) def. Marcus Ferreira (VANDY) 6-4, 6-2
Gabriel Diaz Freire (LSU) def. Max Freeman (VANDY) 4-6, 7-5, 6-2
Joao Graca (LSU) def. Jeremie Casabon (VANDY) 6-7 (7-9), 7-6 (7-4), 6-3
Siim Troost (VANDY) def. Boris Kozlov (LSU) 6-4, 3-6, 6-2
Doubles
#76 Siim Troost/Michael Ross (VANDY) def. Ronald Hohmann/Vlad Lobak (LSU) 7-5
Gabriel Diaz Freire/Kent Hunter (LSU) def. George Harwell/Max Freeman (VANDY) 6-3
Macsen Sisam/Jeremie Casabon (VANDY) def. Boris Kozlov/Nick Watson (LSU) 6-4