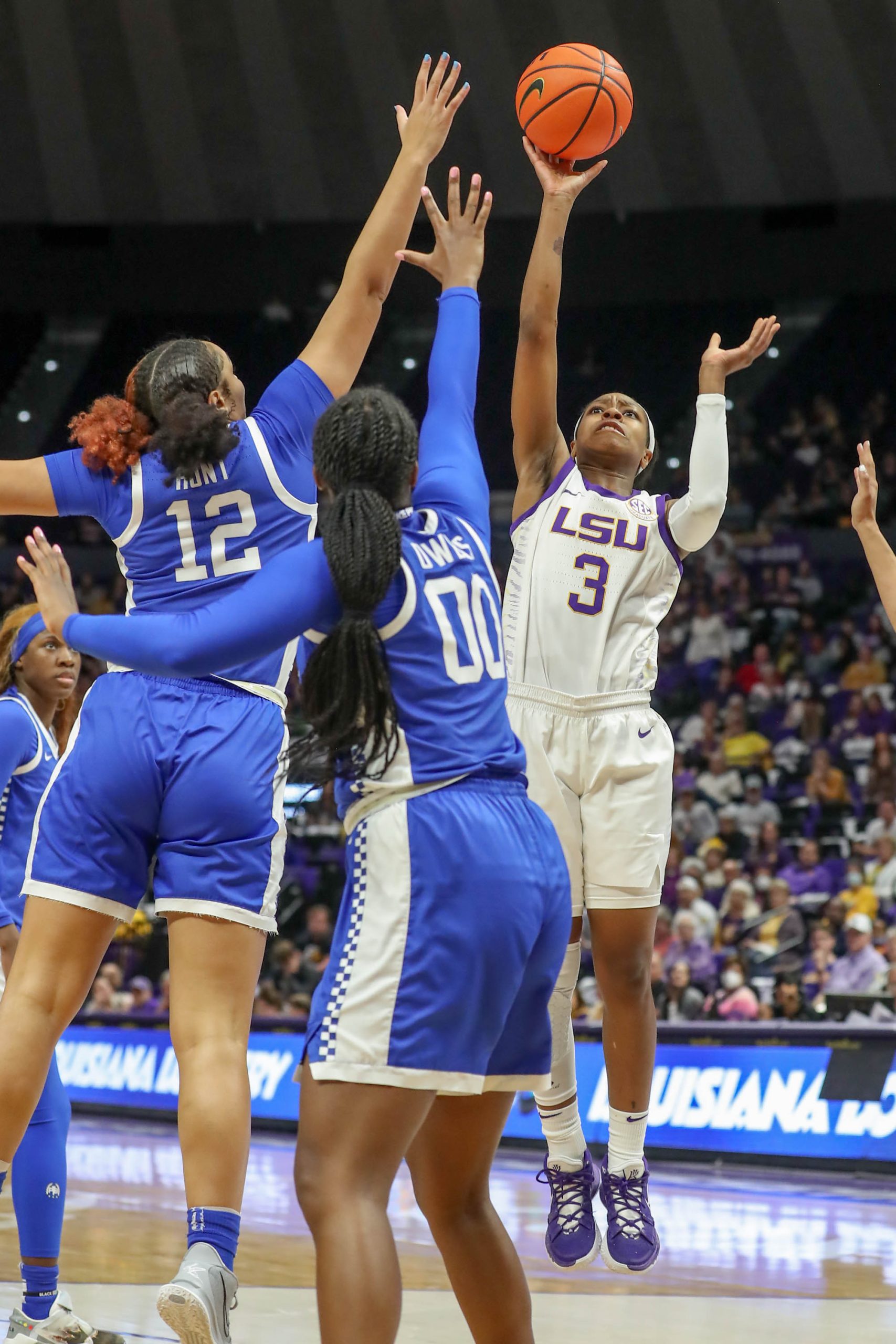 BIRMINGHAM, Ala. – LSU's dynamic guard duo of Khayla Pointer and Alexis Morris both earned All-SEC honors.
Pointer, a first team selection, and Morris, a second team choice, are the only players from the Tigers who finished the regular season on an eight-game winning streak and with a 25-4 overall record. They were also second in the SEC standings at 13-3, trailing on top-ranked South Carolina.
LSU faces the Kentucky-Mississippi State winner in Friday's quarterfinal round at 6 p.m. in the SEC Tournament in Nashville.
South Carolina swept the team's top honors with junior center Aliyah Boston being named the SEC's top player on both offense and defense, while Dawn Staley was Coach of the Year.
This is the second straight first-team honor for Pointer, who averages 18.7 points, 6.5 rebounds and 5.1 rebounds, She's scored 20+ points in 14 games and had a stretch of 16 straight games scoring in double figures and seven double-doubles this year.
Morris, a Texas A&M transfer, has electrified the Tigers' offense with 15.8 points per game. During SEC play she's averaged 17.3 points per game but is expected to miss the upcoming SEC Tournament because of a knee injury.
First Team All-SEC
Kiara Smith – Florida
Jenna Staiti – Georgia
Rhyne Howard – Kentucky
Khayla Pointer – LSU
Shakira Austin – Ole Miss
Aliyah Boston – South Carolina
Destanni Henderson – South Carolina
Jordan Horston – Tennessee
Second Team All-SEC
Brittany Davis – Alabama
Amber Ramirez – Arkansas
Aicha Coulibaly – Auburn
Que Morrison – Georgia
Alexis Morris – LSU
Anastasia Hayes – Mississippi St
Aijha Blackwell – Missouri
Hayley Frank – Missouri
Zia Cooke – South Carolina
Tamari Key – Tennessee
All-Freshman Team
Samara Spencer – Arkansas
Jersey Wolfenbarger – Arkansas
Alberte Rimdal – Florida
Jada Walker – Kentucky
Denae Carter – Mississippi State
Sara Puckett – Tennessee
Sacha Washington – Vanderbilt
Iyana Moore – Vanderbilt
All-Defensive Team
Kiara Smith – Florida
Que Morrison – Georgia
Aliyah Boston – South Carolina
Tamari Key – Tennessee
Jordyn Cambridge – Vanderbilt
Coach – Dawn Staley
Player – Aliyah Boston
Defensive Player – Aliyah Boston
Freshman – Samara Spencer
Sixth-Woman – Angel Baker