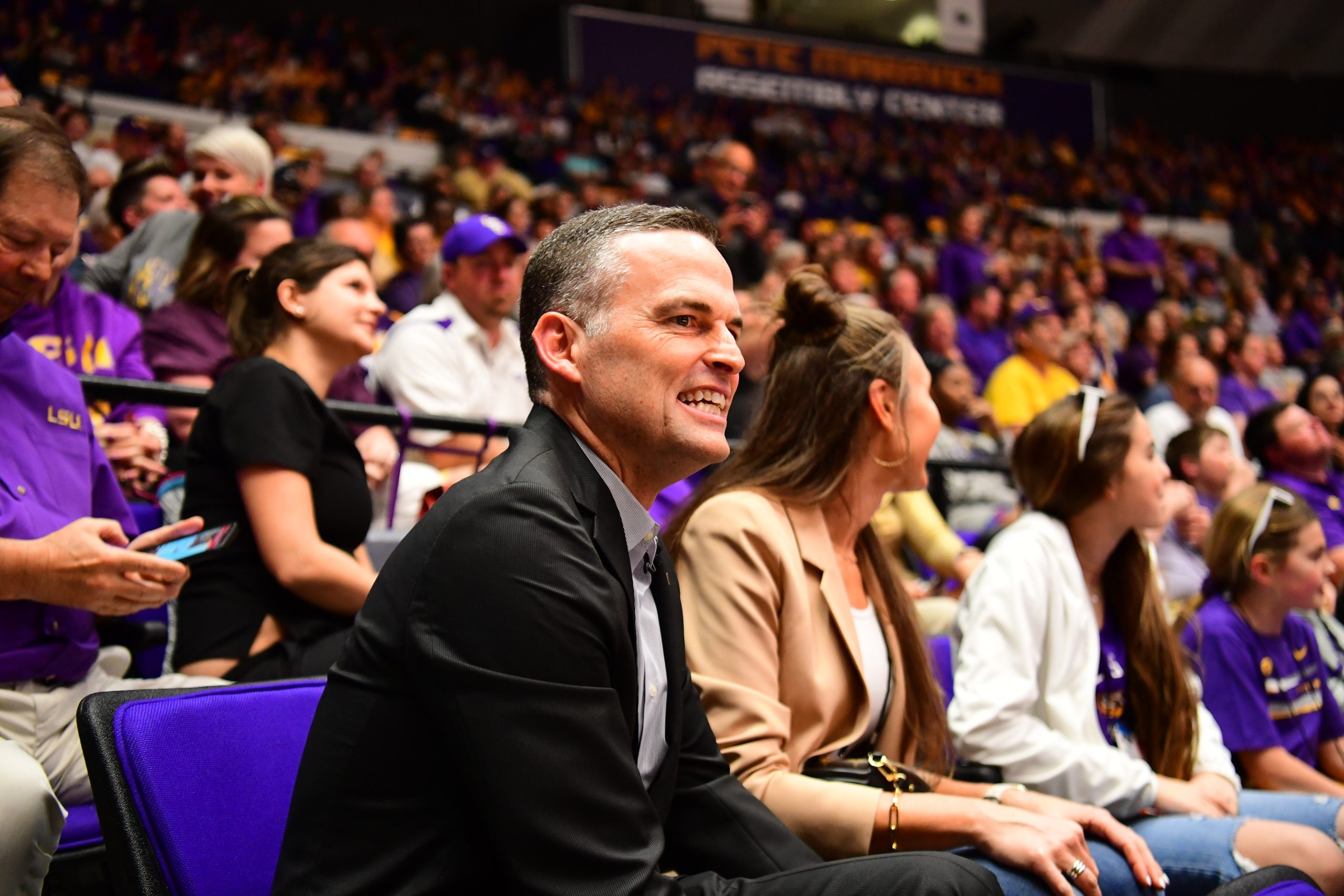 After reports indicated that a deal was near LSU announced Monday afternoon that it had hired Matt McMahon as it's new men's basketball coach away from Murray State. He is expected to introduced as a news conference Tuesday.
According to Jon Rothstein of CBS Sports earlier in the day, LSU and McMahon were finalizing a deal to grew in validity once reporter Evan Beebe of WPSD TV6 in Paducah, Ky. reported that McMahon had accepted the job and in fact had already informed his team at Murray State this afternoon of his intentions to leave.
"It was essential for us to hire a coach with a winning standard of performance, as well as the consistency and character to elevate our men's basketball program to new heights," LSU athletic director Scott Woodward said. "Matt is exactly what we were looking for. His vision for our program and his values as a leader align perfectly with ours as an institution, and he has a proven track record of identifying talent, developing student-athletes, and building championship basketball programs. We are excited to welcome Mary and their three children to Baton Rouge, and we are ready to work together to write the next championship chapter for LSU Basketball."
McMahon, who was paid $500,000 annually, will receive quite an increase in salary according to contract terms that were released Tuesday where he'll receive a 7-year deal that's worth $2.6 million in its first year and grows to $3.2 million by the end of the contract. He will also receive an additional year on his contract if LSU gets a multi-year postseason ban or loses two scholarships for at least three years.
Woodward was looking to replace head coach Will Wade, whom he fired on March 12 for alleged NCAA violations with five of those rising to Level I level. Woodward also fired associate head coach Bill Armstrong for an alleged Level I recruiting violation.
The Tigers, under interim head coach Kevin Nickelberry, were bounced from the NCAA tournament last Saturday by Iowa State 59-54 and finished with a 22-13 record.

The 43-year-old McMahon has been one of the hotter names to surface from a successful mid-major program after the Oak Ridge, Tenn. native won 69 percent (154-67) of his games in seven seasons at Murray State. The Racers were 31-3 overall, went 18-0 in winning the Ohio Valley Conference's regular season and league postseason tournament and earned their third straight NCAA tournament berth.
"I want to thank President (William) Tate, Scott Woodward, and Stephanie Rempe for the incredible opportunity to be the next head basketball coach at LSU," McMahon said. "My family and I are extremely excited to join the Baton Rouge community and lead the LSU Basketball program forward. I look forward to building relationships with our current players and recruiting elite student-athletes to LSU, and I'm excited to join the best athletic department – and the most iconic brand – in all of college sports. This is a once-in-a-lifetime opportunity for me, and I cannot wait to get to work."
Murray State defeated San Francisco 92-87 in overtime in the first round of the NCAA tournament before a 70-60 upset loss in the second round to St. Peters ended their season.
McMahon, a Naismith National Coach of the Year Semifinalist this season, was a three-year starter at Appalachian State which went 65-25 during his career and ended with a trip to the NCAA tournament. He spent a year as a graduate assistant at Tennessee under head coach Buzz Peterson and also joined the staff at Louisiana Tech for a brief period until returning to join the staff at Murray State when Steve Prohm left the program to become the next head coach at Iowa State.
McMahon's spent a total of 11 years at Murray State, the first four as an assistant to Steve Prohm, until taking over the program seven years ago. Not only has he won nearly 70 percent of his games, but McMahon won 75 percent (93-31) of his games in the Ohio Valley, making him the league's second winningest coach.
Murray State won the OVC's regular season four times and the league's postseason tournament three times, including this year where the Racers made the NCAA tournament for the third time in five years under McMahon. He also developed a reputation as an elite recruiter, particularly in the Southeast, where he has recruited and developed three OVC Players of the Year in the past five seasons.
McMahon arrived in Murray after one season under Buzz Peterson as an assistant coach for UNC-Wilmington (2010-11). Before that, he spent eight seasons at his alma mater, Appalachian State, where he was an assistant coach from 2002-2010. He also spent one season as a graduate assistant at both Appalachian State (2000-01) and Tennessee (2001-02).
He's maybe best known during his tenure at Murray State for his development of unheralded recruit Ja Morant into the NBA's No. 2 overall pick in the 2019 NBA Draft by the Memphis Grizzlies.
LSU is scheduled to lose only two senior starters in point guard Xavier Pinson and forward Darius Days. However, depending on the severity of the NCAA's penalty, the Tigers could face up to a two-year postseason ban and scholarship reduction.