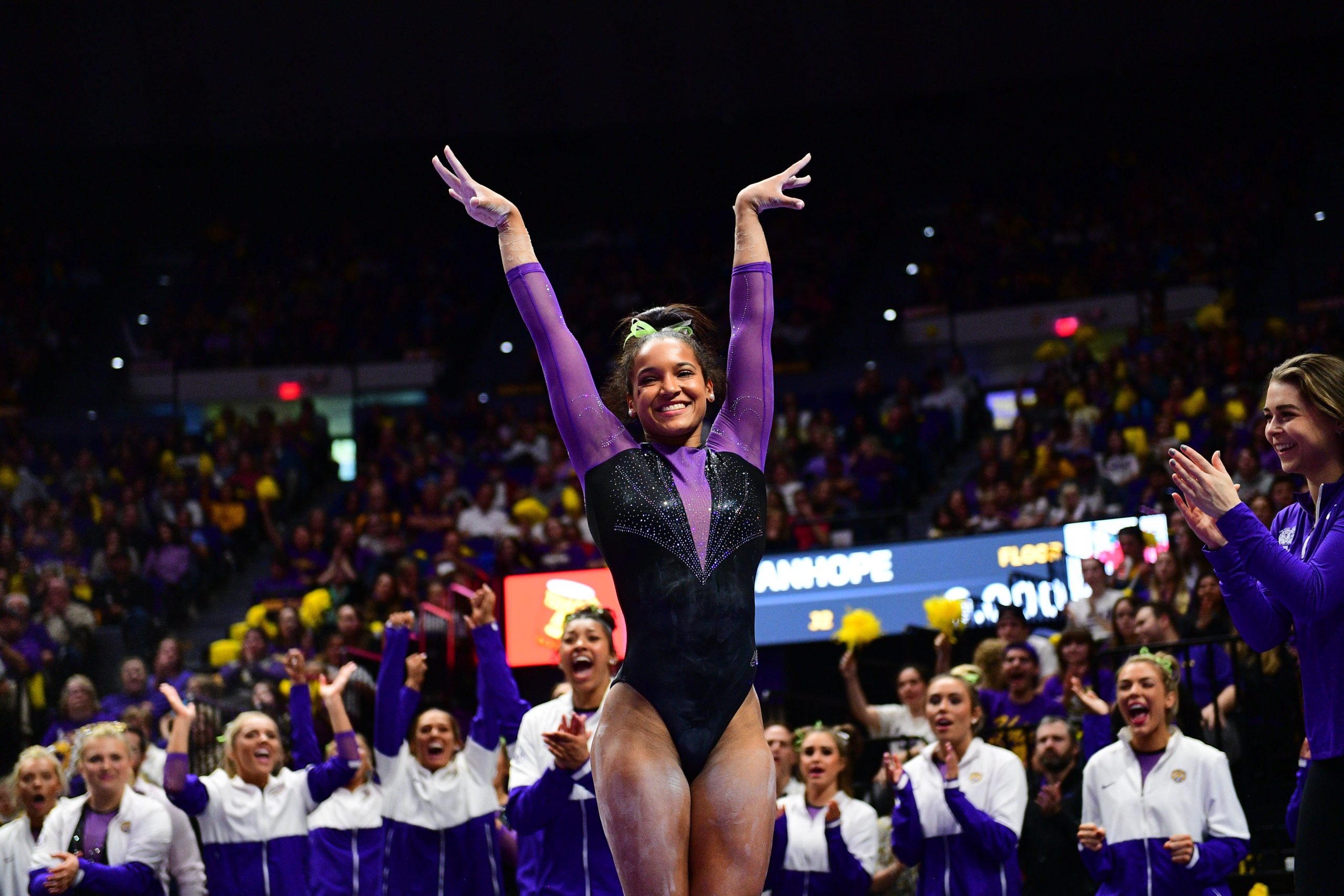 LSU junior Haleigh Bryant was named a 2023 Honda Award Finalist for gymnastics, THE Collegiate Women Sports Awards announced.
"I've never been prouder of a gymnast than I am of Haleigh. She represents every aspect of what a coach could ever ask for," LSU gymnastics coach Jay Clark said. "Her leadership, consistency in and out of the gym and investment in her team sets the example. On top of that, she's also just a great human being.
"Her stats are staggering when you see what she did this year. 64 for 64 routines with an average of 9.900+ across all events? That's unheard of. She did the all-around every single meet because her team needed her too. In an age of self, Haleigh Bryant was the ultimate act of selflessness. She is just incredible."
Bryant, a 17-time All-American and two-time Central Region Gymnast of the Year, is one of four finalists for this year's Honda Award. She is joined by Florida's Trinity Thomas, Oregon State's Jade Carey and Kentucky's Raena Worley. 
Bryant is the seventh LSU gymnast to be named a finalist for the Honda award. She joins Ashleigh Gnat (2016-17), Rheagan Courville (2012-13), Susan Jackson (2009-10), Ashleigh Clare-Kearney (2008-09), and Rachel Fruge' (1989-90) as the previous finalists.
Jackson, a three-time NCAA champion, is the only LSU gymnast to win the award.
Bryant, a native of Cornelius, North Carolina, helped to lead LSU to a fourth place finish in the NCAA Championships last weekend in Ft. Worth, Texas. With a team without some of its top performers, Bryant became the first LSU gymnast to record an average of 9.900 or higher across all four events in a season. She finished the season with averages of 9.938 on vault, 9.920 on bars, 9.901 on beam and 9.923 on floor. Her 39.680 season average in the all-around is also the highest in program history.
The Honda Sports Award is presented annually by the CWSA to the top women athletes in the 12 NCAA- sanctioned sports and signifies "the best of the best in collegiate athletics." The winner of the sport award becomes a finalist for the Collegiate Woman Athlete of the Year and the prestigious 2023 Honda Cup. The nominees were chosen by a group of experts representing the Women's Collegiate Gymnastics Association (WCGA).