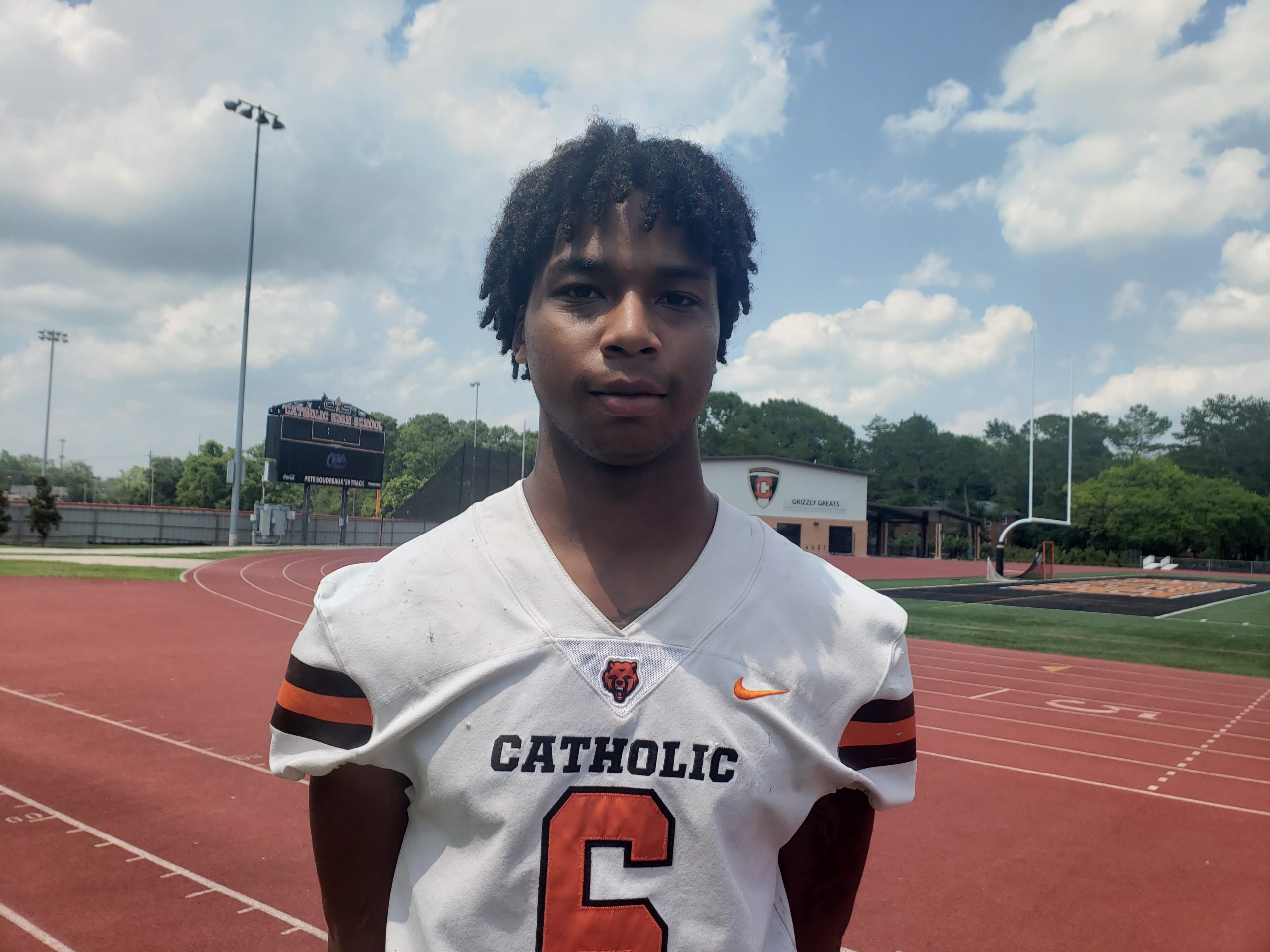 On the day Catholic High held its split-squad scrimmage last Friday, LSU quarterbacks coach Joe Sloan sat in the office of Bears head coach David Simoneaux Jr. chatting with an ex-Catholic football player who happened to be a fan of the Tigers.
Sloan's charged with recruiting the Baton Rouge area for first year LSU coach Brian Kelly. Ever since his hire, he's made Catholic High five-star wide receiver Shelton Sampson Jr. a huge priority for the Tigers' staff. His four hours on Catholic's campus represented the beginning of a presence LSU would have that day with wide receivers coach Cortez Hankton coming by later to attend the scrimmage.
This was all for a player, the 6-foot-4, 180-pound Sampson, a consensus five-star prospect and top 10 receiver nationally, who didn't play in the spring game because of a hamstring injury.
"They've done a great job of establishing a relationship," Simoneaux said of LSU. "We were the first stop for Brian Kelly. As soon as (LSU offensive coordinator Mike) Denbrock and those guys got in the office, they were here. Hat's off to Joe Sloan. It's been busy, but those guys have gone a great job of recruiting him."
Wide receiver has been a luxury position for LSU to recruit from within its own borders. It already has a commitment in its current class from Omarion Miller of North DeSoto.
Kelly clearly understands the ramifications of having someone as highly regarded as Sampson in his own backyard and the measures it's going to take to keep someone as uber-talented as him at home.
Sampson's stockpiled scholarship offers from 24 schools and whittled that list to six favorites. He's already scheduled official visits to Florida State (June 10) and Alabama (June 17). He'll have to decide between LSU, Michigan, Oregon and Texas A&M for his last three official visits.
"I will start taking officials in June and depending on how the visits go, I may be ready to commit and just get it over with," Sampson said. "If I need more time, I'll take more time. It's even for all of them. I'm going into the officials with an open mind."
Sampson acknowledged a coaching change last fall at LSU initially resulted in some uneasiness until Kelly reoffered a scholarship and began developing a relationship. Sampson's subsequently taken six unofficial visits to LSU, which has firmly established itself as a prime contender for his services.
"I went for a visit, and I could just see the shift that they were going in the right direction" Sampson said. "There was nothing but love. Coach Sloan's made sure that I'm a priority for them."
The scope of Sampson's recruiting has far exceeded his expectations. He's been living under a microscope since he received five-star status for the first time near the end of his sophomore season and his first two scholarship offers came a year later, setting the stage for what's going to be one of the state's biggest recruits not named Arch Manning.
"It's been non-stop," said Simoneaux, who guided Catholic to a 12-1 record and Division I state championship in his first season in 2021. "The Alabamas, LSUs, Oregons, Texas A&Ms sending one, if not multiple people, out to recruit him. That shows how serious they are about him. He's been as recruited of an athlete as I've been around in my coaching career."
Sampson still hasn't warmed up to all the hype.
The namesake of one of Baton Rouge's top prep running backs in the early 2000s at Redemptorist High before going onto play at Northwestern State, the current version of Shelton Sampson has clearly stepped out of his father's shadow at a position where he's ranked as high as fifth overall nationally by On3.com. He's rated by both On3.com and Rivals.com as the No. 2 receiver with 247 Sports ranking him No. 4 and ESPN.com No. 6.
"I embrace it but at the same time it only means so much," Sampson said. "A Top 10 player? That's crazy. It's been like this going on almost two years, so I've gotten used to it. I feel like I've got a target on my back. I'm going to get everybody's best shot, so I've got to come with my 'A' game every game."
Catholic features a balanced offense that clearly benefits from Sampson's ability to stretch defenses vertically with his 4.35 time in the 40-yard dash. With his leaping ability, he's a red-zone nightmare for opponents. He's shown the ability to beat and run away from defenders, using his short bursts in tight spaces that have turned hitches and tunnel screens into long-distance touchdowns.
Sampson earned Class 5A All-State honorable mention and won a spot on the All-District 5-5A first team catching a team-high 40 passes for 932 yards – an average of 23.3 yards per catch – with eight touchdowns in 11 games. He also returned 10 kickoffs for an average of 19.8 yards.
"He's just one of those guys that's a home run hitter and somebody that changes the whole dynamic how a defense lines up to you as well and commands so much respect," Simoneaux said. "I think he's a game changer, but we're challenging him. He's a big, physical kid. We still think there's more there. He's not afraid to go cover somebody up. He's not a guy that's only going to do one thing."
Sampson said he's studied the styles of NFL receivers such as Julio Jones of the Tennessee Titans and DeAndre Hopkins of the Arizona Cardinals, looking for hints of greatness he can apply to his game. Both receivers – standing 6-1 or taller – have provided insight into how to utilize their height to go up and catch the football.
When he's back to 100% health and able to resume football workouts, expect Sampson to continue to hone his craft. There will be workouts with Catholic High's team, but there's also the additional workouts under the watchful eye of local trainer Ken Anio, where for three to four days a week he will work on route running and footwork.
"I just didn't wake up and want to be great," Sampson said. "It's just in me. Every day, it's just doing the same thing over and over to get better."
It's gotten Sampson to a point where he's the attracted the attention of some of the nation's top programs. He'll continue to work on his game and try and improve in the summer's unrelenting heat to prepare to play his final season under intense scrutiny until he signs with the school of his choice in December.
"I had high expectations but honestly, I didn't believe it was going to be like this," Sampson said of his recruiting process. "Everyone around me said it was going to be like this. I'm just blessed."