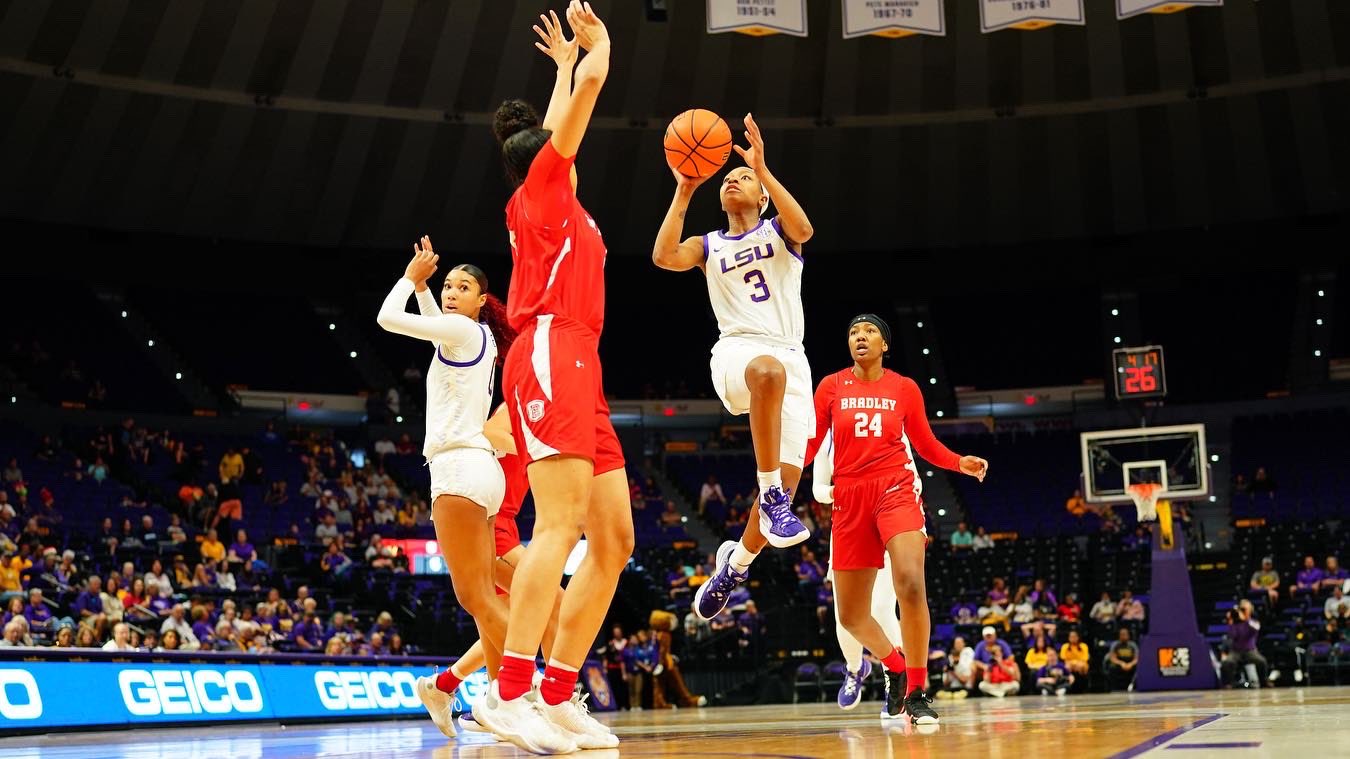 GAINESVILLE, Fla. – The LSU women's basketball team fell Sunday in Gainesville to Florida, 73-72, in Exactech Arena as Florida won its fifth game in a row.
"It was a game where they started out tougher, more physical guarding us," LSU women's basketball coach Kim Mulkey said. "We hung in there. We battled. I thought Khayla Pointer almost single handedly won the game for us."
Pointer set a career-high with 35 points, going 11-27 from the field and 12-15 from the free throw line; She was the only LSU player to score in double figures. Autumn Newby had 11 rebounds in her return to the court.
Kiara Smith was big for the Gators with 23 points and 8 assists. Jordyn Merritt had 16 and Zipporah Broughton finished with 14 points.
"They won by a point and we get to play them again in a couple of weeks (Feb. 20 in Baton Rouge)," Mulkey said. "Hopefully we learn from it."
Florida used physical play to take an early lead but LSU responded in the second quarter to go into halftime tied at 33. The Tigers (17-3, 5-2 in SEC) led by four going into the fourth and the teams went back and forth in the final quarter.
"We've got to get back on that plane, head home, learn from it and get ready for a completely different Arkansas team," Mulkey said.
LSU returns home to host Arkansas Thursday at 7:30 p.m. CT. The game will be televised on SEC Network. 
LSU, which trailed 16-12 after the first quarter, shot 50 percent in the second quarter with Pointer scoring seven and Ryann Payne six to make it 33-33 at halftime.
Center Faustine Aifuwa scored her first two buckets of the game to give LSU a 41-38 lead in the third quarter. Aifuwa and Pointer split LSU's first 12 points of the quarter.
The Tigers led 45-41, but Florida scored the next eight to retake the lead. Pointer went on a 7-0 run before a Florida three ended it, but with time running down Pointer, who had 15 points in the quarter, banked in a shot from 20 feet with the buzzer going off to give LSU a 58-54 lead.
Florida started the fourth quarter on an 8-2 run to take a 62-60 lead. Pointer made two free throws to tie the game before giving LSU a 65-62 lead with 4:52 remaining. After Florida took the lead with four straight points, Pointer hit a new career-high to give LSU the lead back with 2:50 left.
The Gators took the lead with 2:00 left, going up 68-67 and then went up three with one minute remaining.