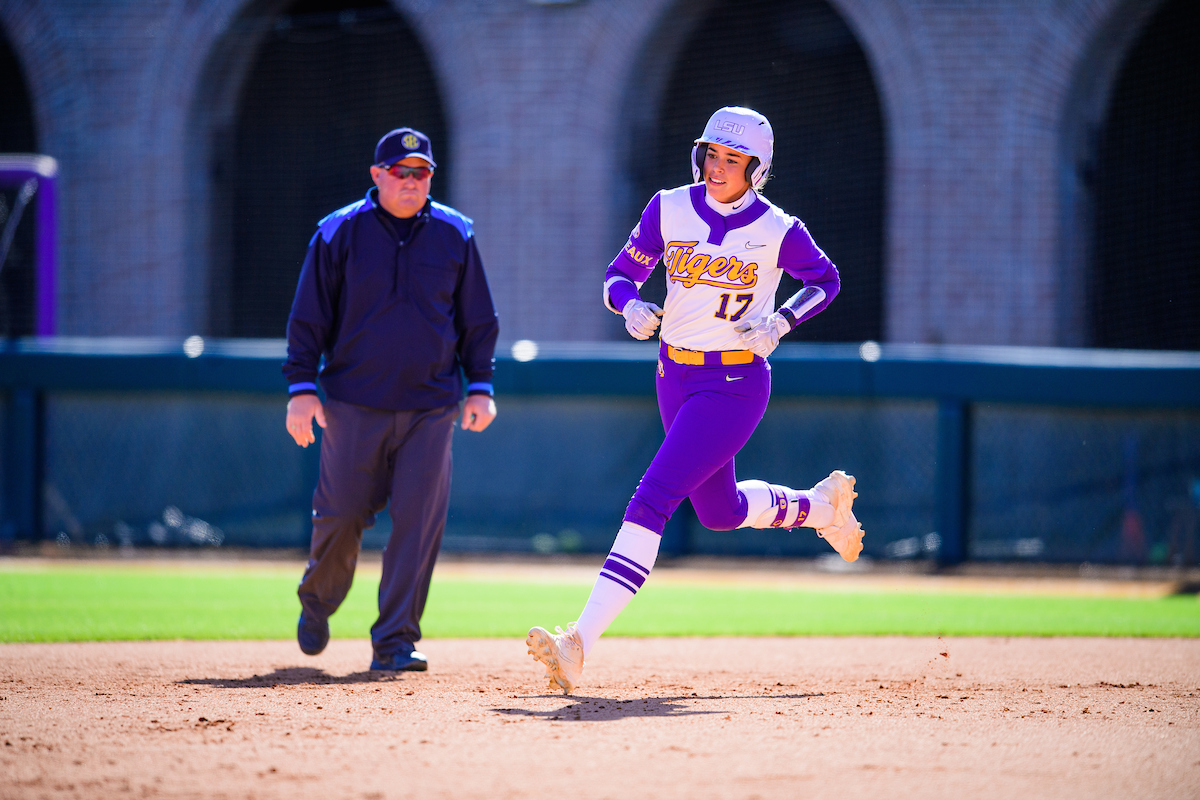 What appeared to be LSU's first breather in Southeastern Conference softball action turned into something with a little drama at the end of nearly three hours.
The Tigers built an 11-2 lead going into the bottom of the third on the strength of the bat of Taylor Pleasants and pitcher Ali Kilponen had to come back out of the team's bullpen to nail down a 11-8 win Saturday over Texas A&M at Dell Diamond.
No. 21 LSU (24-15, 5-6 in SEC) won its second SEC series of the season and will go for its first three-game sweep with a noon contest Sunday against Texas A&M (23-14, 2-9). The game can be heard locally over 107.3-FM and will be streamed by the SEC Network+.
The Tigers piled up 11 runs on 10 hits led by Pleasants' 3-for-4 outing with a pair of doubles and career-high six RBIs. Designated player Shelbi Sunseri joined Georgia Clark atop the team's lead in homers with her 11th and drove in two runs, while left fielder Ali Newland was 2 for 4.
LSU scored three times in the first, taking a 1-0 lead on an RBI-double from Pleasants and consecutive sacrifice flies from Clark and Sunseri.
The Tigers made it 8-0 with five runs on five hits in the second inning with Danieca Coffey scoring on a wild pitch, Pleasants driving in a pair of runs with a double and Sunseri hitting a two-run homer to left field.
LSU extended its lead to 11-2 with three more runs in the third on Pleasants' three-run doubles to score Ciara Briggs and Coffey.
Texas A&M reliever Emiley Kennedy silenced LSU the remainder of the way, retiring all 12 batters she faced for a scoreless four-inning outing.
Texas A&M rallied with four runs in the third and cut LSU's lead to 11-6 to chase Sunseri and LSU brought in Kilponen for the second straight game after getting a 2-1 win Friday over the Aggies.
A pair of wild pitches from Kilponen led to two runs and a sacrifice fly accounted for a fourth run in the third inning. The Aggies added two runs in the seventh on Rylen Wiggins' two-run homer against Kilponen (13-4) who allowed three runs on two hits in five innings. She struck out six, walked six and hit two batters.