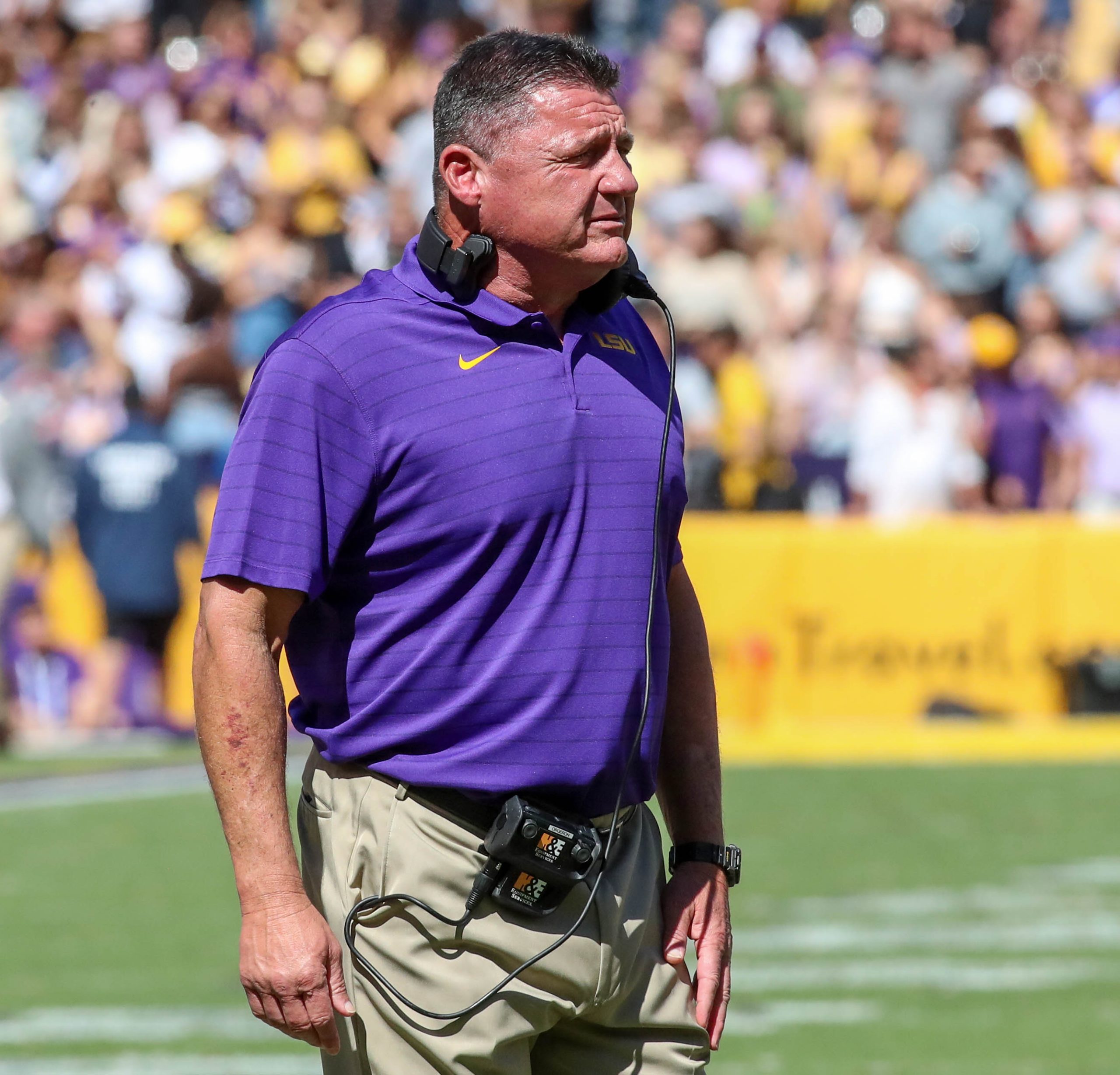 OXFORD, Miss. – In a strange twist of fate, LSU's "Farewell Coach O Tour" starts here Saturday at the very school that fired him in 2007 and against a head coach who he once replaced as interim.
That's the backdrop in Vaught-Hemingway Stadium for the 110th meeting between SEC rivals LSU (4-3, 2-2 SEC West) and 12th ranked Ole Miss (5-1, 2-1 SEC West) in a CBS nationally televised game starting at 2:30 p.m.
LSU's Ed Orgeron, on the verge of winning his 50th game in his 66 games as the Tigers' head coach, is coaching in his first game since being fired effective at the end of the season and agreeing to accept a $16.9 million buyout.
Orgeron, 60, who was fired in his first head coaching job at Ole Miss with a record of 10-25 (3-21 SEC) from 2005-07, hopes his team plays looser since a decision has been made on his future.
"We had an absolutely great week of practice," Orgeron said Thursday night. "I feel it (momentum) in the building. The leadership is coming through."
LSU is coming off a 49-42 win over then-No. 20 Florida. After struggling to find a running attack for the first six games of the season, the Tigers exploded for 321 yards on 45 carries. Junior running back Ty Davis-Price ran for a school-record 287 yards on 36 carries and scored three touchdowns.
"We all felt we were right there to break it open and have the game that we did," LSU center Liam Shanahan said. "It felt good. It was fun to watch a bunch of guys (O-linemen) doing good stuff on film."
The last two years in LSU wins in Baton Rouge last season and in Oxford in the Tigers' 2019 national championship season, the teams have combined for 101 and 95 points respectively.
LSU, though its offense exploded last Saturday vs. Florida, has yet to show it can consistently put up big offensive numbers. It's why LSU's best chance to score a win as 9-point underdog oddsmakers, which would be a conflicted bet for Tigers' fans with Louisiana about to launch onsite betting, is grinding out long drives.
Ole Miss, third in the FBS in total offense (553 ypg) and fifth in scoring offense, has one of the best quick-strikes offenses in college football. The Rebels have scored 11 TDs this year on possessions that have lasted 90 seconds or less.
Ole Miss junior Matt Corral, one of the best running and passing quarterbacks in the nation, ranks third in FBS in total offense. He's averaging 363 yards per game, just 27 less than LSU averages as a team per game.
In last Saturday's 31-26 Rebels' victory at Tennessee, Corral accounted for 426 yards, throwing for 231 yards and two TDs and running for 195 yards on 30 carries.
Corral was physically punished by Tennessee and it has been questionable all week if he can play against LSU.
"Well, we're hopeful he plays, just like all of our players that are injured," said Ole Miss coach Lane Kiffin, who has worked with Orgeron twice at USC and once at Tennessee. "So, you know, if he doesn't we'll be ready and we have a good plan for him not playing, you know, make the most of this great atmosphere we're going to have and find a way to win."
Ole Miss' backup QB is true freshman Luke Alymeyer, a 2021 four-star recruit from Starkville who is 0-for-4 passing this season.