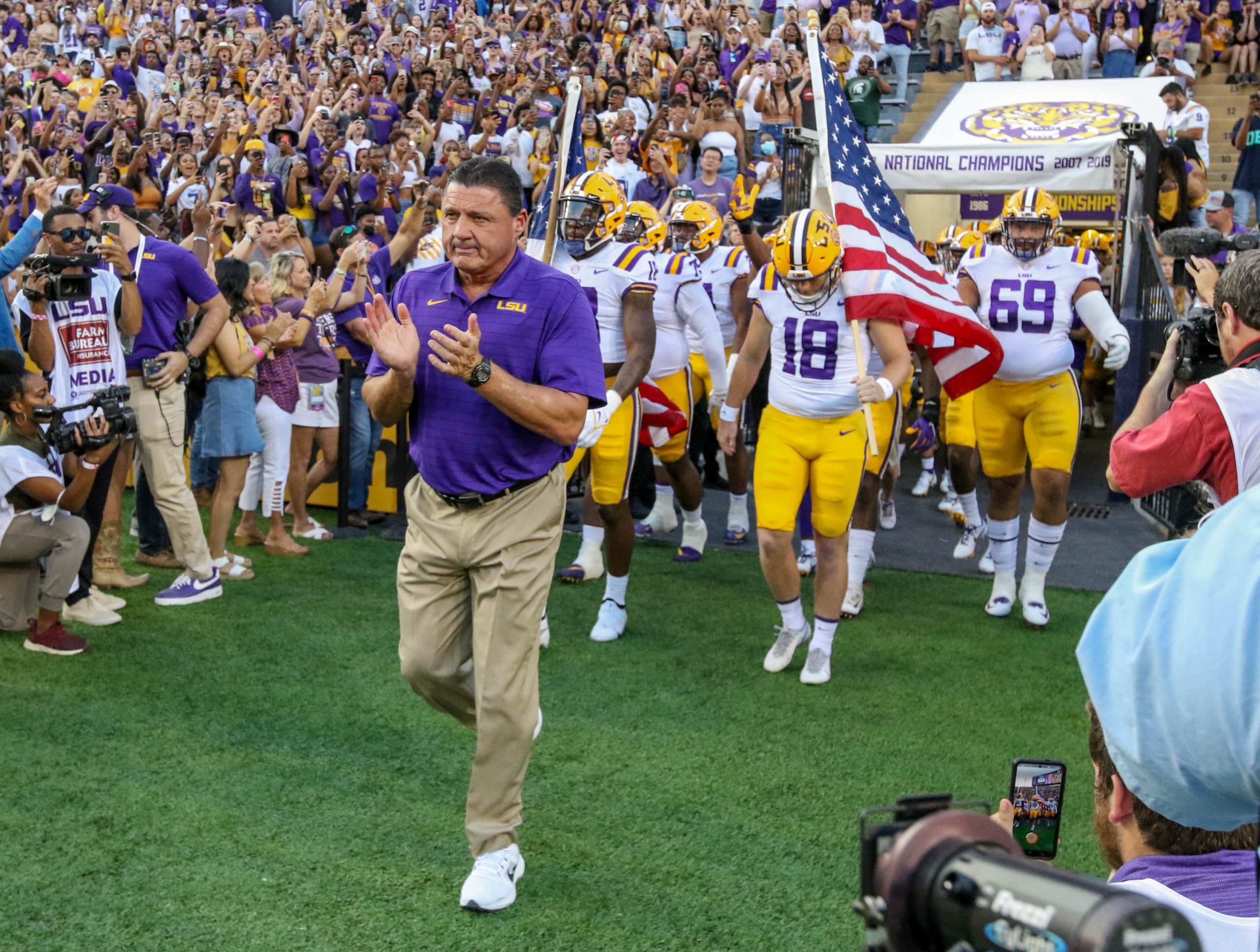 Two days into preparation for this week's home game with SEC Western Division rival Arkansas, LSU head football coach Ed Orgeron said his newfound quarterback competition has progressed as planned.
Sophomore quarterback Max Johnson, whose been LSU's starter throughout the season, and true freshman Garrett Nussmeier have equally divided repetitions in practice with each player expected to play a role when the Tigers (4-5 overall, 2-4) host Arkansas (6-3, 2-3) at 6:30 p.m. Saturday in Tiger Stadium.
The game will be televised on the SEC Network.
"They're competing, there's definitely a competition," Orgeron said Wednesday during his appearance on the SEC Coaches Teleconference. "We had a nice two-minute practice (Monday) and both of them did well. Yesterday, we had a padded practice and both of them did well.
"It's going to come down to when we put them in the game and see who plays best in the game," Orgeron said. "There's an open competition. You can tell there's a competition, they're both professional about it. You can tell the intensity's been raised up a bit."
Orgeron made the announcement Monday that while he was still planning to keep Johnson as his starter, his recent play in losses to Ole Miss and Alabama necessitated a further look at the position.
Johnson has completed 60 percent of his passes (178 of 296) for 2,169 yards and six interceptions, but over his last two games had completed 55 percent of his passes, thrown two interceptions with a passing efficiency of 108 – down from his season norm of 142.2.
He's also been sacked nine times, his highest two-game total of the season.
Nussmeier had previously played in three games with a 42.3 percent completion rate (11 of 26) with 150 yards and a TD. The NCAA allows freshmen to redshirt if they play in no more than four games.
Orgeron said Nussmeier was disappointed he didn't play against Alabama and expressed a desire to eschew his redshirt and carve out a playing role in the team's remaining three games.
Before he agreed to do that, Orgeron said he discussed with Nussmeier's father Doug – the quarterback's coach of the Dallas Cowboys and former college offensive coordinator – the ramifications of his son's wishes.
"It was whether we were going to play him or not and burn his redshirt year. They had to make the decision," Orgeron said. "I was protecting Garrett. I wasn't going to just put him in and just burn his redshirt. I wanted to make sure that the family and I were on the same page.
"There's nobody dictating to me doing nothing, I run this program," Orgeron said. "His daddy is a football coach. He's a good man. There wasn't anything like that said. It was whether we were going to play him, give him a chance to get the starting position and burn his redshirt year. That's a decision to me that a family has to make, and they made that decision, so we're going for it."
Here's what else Orgeron had to say:
On the level of Alabama's team
"I felt we were the better team. I don't know if they were expecting us to be that good. Usually, an Alabama team is playing to its peak performance. I don't know if they played to their peak performance or not, but we matched up pretty well. To hold Alabama to six rushing yards. … People had talked in the beginning that we're not physical. We held Alabama to six yards. We had 380 yards rushing against Florida. That shows that LSU can be physical. We've been inconsistent in that area. I can't judge how good they are. They're not as good as the teams we've played in the past, but maybe they might be the best team in the country. I don't know that. But they weren't that night."
On Arkansas quarterback KJ Jefferson
"He looked like a big defensive end back there. Big, physical guy and know he's operating better. He can throw the football; he can run the football. He's a threat. He's going to be a load to tackle. We have to gang-tackle. He's a very impressive player."
On being a slight favorite over Arkansas, a team you've never lost to
"Coach (Sam) Pittman's done a great job. I enjoy playing Arkansas. I coached at Arkansas; I loved the place up there. I have a lot of respect for the university. They were very good to me. I just enjoy playing the Hogs. It's going to be a battle."
On the play of your defensive line against Arkansas
"Sam's a great offensive line coach. That was a total surprise to the team we played (Alabama) last week. I don't know if they were ready for it. Now we've put it on film. He's going to be ready for it. Obviously, we're going to do some of things we did, but we've got to make some adjustments because he's going to make some adjustments also."
On the excitement shown on sideline against Alabama
"This was LSU-Alabama. It's a rivalry. We were hearing they were going to crush us, that we didn't have a chance. We went in there guns a blazing with fake punts and all that stuff. We were ready. It was one of those nights where we were in that zone."
On assistant coaches being fired nationwide during the season
"It's a microwave society. What have you done for me lately. That's all this is. It's a high-pressured job. They pay us a lot of money; the expectations are high. If you don't meet it, they'll let you go. We know that coming into the business."
On the mindset of the two teams
"Our team's ready to play. We said we're going to fight until the end. I'm going to fight and that was evident last week. If we can build on that momentum we built last week, especially on defense. We played the best defense we've played all year. I know Arkansas going to play. I know their coach. This is going to be a battle. They started off on fire, they lost a couple of games and played some good teams. This is a very good football team."
On Sam Pittman having his team play in last year's game despite low numbers
"That tells you about his character. Sam Pittman's a good man."