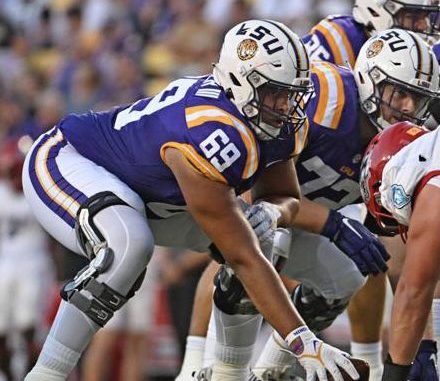 There was LSU center Charles Turner III, knee brace and all, in the middle of it all.
Because of offseason knee surgery to repair a meniscus injury that cost him starting in the Citrus Bowl, Turner was trying to remain relevant with his position group in the spring. He was a spectator, though, instead of an on-the-field contributor because of his rehabilitation from knee surgery.
Turner tried giving out pieces of advice and when called upon, even handed out water to those in need.
"It was difficult to sit out and watch. It hurt me," Turner said after Friday's fall practice. "It really did hurt me a lot, seeing those guys out there without me having put in the work to finally get a chance to go out there and show what I could do. At the same time, I kept high spirits and kept leading those guys, cheering on any way I could. I was out there in a brace giving them water. It helped me as a person, not just as a player."
For the first time in his career Turner, a native of Canton, Ohio and fifth-year senior, was speaking from a different perspective. He was coming off his first full season as a starter, having started at center in 12 games before giving way to his ailing knee against Purdue in the Citrus Bowl.
With Marlon Martinez filling in during an historic 63-7 victory over the Boilermakers, the Tigers' offense operated on all cylinders.
Martinez remained the starter in the spring, taking over with Turner out during rehab process, and instead of entering the NCAA transfer portal for more playing time and even a starting position, he remained at LSU to challenge Turner for the starting center position on an offensive line that returned four of five starters from last year's 10-4 team.
The 6-foot-4, 300-pound Turner, a three-year letterman, wouldn't have it any other way.
"Marlon and I are competing," Turner said. "Every day I know I've got to be on my job and be ready to go. It helps me a tremendous amount because at the next level, that's exactly how it's going to be like. If I'm fortunate enough to make it to the next level that's exactly how it is. (Offensive line) Coach (Brad) Davis handles our room like a pro offensive line room. You make a mistake; you're going to get pulled. He'll coach you and tell you what you did wrong and then you go back in there. It doesn't allow you to become complacent. It drives you and drives you to be the best you every day."
"Marlon's a great guy, I love him," Turner added. "We've been close since he came to school. I'm a year older. Him staying to compete shows you a lot about his character as a man. Him staying to compete and fight, I respect him and love him to death."
Second-year LSU coach Brian Kelly said his team has operated without a depth chart over the first two weeks of fall camp.
When LSU's offense has operated in 11 vs. 11 situations against the defense, or in group settings, Turner has been the No. 1 center for a line which also returns tackles Will Campbell and Emery Jones Jr. and right guard Miles Frazier.
Turner doesn't take it as a season-long endorsement.
"It hasn't done anything to me," Turner said of locking down the starting center's job again. "I'm still competing every day. What I did last year is what I did last year. It's not what I did this year. It's a whole new year. I'm coming in competing every day to be the best me I can be. It's going to be a long season and it's going to be a good season. With everything that we have coming back, everything we have in the coaching staff and our leadership, I feel like we have a chance to take it all the way this year."
Over the first two years of his career, including a redshirt on the 2019 national championship team, Turner has been a rotational guy playing behind centers such as Lloyd Cushenberry (now of the Denver Broncos) and Liam Shanahan.
The former three-star prospect out of IMG Academy played in a total of 11 games through two seasons and added four more games in 2011 with a season-high 73 snaps against McNeese State.
LSU began the 2022 season with Garrett Dellinger at center when the Tigers opened the season in the Caeser's Superdome against Florida State.
A 24-23 loss to the Seminoles prompted several changes on the depth chart, including the offensive line where Turner supplanted Dellinger at center when LSU hosted Southern.
Turner remained a constant for an offensive line that gained continuity once Campbell and Jones were matched at tackles, Dellinger moved inside to left guard and Frazier at right guard.
"Getting the job, emotionally, I didn't think too much about it," Turner said. "Every day I prepare as if I'm the starter. Of course, I was happy, but it wasn't time for that. It was time for me to stay on the grind and keep going because it can be taken away from me as fast as it was given to me."
The Southern game, a 65-17 blowout, triggered a stretch of 10 consecutive starts for Turner that included the meniscus injury but said that he tried playing through it until the Citrus Bowl.
LSU averaged 453.1 total yards and 34.5 points per game on offense, generating 183.9 yards on the ground through the dynamic play of quarterback Jayden Daniels. The Tigers, who averaged 6.4 yards per play, finished with a school-record 39 touchdowns on the ground.
"Most centers today are not the biggest," LSU head coach Brian Kelly said last season of Turner. "They're usually the smartest, and they're usually guys that can move. Charles can do those things for us."
Turner played in 811 snaps, including a career-best 82 against Tennessee, and didn't commit a penalty in his last 10 games. He displayed the kind of endurance that can endear players to their coaches, having played 70 plays or more nine times.
He became a natural leader, a characteristic he's looking to build on and display again this season.
"I felt we did well last year, but there were things we needed to clean up," Turner said. "My role and responsibly this year is to lead those guys and get everybody on the same page. So far, me missing the spring has been a big part of it, too. Coming in the fall we've done a great job of jelling together. Just working hard, making plays and just pushing each other to be the best we know we can be."