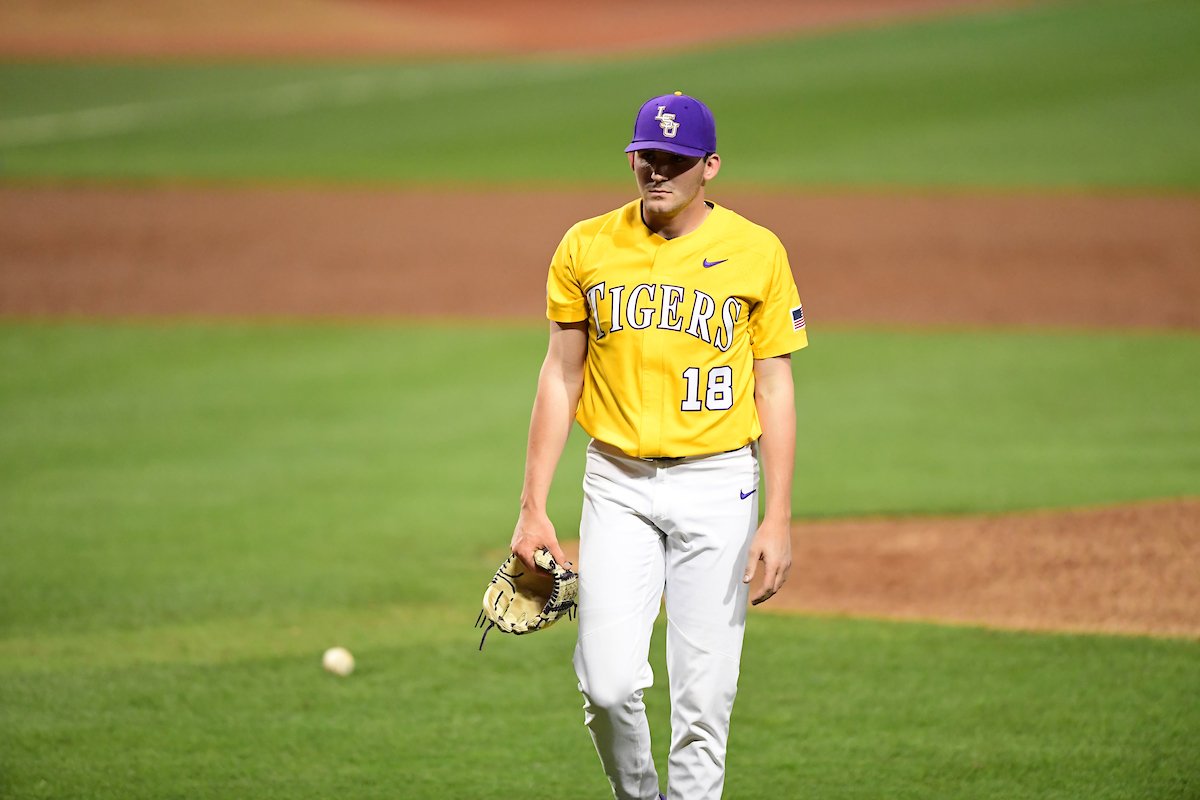 LSU managed to win two out of three games at Alabama without the services of budding ace Cole Henry, but Paul Mainieri isn't looking to make a habit out of that.
Mainieri didn't have a concrete update on Henry's sore elbow as of Monday afternoon for a pretty understandable reason: Henry had a final exam at 3 p.m. and wouldn't be at Alex Box Stadium until after that wrapped up. LSU will reanalyze after he meets with the training staff.
The coach was able to share that Henry had thrown two-or-three times over the weekend while LSU was in Tuscaloosa. Henry himself was actually in a different part of the state working out with his father, Jeffrey, who was his pitching coach throughout high school.
"All indications are he's doing much better," Mainieri said. "Now, does that mean he's going to pitch this weekend? I don't know yet."
Henry was coming off a start that earned him SEC Freshman of the Week honors before feeling discomfort in his elbow. That discomfort scuttled a plan to move him to Friday night and put Zack Hess in the bullpen for the Alabama series.
LSU also got somewhat-encouraging news on the status of Jaden Hill, another freshman who is dealing with arm trouble.
Hill threw from a greater length than he'd attempted in some time on Sunday and "felt great" afterword, according to Mainieri. Trainer Cory Couture had renewed optimism in Hill's ability to come back healthy this season.
"I don't know if he'll be back for Auburn, the SEC Tournament or the NCAA Tournament," Mainieri said. "I'm not sure. I never really thought it would take this long for him to return, but if he can get back, even if we use him for short stints out of the bullpen, it'd be another quality arm for us. You never know when that might factor in."
Hill has been out since the second week of the season due to the nebulous injury of "arm soreness." He was 1-0 in two starts with a 1.80 ERA in 10 innings with 11 strikeouts before going on the shelf.
FAITH REWARDED
Landon Marceaux's first SEC action got off to a rocky start as Alabama loaded the bases in the first inning, but the freshman settled in to give LSU five strong innings in Sunday's 5-4 victory.
The outing represented a breakthrough of sorts for a pitcher who began the season entrenched in the weekend rotation. Recurring arm soreness and some struggles on the road cost Marceaux that Saturday spot, but coming up clutch in a rubber match has upped the staff's confidence in him.
"I think it was a big step forward for him and gave him a lot of confidence going forward," Mainieri said. "As long as he's healthy, I think he's going to do some good things for us down the stretch as well."
Confident enough to hand Marceaux the ball for another weekend start down the stretch?
"Sure," Mainieri said. "Absolutely."
SPLIT DUTIES
Saul Garza started two games behind the plate this weekend and homered in Sunday's rubber match, but Mainieri made it clear he has no plans to give up on Brock Mathis.
LSU will continue to play both catchers through the final three weeks of the season, though the coach did concede that he'd lean toward playing the hot hand in high-leverage games.
"They're both important players to our team," Mainieri said. "I'm not going to sit here and say (Garza) is taking over. Brock Mathis, we wouldn't be where we are today without Brock being a workhorse for us all season.
"I don't discard kids like that, but at the same time, we're down to our last 11 games of the season. You can't say every game is a must-win game … but you've got to give yourself the best chance to win."
LSU IN THE PROS
LSU moved up slightly or stayed put in each of the four major polls after a 3-1 week that included their second road series victory of the season. Here's where the Tigers stand, and per usual, last week's rankings are in parenthesis:
D1Baseball 12 (13)
Baseball America 12 (14)
Perfect Game 9 (9)
Collegiate Baseball Newspaper 13 (15)