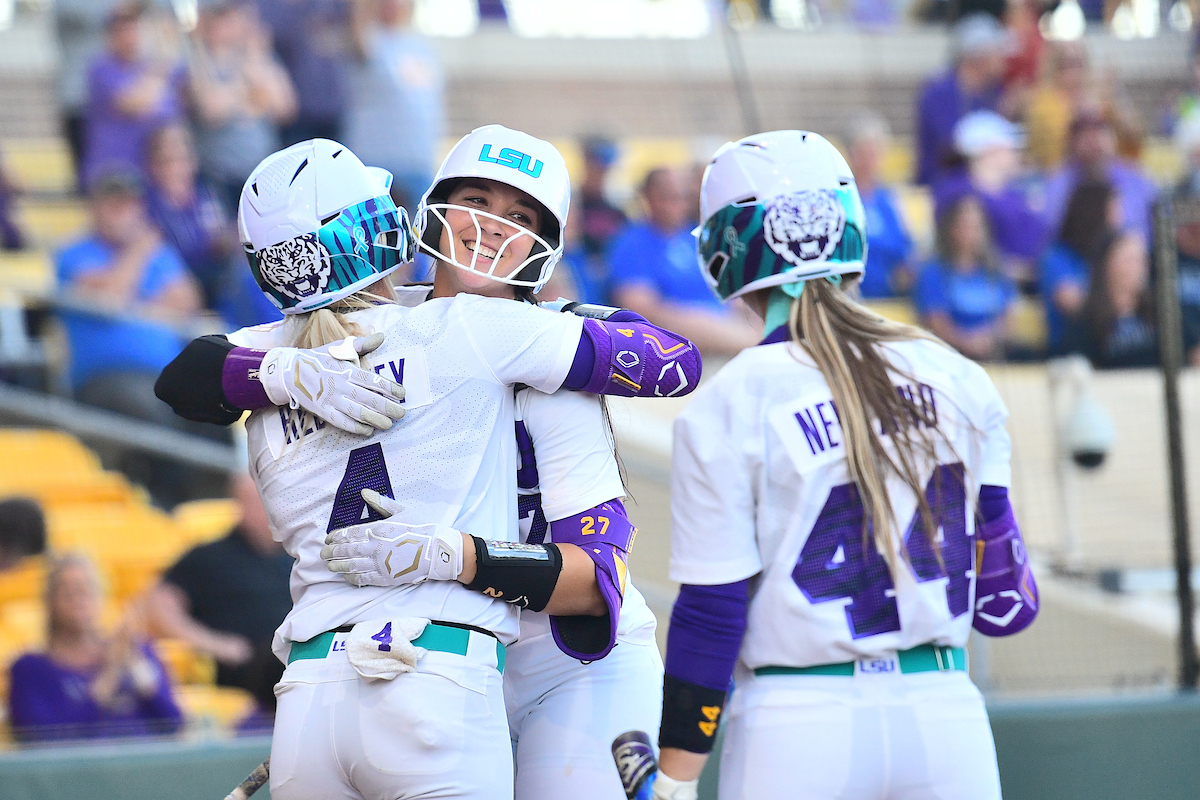 LSU's early-game momentum went up in smoke during a three-run rally in the sixth inning.
The No. 20 Tigers lost the handle on a two-run lead through five innings when starting pitcher Shelbi Sunseri ran into trouble in the sixth and No. 8 Kentucky rallied with a 5-3 victory Friday in the first game of a three-game Southeastern Conference series at Tiger Park.
LSU (22-13, 3-4 in SEC) hosts Kentucky (23-8, 4-3) again at 5 p.m. Saturday on a game that will be broadcast on ESPN and be heard locally over 107.3-FM.
"I think we just need to find ways to win," LSU softball coach Beth Torina said. "It feels like every game we are one pitch, one defensive play, one at bat out of it and we just need to find ways to win."
Sunseri, the team's lone senior, homered for the 10th time this season and LSU took a 2-1 lead in the bottom of the second on Ciara Briggs' bases-loaded walk. The Tigers made it 3-1 with a run in the fourth on Taylor Pleasants' double down the right-field line that scored Danieca Coffey who drew a one-out walk.
Pleasants led LSU with a 3-for-4 performance with Briggs and Sunseri each picking up a hit in three plate appearances.
Reliever Tatum Spangler (2-0) got the win for Kentucky with 5.1 innings of relief. She allowed a run on four hits, keeping LSU scoreless over its final three plate appearances.
Kentucky picked up two singles to lead off the sixth when Lauren Johnson made it three straight hits with a run-scoring single, ending the night for Sunseri (5-4) who last five innings. She yielded six hits, four run (all earned) with two strikeouts and two walks.
The Tigers brought Ali Kilponen out of the bullpen, but the Wildcats took the lead on Taylor Tibbs' RBI-single to center and added another run on Spangler's fielder's choice. They also scored a single run in the seventh inning and wound up tied with seven hits apiece.
Briggs doubled to center with one out to provide a ray of hope in the seventh, but Spangler got Georgia Clark to fly out and Sunseri to foul out.
"It is always hard to lose the first game," Sunseri said. "We have to move on to the next one though. Tomorrow, we need to come out and focus harder on each pitch and play LSU softball."