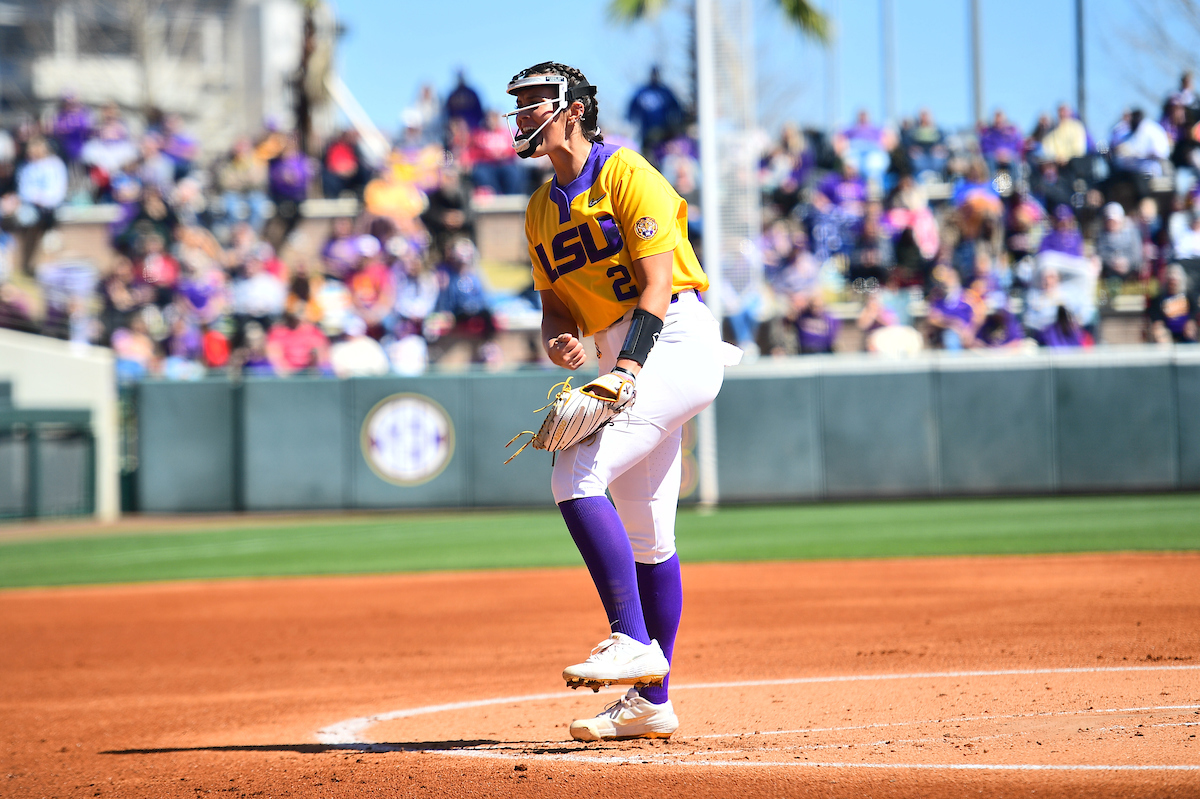 The version of Alabama pitcher Montana Fouts on Sunday was the one that's made the No. 2 Crimson Tide a legitimate national championship candidate.
A day after being knocked out in the bottom of the third inning and failing to gain a decision, Fouts responded with a complete-game, three-hitter with 10 strikeouts Sunday in a 2-1 win over No. 21 LSU to avoid being swept in the Southeastern Conference series at Tiger Park.
"It did give us a boost," LSU third baseman Danieca Coffey said. "I think everyone underestimates us because we are ranked 21, but we must go into it with the mentality 'Why not us?' They were 20-0, so why couldn't we be the first ones to beat them?" 
LSU's Ali Kilponen (9-3) nearly matched Fouts pitch for pitch. The junior allowed single runs in the second and third innings before retiring 12 straight batters until a two-out walk in the sixth to Jenna Johnson.
Kilponen came back to get a ground out from pinch-hitter Aubrey Barnhart to end the inning. She allowed five hits, three walks and struck out six in a 117-pitch performance, 70 of which were strikes.
Fouts, the preseason co-Pitcher of the Year in the SEC and 2021 first team All-American, struggled with her command in the first game of Saturday's doubleheader which LSU swept, 13-6, 5-1. The Tigers had five hits, forced six hits and struck out six times.
Fouts, a hard-throwing senior righthander, walked one and fanned 10 in her 110-pitch outing on Sunday, 73 of which were strikes.
LSU (19-7, 2-1 in SEC) rallied from a 2-0 deficit with a run in the third on Ciara Briggs' RBI sacrifice fly into foul territory in left field where Johnson made the catch.
"It was a solid weekend," LSU softball coach Beth Torina said. "The part that is not fun is knowing how close we were to winning the third one. There were so many ways that it could have gone different. That is what makes it tough, but overall, it is a very solid weekend for our team." 
Sophomore shortstop Taylor Pleasants, a U.S. National team member like Fouts, struck out against her future teammate on a rise ball to end the inning.
The Tigers faced their last golden scoring opportunity against Fouts in the fifth.
Catcher Morgan Cummins picked up a one-out single to right, her team's second of the game and with pinch-runner Cait Calland taking over at first, was sacrificed to second by Sydney Peterson for the second out.
With the lineup flipped to lead-off batter Danieca Coffey, the sophomore third baseman singed sharply to left where Johnson cleanly fielded the ball on one hop and made an accurate throw to catcher Ally Shipman. She tagged Calland, who was waved around third by LSU coach Beth Torina, on the right toe for the final out.
"Yes of course we wanted to sweep the series, but at the same time we won two games," Kilponen said. "It just shows us that we can do it. Why not us? We are that good and we work that hard. It is time to prove some people wrong."